Since initiating coverage of JC Penney (NYSE:JCP) last week, Capital Ladder Advisory Group ("CLAG") has fielded numerous inquiries and accepted a great deal of feedback regarding the analysis provided in our initial report to clients and the investing public at large. We aim to respond to each and every inquiry delivered to info@capitalladders.com in a timely manner. To reiterate, CLAG maintains a Hold rating on shares of JCP with a $23.50 price target. Shortly after initiating our coverage of JCP, Sterne Agee also initiated coverage of JCP with a Buy rating and a $23.00 price target.
In his research notes to clients and those with an interest in shares of JCP, Charles Grom of Sterne Agee states the following: "Under new CEO Mike Ullman, the company can talk up a clean slate, and then pull out "its old playbook - i.e., promotions, coupons, focus on private brands - while leveraging some of the in-store/product improvements/enhancements made by the former team. The second quarter "could be ugly" because promotions and advertising will take time to develop, and sales and margins could be under pressure with inventories shifting to private brands and less contemporary product. We expect earnings of $2.00 per share by 2017. That's on the presumption that Penney can keep costs down and recover sales lost in 2011 and 2012."
Capital Ladder Advisory Group shares some of the noted sentiment outlined by Mr. Grom as this transformational undertaking by JCP will take some time to develop, offering investors the opportunity to curtail or enhance their individual investment in JCP along the way. With this in mind, it is important for investors to consider the basis of the results achieved by JCP in the last several quarters and how the transformational process will affect results going forward.
In the 30 day period leading up to CLAG initiating coverage of JCP, we had our research team scouring JCP stores around the country collecting data regarding foot traffic, conversion rate and soliciting in-store shopper surveys as JCP would not disclose insights from their proprietary shopper surveys at the time. From Milwaukee, Wisconsin to Miami, Florida, we engaged shoppers to measure their experiences and thoughts about the changes in merchandise, store format and promotional cadence at JCP. The majority of respondents appreciated the new look inside the stores while admittedly not knowing too much about some of the new technological offerings which would serve to enhance their JCP shopping experience. Technology is not for everyone. For instance, some of our older respondents couldn't grasp the iPad-oriented selection tool via the Levi Bar Shop when demonstrated. However, the majority of respondents between the ages of 18-30 thoroughly enjoyed the functionality of the iPad-oriented selection tool as well as the layout of the Levi Bar Shop. In addition to this advancement in technology usage inside stores, JCP has now rolled-out Wi-Fi in the majority of its stores nationwide. While many retailers have adopted this technology through much of 2012, this new advancement for JCP and shoppers will certainly be a welcome change.
And that brings us to the next technological advancement in-stores which likely captured a bulk of JCP's IT spending in recent quarters and that is the roll-out of the Libby device. The Libby, as it has been named by JCP personnel, is aptly named so because it essentially liberates the store team member from the point-of sale (POS) or cash wrap as it is more widely known as. The Libby is an iPhone-sized device that can effectively function as a cash register and POS device for customers paying with a debit/credit card. Please see the below photo of the Libby: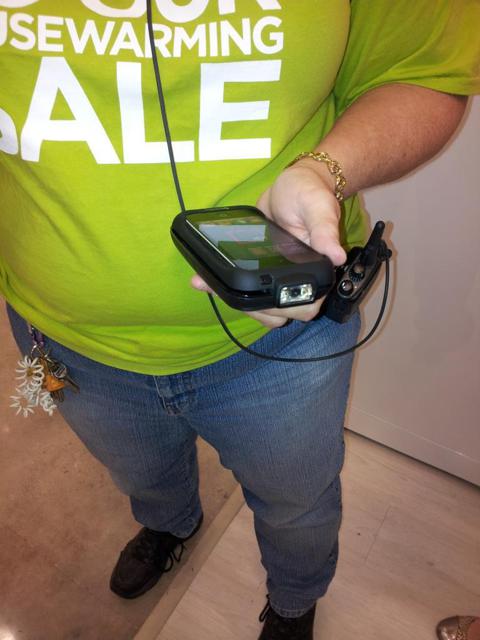 Click to enlarge
(Click to enlarge)
As you can see, this mobile POS fits in the palm of the team member's hand and is designed to function as a portable POS system with the additional functionality of a handheld inventory tracker. Essentially, the team member can scan any item on the sales floor to check the store's inventory and even what is on order without visiting a stationary store terminal and leaving the customer for any period of time. This new technology is still in its infancy stage, but as we have visited hundreds of stores over the last several months, most designated store personnel have been adequately trained on the new technology. One temporary obstacle to the complete functionality of the Libby system taking hold is the eventual roll-out of the Libby Station which will hit stores in the coming weeks and months. The Libby Station will be located at strategic points around the store, in different shops or attractions, so that team members on the selling floor no longer have to direct customers to the POS, but rather and if time permits, the team member can check out a shopper right at the Libby station which will be outfitted with all the necessary bags, gift cards et cetera. The Libby device is unique in that it enables a customer and a team member assisting that customer to have a complete shopping experience from an initial "Can I help you find something" to a "Thank for Shopping at J.C. Penney and have a great day".
It has to be "all about the shopper" for retailers and we believe the latest technological advancements at JCP will prove to serve beneficial for JCP and its customers in the coming quarters and years. With these latest IT advancements, JCP is also adding convenience and ease of shopping for its customers. One thing we did notice from our survey respondents is that a vast majority, over 80% of respondents, appreciated the collapsible shopping cart bags offered at many JCP stores as indicated in the following picture. The wheeled-shopping bag collapses completely flat and can be found throughout the store in designated bins for ease of shopping that had not been available in the past and is presently not in use at other retailers like Macy's (NYSE:M) and Dillard's (NYSE:D). This is just one way in which JCP is distinguishing itself in the marketplace for shoppers while creating an easier shopping environment.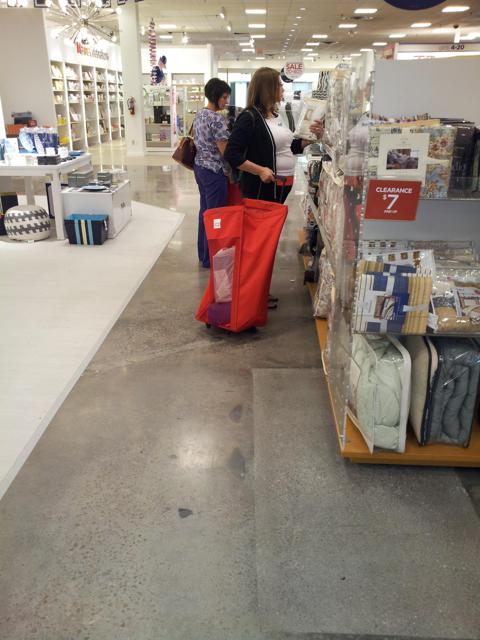 Click to enlarge
(Click to enlarge)
So let's get back to those shoppers who might be a little older and might not appreciate the new technology offerings at JCP. One thing is for certain as disseminated through our surveys by respondents and that is those between the ages of 40-55 appreciate the new promotional cadence instituted at JCP. Over 77% of our respondents ages 40-55 appreciate the re-instituted promotions. What is even more recognizable via the general survey results is that these shoppers appreciate how open the sales floor is and how easy it is to grab a shirt or pair of pants and be on the go. The usage of tables and original fixtures similar to the photo below ad to the ease of shopping experience and functionality of the merchandising techniques employed at newly remodeled stores. The picture displayed below is of a door buster advertisement product which has been placed directly adjacent to the main walking/race track for shoppers to grab-n-go rather easily.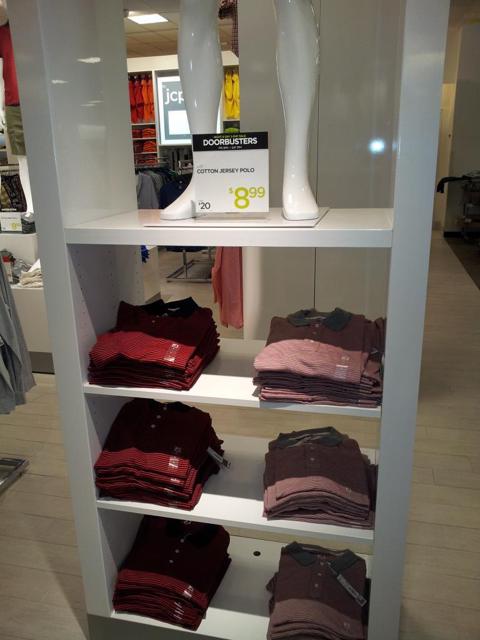 Click to enlarge
(Click to enlarge)
Many stores have done away with a great many of the formerly utilized drop-tier racks which were used to merchandise shirts, pants and shorts. While these fixtures are still used in stores, more tables and cube-uprights are now being used which opens up the selling floor and creates visual points of interests that weren't available to JCP shoppers in the past.
When we look at the sales floor of JCP in 2012 and compare it to the sales floor of JCP in 2013, we notice a great deal of changes, but there is one change that will serve as one of the biggest catalyst for driving traffic, conversion and sales on a YoY basis. In 2013, JCP brought back a widely recognizable and dedicated brand in St. John's Bay. This brand had been a $1 billion brand for J.C. Penney in the past but was greatly curtailed in inventory size from the product mix during 2012. In speaking with several Store Managers and District Managers from JCP across the U.S., we have discovered that this brand, alongside the company's proprietary brand make up the commodity side of the business. Investors can liken the volumes produced by this essential brand of the JCP business to that of the iPhone for the Apple Inc. (NASDAQ:AAPL) business…and now it is back. Even when sold at a discount, the sales volume produced by the St.John's Bay brand adds meaningful revenues to the totality of the JCP revenues. Early read through on the successful repositioning of St. John's Bay has been very positive in part because JCP shoppers of old are seeing the promotional campaign employed by JCP which highlights the St. John's Bay brand, but also because new customers are recognizing the value of the merchandise as they shop the entire store. Martin Costa of Capital Ladder quoted several Store Managers as noting that the repositioning of the St. John's Bay brand of merchandise has served to boost foot traffic and drive higher conversion rates and sales. Yoni Muller of CLAG went further to say the following:
"This is what Store Managers which have been around for 10-20 years said was missing in the changes. All the changes happened in a condensed period of time, some things worked and some things didn't. One thing rings true with all the stores we visit and that is the Store Managers are relieved that their good-ole-friend St. John's Bay is back and it is driving results. Some stores can sell as many as 6-8 thousand St. John's Bay polos in a year, when they were pulled out of stores and replaced with fashion oriented products, there was nothing left to replace the sheer sales volumes of St. Johns Bay. It's the commodity part of their business. The stores got some more fashionable product and that is good, but in those fashionable products there weren't enough inventories. There used to be full tables and racks of St. John's Bay polos and tees. The new fashion product that replaced was limited with 6-12items and once that was gone the fixture was pulled from the floor or filled with clearance product. That was a big problem for stores and sales volumes last year and for the early part of this year, but Store Managers are more enthusiastic about what they are already seeing in sales from St. John's Bay comeback to JCP. They are also relieved that the inventories will be substantial enough to fill the shoppers' bags each and every week."
The compilation of data and survey results serve to suggest that there is an underlying momentum building through greater foot traffic and conversion rates. Large scale commercial, print and on-line advertising are serving to communicate more directly with the consumer as to what they can expect from JCP today and in the near term.
If we are to accept the transformational actions taking place by JCP on a YoY basis we come to understand the added benefits of these transformations. Last year JCP did not have a revenue driving inventory and selection of St. John's Bay for the vast majority of the year, so this year it can only serve to benefit sales in 2013. Last year there was great confusion among shoppers regarding pricing coupled with a lack of promotional activity; this year promotional activity is back and the pricing structure is more clearly communicated to outline the value proposition offered at JCP which could also act as a catalyst for greater foot traffic and conversion rates leading to greater sales. Last year there wasn't the appropriate product mix or inventory levels sufficient to drive sales and gross margins higher. This year, there has been a greater focus on product mix by way of greater commodity inventories and keeping relevant and productive fashion inventories in order to drive gross margins and sales higher in the future. Over the last 6 months the Home departments went through both inventory draw-down and remodeling periods. These aspects of the Home department business are now in the rear view mirror and the newly formatted Home departments will serve to attract customers into the stores and encourage shoppers to cross-category spend. J.C. Penney did not participate in Basics (underwear and legging) promotions for much of 2012 and the first half of 2013, however they recently instituted a buy one get the second unit 50% off event in Basics; this type of promotional activity, which had not been deployed for some time, is a huge driver of repeat business as well as conversion rates. We expect these types of promotions to be beneficial when considering YoY results. Year-over-year technological advances will better promote the shopping experience and capture missed sales opportunities through greater team member/shopper interaction. Last year, shoppers did not have the added benefit of easy-to-use, wheeled shopping bags nor a soon to be open, and ahead of the holiday season gift packaging service center; this year they do. Lastly, investors should also continue to monitor the changes to JCP's e-commerce site as many changes have already been identified and yet there are still many changes to come that will act as catalysts for the e-commerce business.
Change is generally not something which occurs overnight, but the effects are usually felt down the road. Some of the changes from JCP in 2012 are already producing positive results while others were clearly not. In 2013, JCP has been more appropriately right-fitted for today and the foreseeable future. It is all about the customer and in the end the customer will decide JCP's fate. Investing in a start-up company, heavily indebted and highly leveraged can be a risky proposition for many; however the rewards can also be equally beneficial upon successful execution of the business plan. While we don't expect much in the way of meaningful changes to top-line or bottom-line performance results in Q2 2013 quarterly reports, we will be paying close attention to the trends developing in metrics like foot traffic, conversion rate and gross margins. These will be relevant indicators for future anticipated success or failure from JCP.
Since reaching a high of $19.39 a share on May 23, 2013, shares have pulled back by roughly 10%, but have benefited as of late by some upbeat comments from analysts and the highly anticipated launch of the Home department at some 500+ JCP stores around the country. Future share price movement will likely be determined by results, further change in leadership and updates from the analyst community regarding foot traffic, conversion and sales promotions.
Disclosure: I am long JCP. I wrote this article myself, and it expresses my own opinions. I am not receiving compensation for it (other than from Seeking Alpha). I have no business relationship with any company whose stock is mentioned in this article.