In a previous article I suggested that a company like Stillwater (NYSE:SWC) might be considering buying (a stake in) North American Palladium. Palladium is hot nowadays, unlike gold it is used in a variety of industries and there are only a few countries who have the material in the ground.
Deal with Brookfield Asset Management
North American Palladium (NYSEMKT:PAL) needed cash in order to stay in business. Due to the recent sell-off in gold and gold miners, it was difficult for PAL to issue new shares. Last Friday, they announced a deal with Brookfield Asset Management's Capital Partners unit. PAL receives a $130 million senior secured term loan which carries a 15%(!) annual interest rate and matures in June 2017.
The firm also expects to reap around $20 million via a private placement of flow-through shares. The issue will occur in two tranches, one later this month and one in July. According to the company the issue is fully subscribed. At the moment, it has 178 million shares outstanding, and its per-share market price is $1.07.
Lastly, North American Palladium has extended the term of a $60 million revolving credit facility by another year. This is now set to expire in July 2014.
Here's how the market reacted to the news.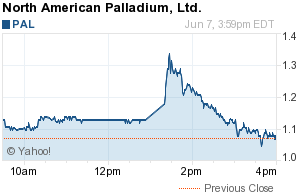 source:yahoo.finance.com
It looks investors initially red the news of the new financing and later realized that around 20 million new shares were issued. Another disappointment is the interest agreed on the loan from Brookfield. The coming four years PAL has to pay $19.5 mn a year which is a serious threat to its cash-flow. In case PAL cannot pay the interest Brookfield has the first right to the assets in the ground. The height of the interest rate shows PAL had little other options.
The firm plans to use the funds from these sources to pay for the continued expansion of Lac des Iles, its mine in the Canadian province of Ontario. Additionally, it plans to pay off a $72 million senior secured notes issue that matures in October 2014.
"We expect that these financing deals will enable us to complete the first phase of our LDI mine expansion and establish our operations for improved financial performance in 2013 and beyond," said Dave Langille, NAP's Chief Financial Officer.
Mr. Phil du Toit, NAP's Chief Executive Officer, added: "We look forward to the completion of Phase I of the shaft expansion and the benefits it will have. Our ongoing review of our strategic mine planning has identified potential alternatives that may allow us to defer Phase II capital spending without compromising production growth."
Palladium market very attractive
Looking at the development of the palladium price compared to the gold price, these were PAL's average selling prices(NYSE:ASP):
Comm: ASP Actual price
Gold $1677 $1400 down 16%
Palladium $640 $753 up 17%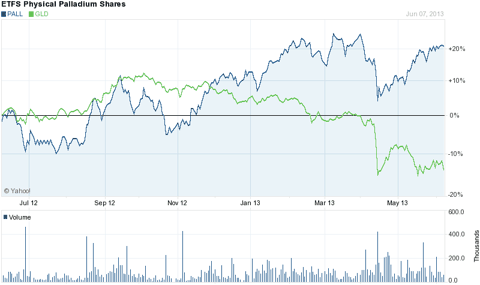 Click to enlarge
source:yahoo.com Palladium ETF(NYSEARCA:PALL) with Gold ETF(NYSEARCA:GDX)
Palladium is decoupling itself from the gold price. It proves the palladium market is very attractive, which I also wrote in a previous article on SeekingAlpha. The decreasing stocks in Russia, together with the increasing demand from the automobile sector has turned palladium into one of the best performing metals. Furthermore, almost 80% of the production of palladium comes from Russia (43%) and South-Africa (36%), countries known as 'higher-risk jurisdictions'.
The Brookfield-deal is exemplary for the situation among the gold miners. Beaten down and on the ground, miners have extreme difficulties attracting money. PAL bought itself some time to finish the current investments in the promising Lac des Iles(NYSE:LDI) mine, but pays a very high price for it. It is very sad and characteristic for the mining industry that no other party had the guts to jump in.
Conclusion
Most investors are fed up with the gold miners. They have been pushed up by commodity experts but have never been able to live up to the expectations. The deal PAL made with Brookfield Asset Management shows that the miners now have fallen prey to venture capital. PAL has bought a few years time to prove it can exist on her own but there's a fair chance that in four years time, Brookfield is the new owner of the assets in the ground. Stillwater, you really missed this one.
Disclosure: I have no positions in any stocks mentioned, and no plans to initiate any positions within the next 72 hours. I wrote this article myself, and it expresses my own opinions. I am not receiving compensation for it (other than from Seeking Alpha). I have no business relationship with any company whose stock is mentioned in this article.