Real-time Monetary Inflation (per annum): 3.6%*
The Consumer Price Index (NYSEARCA:CPI) notched a 0.9% increase in June, but the 12-month inflation rate is still negative, at -1.4%.
According to the U.S. Bureau of Labor Statistics, a 25.5% decline in energy prices more than offset a 2.1% increase in the cost of food and a 1.7% increase in the so-called "core" inflation rate last month.
Energy prices, most especially gasoline costs, were exceptionally volatile in June. That volatility has carried over into July, but has developed a definite downward bias.
In addition to the Labor Department's inflation report, the Energy Department issued its weekly fuel inventory report Wednesday morning.
Analysts expected the government report to show crude oil stocks, previously at 347.3 million barrels, to decline anywhere from 1.5 million to 2.1 million barrels. The industry-sponsored American Petroleum Institute's forecast called for a 1.6-million-barrel drawdown. The official government numbers, however, showed a more aggressive takedown, at 2.8 million barrels.
Crude oil traders seem to have sensed the supply situation late Tuesday when short-covering cut into losses in the Tuesday NYMEX day session. The front-month contract for West Texas Intermediate [WTI] crude slipped 17 cents a barrel to $59.52 by the close, but book squaring continued overnight with more aggressive bids appearing as the market readied for Wednesday's opening bell.
For the week, crude oil lost $3.41 a barrel, or 5.4%.
Refinery usage, expected to decrease a modest 0.1%, to 86.7%, of operable capacity, rose instead to 87.9%. Gasoline production declined to a daily average of 9 million barrels, while distillate output, including diesel and heating oil, was unchanged, at 4 million barrels per day.
Supplies of gasoline, forecast to rise between 800,000 and 875,000 barrels by Oil Patch analysts, instead increased by 1.5 million barrels, pretty much in line with the previous week's build. Gasoline supplies remain average for the season, as demand ticked up 0.6% from year-ago levels.
Forecasts for distillate fuel inventories ranged from a build of 1.8 million to 2 million barrels following the previous week's 3.7-million-barrel add. Government figures showed a much more modest 600,000-barrel increase in stocks. Supplies still remain above average, as demand eased 11.7% from the same period last year.
This week, unleaded gasoline slipped 8 cents a gallon, or 4.9%, while heating oil dropped a dime, or 5.9%. Individual distillate cracks eased, but at grossly disparate rates. Gasoline margins inched 1.6% lower, while heating oil's dived 11.1% for the week.
Overall refining margins rose 21 basis points (0.21%) this week to 13.6%, but still remain below the 12-month average of 16.4%.
Near-Month Crude Vs. Futures-Implied Refining Margins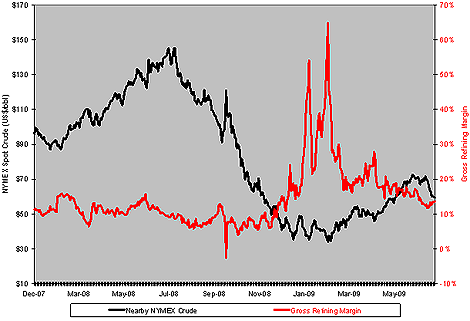 This week, crude oil's three-month roll widened 41 cents a barrel to an average $3.01. Carry nearly doubled on the week, to $1.19 a barrel. Supplies continue to back up in the U.S. Midwest, most particularly at the Cushing, Okla., WTI delivery point. Oil inventories at Cushing increased 600,000 barrels, or 2%, in just a week.
Quarterly Contango Vs. Crude Oil Inventories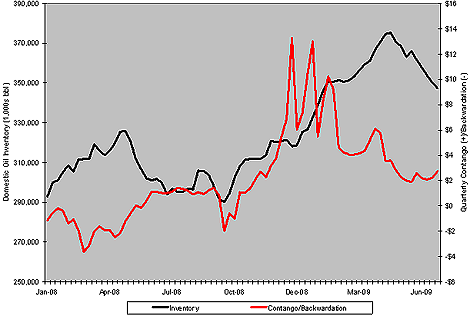 The crude oil market's tenor remains bearish. This month, prices finally broke to the downside after a four-month rally on declining open interest. In the near term, some technical indicators signal an oversold market, but the trend reversal beacon isn't flashing yet. Support for August crude, on a closing basis, rests at $57.52, the 62% retracement level of the April-June rally. Secondary support is at Monday's $58.32 intraday low. Overhead, the market's upside target is the spring rally's 50% retracement level at $62.31.
Crude Oil Futures Open Interest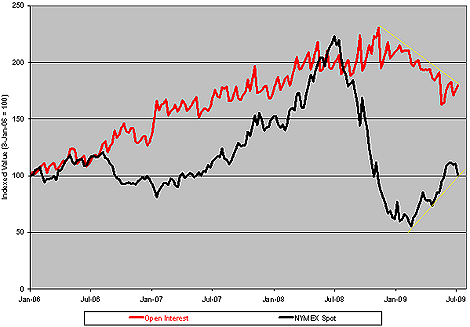 *Note: To provide a longer-term perspective, we've pushed back the base for our real-time monetary inflation indicator to May 2006. The base previously was January 2008. The indicator represents the average annual rate of monetary inflation over the period. The current 12-month inflation rate is -4.1%.