After these 3 limit orders hit, all but 1 of my limit orders from the past week on the short side have now executed. Instead of "chasing" to get short exposure, I waited patiently and a slew of these finally came online (granted some we quickly were chased right back out of) but if we had put these on Monday or Tuesday a lot of pain would of been achieved.

I will explain the similar thinking in all 3, but again if we gap up on the next "surprise" earnings, it will be irrelevant, hence I will have my stops in and ready to bail. We are now quickly approaching the S&P 930 area where we had trouble with a few weeks ago, 925-930 was the "top end" of the range we kept hitting. If we blast through, the bulls will be very emboldened here.

As an aside, the S&P 500 created a "gap" Wednesday morning at 906ish - expect that to be filled within a week or so; I just hope I am not stopped out of all my positions when it happens. I expect it will be some "disappointing" earnings report that does the trick; and almost all the downward move will be in pre-market. Wednesday's news will be quickly forgotten, and we'll hyperventilate about the company missing and what it bodes. Rinse. Wash. Repeat.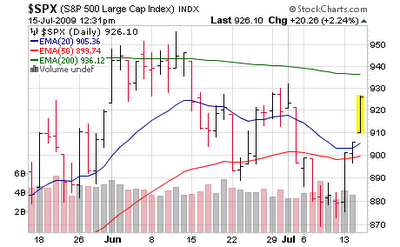 The orders for these 3 limits are:

Prices
Mosaic (NYSE:MOS) $44.50, stop out $46.55 - risk 4.5% loss

Prologis

(

PLD

) $7.70, stop out $8.05 - risk 4.5% loss
Woodward Governor (

WGOV

) $18.65, stop out $19.51 - risk 4.6% loss
Effectively
this is "1 position" to me, with 3 parts - I am putting the exact same stop loss percentage on each, and I am doing 3.5% exposures on each. Combined 10.5% exposure for the fund. The individual names are immaterial to me; I see the same chart set up and I'm hedging the long side of the portfolio (mostly stocks above all key moving averages) with charts where the stocks are below
all key moving averages. Simple as that.
As of this point, I am now 1:1 long/short for the first time in a long time and willing to go with
whichever
way the market takes us. We are nearer to the top end of our 2.5 month range, but we can definitely squeeze shorts farther and/or break out to new highs (north of S&P 950), so I am open to any movement here, since each night 1-2 earnings reports will be extrapolated into meaning "doom" or "recovery" for the entire global economy, as told to us by the stock market. I don't expect any real pullback to end the day, because if you notice in the markets nowadays, the computers have us either go in 1 direction almost the entire day, or trade in a narrow listless range all day. There are almost no real reversals anymore - I guess the
PhDs
program it that way.
Mosaic is fertilizer and part of the reflation trade,
Prologis
is another try at commercial real estate after we were forced out of
Macerich (NYSE:MAC)
Wednesday morning, and
Woodword
Governor is a readers nomination for "gap fill". All 3 broke support a while back, and now have dead cat bounced back into resistance. This is my favorite type of short set up, but since I short right around resistance areas, with tight stop - I can easily be shaken out of this type of chart.
The charts will all look almost identical.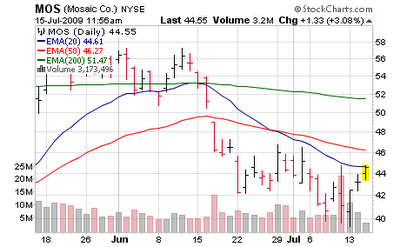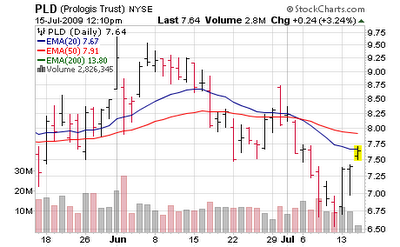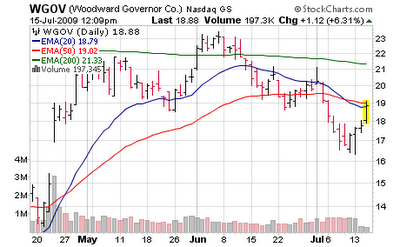 Disclosure: Short all names mentioned except Macerich in fund; no personal positions