ETF Spotlight on the WisdomTree LargeCap Dividend Fund (NYSEARCA:DLN), part of an ongoing series.
Assets: $1.6 billion.
Objective: The WisdomTree LargeCap Dividend Fund tries to reflect the performance of the WisdomTree LargeCap Dividend Index, which is comprised of the 300 largest companies that have paid regular cash dividends in the 12 months prior to the index construction and weights holdings based on projected cash dividends over the next year.
Holdings: Top holdings include AT&T (NYSE:T) 3.4%, Exxon Mobil Corp (NYSE:XOM) 3.4%, Microsoft Corp (NASDAQ:MSFT) 3.2%, Apple Inc (NASDAQ:AAPL) 2.7% and Johnson & Johnson (NYSE:JNJ) 2.6%.
What You Should Know:
WisdomTree sponsors the ETF.
DLN has a 0.28% expense ratio.
The fund has 300 holdings and the top ten make up 27% of the overall portfolio.
The ETF has a distribution yield of 2.59%.
Sector allocations include consumer staples 15.6%, information technology 14.6%, financials 13.1%, health care 11.8%, energy 10.7%, industrials 10.5%, consumer discretionary 8.2%, telecom services 6.2%, utilities 5.6% and materials 3.6%.
Capitalization breakdown includes mega-caps 58.7%, large-caps 35.5% and mid-caps 5.8%.
DLN is down 0.7% over the past month, up 4.9% over the last three months, up 13.3% year-to-date and up 25.5% over the past year.
The ETF is 6.2% above its 200-day exponential moving average.
"WisdomTree LargeCap Dividend DLN is a handy U.S. equity core holding for investors who want a value tilt and extra income," according to Morningstar analyst Samuel Lee. "This fund targets high-dividend-paying companies and forgoes the standard market-capitalization weighting scheme used by common market indexes, such as the S&P 500."
"Historically, a large portion of the returns from investing in stocks has come from dividends," Lee added. "By weighting stocks by total dollar payout, rather than by dividend yield, this fund attempts to avoid over weighting stocks that are likely to cut their dividends.
The Latest News:
"The U.S. markets are going through a transition from being liquidity driven to a rally based on fundamental data and that's a very bumpy ride," Andres Garcia-Amaya, global market strategist at JP Morgan Funds, said in a Bloomberg article.
"Investors are trying to figure out whether we are now pricing in earnings and the jobs situation or whether it's still the Fed leading markets. So we're slowly taking off the training wheels and that makes things a little wobbly," Garcia added.
The broad stock markets experienced a rough two weeks as investors pulled out on speculation that the Fed cut back its quantitative easing measures.
"There's some trader anxiety lingering from yesterday's big move down," Michael James, a managing director of equity trading at Wedbush Securities Inc., said in the article. "The market is testing the 50-day moving average on the S&P 500."
WisdomTree LargeCap Dividend Fund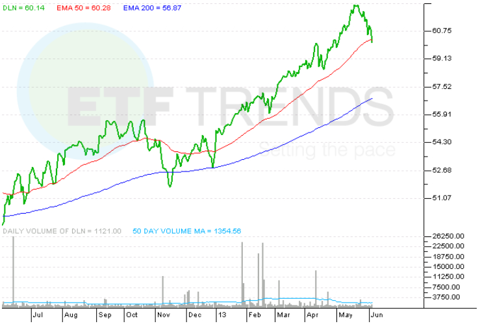 Click to enlarge
Max Chen contributed to this article.
Disclosure: I have no positions in any stocks mentioned, and no plans to initiate any positions within the next 72 hours. I wrote this article myself, and it expresses my own opinions. I am not receiving compensation for it. I have no business relationship with any company whose stock is mentioned in this article.