With the stock market's strength in 2013, the question on the minds of many investors is how much of this is due to economic strength and how much is due to central bank activities.
While asset prices can be distorted temporarily by stimulus and the anticipation of stimulus, there are some measures that are driven purely by supply and demand. One such measure is scrap metal prices, and it happens to be Alan Greenspan's favorite economic indicator.
Scrap prices, like the stocks of many industrial companies, have not really enjoyed the same type of recovery as other assets. In this article, I want to discuss how scrap prices continue to trend down, undermining thoughts of a healthy recovery.
One reason, for Greenspan's use of scrap prices as an economic indicator, is it is free of speculation and an effective measure of demand from industrial companies. Most scrap metal in the U.S. is exported and eventually used by steel and aluminum companies. Higher scrap metal prices would come about as a result of these companies anticipating greater demand from customers. Therefore, it is fair to conclude that so far, companies are not seeing signs of strong demand.
As the chart below shows, over the last two years scrap prices are down 20%. In contrast, the SPDR S&P 500 ETF (NYSEARCA:SPY) is up about 35% during the same time period.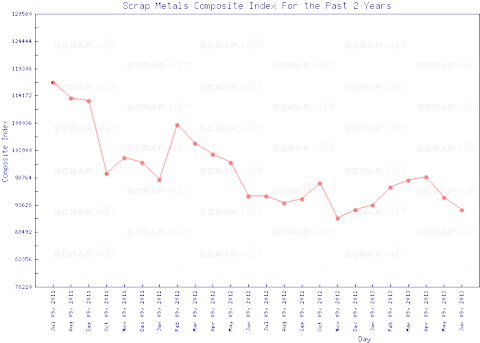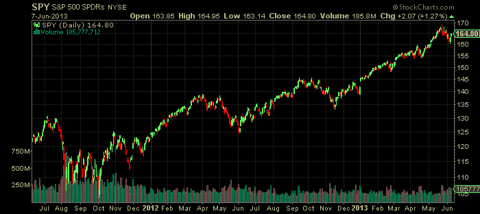 Although, scrap prices have not corresponded very well to the U.S. stock market, they have tracked better with the iShares FTSE /Xinhua China 25 Index (NYSEARCA:FXI); both topped in 2010 and since then have been trending steadily down.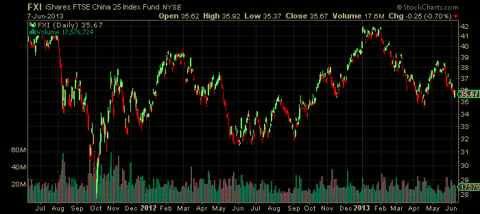 As mentioned above, scrap prices can be seen as what type of demand steel and aluminum companies are anticipating from customers. As we see in the two charts below from Alcoa Inc. (NYSE:AA) and United States Steel Corporation (NYSE:X), these companies are delivering the same message as scrap prices as well.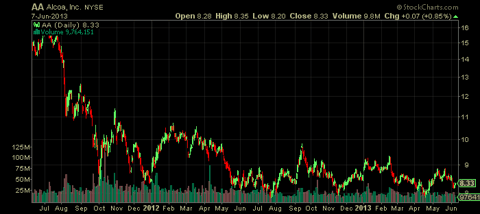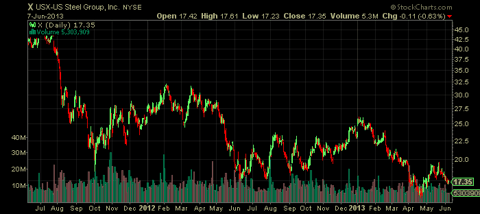 Conclusion
I believe that the Fed can create the illusion of an economic recovery via higher asset prices. And in some ways, through the wealth effect, it can feed back into the economy. Since the underlying economy remains fragile despite the Fed's best efforts, I expect that when the Fed does pull back on its liquidity programs, it will have a significant effect on stock prices.
If scrap prices were telling a different story, then I would have more confidence that the Fed stepping back would not create problems. However, in the near term with inflation in check, I think the Fed has sort of a "free lunch" with its easing programs so I expect any economic stumbles to be met with aggressive Fed action.
Disclosure: I have no positions in any stocks mentioned, and no plans to initiate any positions within the next 72 hours. I wrote this article myself, and it expresses my own opinions. I am not receiving compensation for it (other than from Seeking Alpha). I have no business relationship with any company whose stock is mentioned in this article.