If you have been carrying exposure to fixed income closed-end funds in your portfolio, you have probably experienced a bit of pain in recent weeks as premiums have compressed and discounts have widened. It's natural to think that a leveraged basket of fixed income securities would perform worse than an unleveraged basket in a similarly allocated ETF, as interest rates rise or spreads widen. As I have said in the past, I am far more concerned with the NAV performance of a CEF than I am with the day-to-day price fluctuations. So as I was cycling through my watch list over the weekend, and analyzing the most recent data, I'm shocked to see how well the NAVs of certain funds have held up in relation to their market price. If you are an intermediate-term investor interested in securing an attractive income stream as a result of the recent volatility, now is the time when you should be monitoring your watchlist closely to take advantage of the recent price dislocations.
Fixed income investors have been riddled with fear over what the Fed might say or do next to cull the negative repercussions of QE. I believe the rise in interest rates is a bit overdone in the near-term and is limited to the 2.35-2.4% range on the 10-Year Treasury yield. With that in mind, I also think we will continue to experience higher than normal volatility in bonds, and that rates are likely to ricochet between 2.0-2.4% for the remainder of the year. Unless we see a real correction in stocks, then rates will likely fall back to sub 2% levels. As a fixed income CEF investor, you should be mindful of both stock and bond market volatility, since both could cause a fund's price to get knocked off course in the short term, even though the funds' NAV doesn't.
My methodology hinges on the notion that in times like these, you should be expanding your position sizes in an effort to dollar cost average your positions lower, or open new positions in funds that offer good risk-to-reward prospects for income and opportunity for total return. During strong uptrends and low volatility, as represented by the VIX, you should be strategically reducing your holdings as premiums widen outside average historical norms. Right now we are in the midst of a great accumulation opportunity, not a selling spree.
A few funds that I currently have holdings in that I continue to expand on at current levels are the PIMCO Dynamic Income Fund (PDI) and the PIMCO Dynamic Credit Fund (NYSE:PCI). Looking at the charts, both funds trade at historically low discounts at roughly -9% and -7%. In addition, PDI has posted excellent NAV performance with a pullback of approximately 2% off its most recent high. PCI has also posted respectable NAV performance on par with what I look for in light of the fund carrying a higher average duration, with a fall of just 3.5%. I plan to have both positions fully sized in the coming weeks if prices continue to remain weak.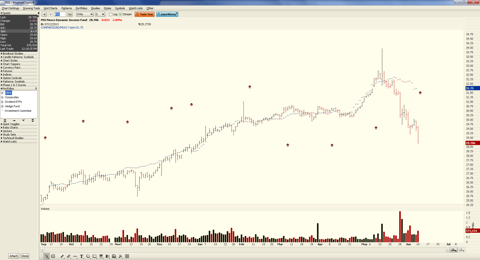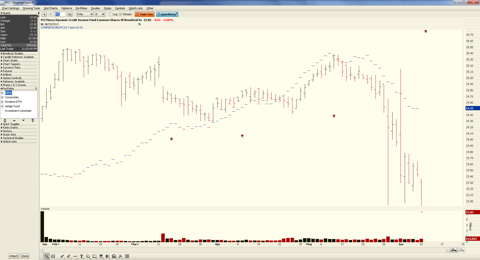 Another fund that I briefly discussed in my article entitled, The Leveraged Income And Alpha Strategy: Part 2, was the newly offered DoubleLine Income Solutions Fund (NYSE:DSL). For reasons I discussed in the article, I was holding off on making an allocation to DSL. The fund recently announced its first dividend and the market was less than enthused with the distribution rate. The fund proceeded to fall roughly 4.5%. This doesn't bother me in the least, and now its portfolio strategy is more fully invested as opposed to 100% cash after its IPO. I find DSL to be attractive enough for a small starter position near current levels, even though the fund still trades at a modest premium. I will look to expand on that position once a schedule of its holdings comes out after a full quarter of operating history and I still feel confident in its ability to meet or exceed its distributions.
Investors that decide to make opportunistic purchases in CEFs during time of heightened volatility need to keep their eye on the intermediate term. The first step in identifying a turnaround is volatility subsiding, so that there can be meaningful stabilization in a funds' market price. Shortly thereafter, the recovery phase can then take hold, whereby an outsized discount can quickly narrow to historical norms.
Envision how you would like your portfolio to look on the other side of the current dip, then begin your purchases in the most dislocated, oversold funds on your watchlist. Always perform ample due diligence and weight the factors that you find most important to your long term success. Sticking to a definable strategy will ensure you emerge from any short term setback profitably.
Disclosure: I am long PDI, PCI. I wrote this article myself, and it expresses my own opinions. I am not receiving compensation for it (other than from Seeking Alpha). I have no business relationship with any company whose stock is mentioned in this article.
Additional disclosure: Fabian Capital Management and/or its clients may hold positions in the ETFs or mutual funds mentioned above. The commentary does not constitute individualized investment advice. The opinions offered herein are not personalized recommendations to buy, sell or hold securities.