The Fed's monetary policies have artificially inflated preferred stock prices for the past year or so. Understandably, those who have paid these high prices are very sensitive to any sign that the Fed is going to back away. On May 30 we got a rare chance to see just how sensitive this group really is.
On that day many preferred stock investors became convinced that the Federal Reserve was about to start raising interest rates by backing out of the bond market [1]. Even though the Fed had reiterated during the prior month that they had no such intention, many of those who have been paying market prices well above these security's par value for over a year now sold their holdings.
34 High Quality Issues Now Trading Below $25
The average market price for high quality [2] preferred stocks dropped from $26.78 on May 29 to $26.04 on June 7 with several high quality issues falling below their $25 par values. That's about a 3 percent price drop that has created the strongest opportunity for preferred stock buyers that we have seen for several months.
The May 30 event resulted in 34 call-protected high quality preferred stocks trading below $25 per share compared to just nine on May 29 [3].
How the Fed Controls Preferred Stock Prices
By purchasing $85 billion in long-term bonds each month, the Fed substantially reduces the bond supply available to other buyers which increases bond prices. Having to pay a higher price for a bond lowers its return.
Those who depend on the return from bonds are then forced to switch to the next alternative up the risk ladder pushing up the market prices of high-quality preferred stocks.
The "V" Pattern: 2004 All Over Again
In early 2004, the U.S. economy was struggling to recover from a recession. The Fed had held interest rates artificially low for a prolonged period of time. Preferred stock market prices were artificially high, just under $27 per share. Many preferred stock investors who had paid the high prices were fearful that the Fed was going to start increasing rates soon.
Sound familiar?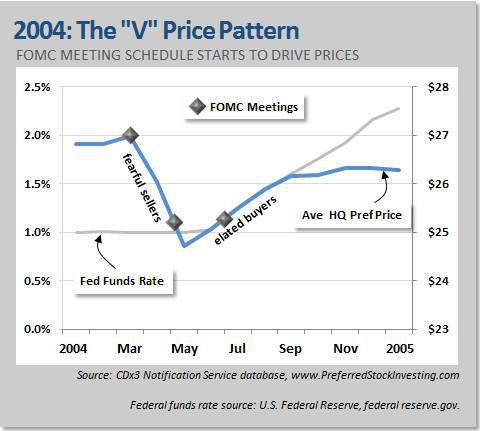 After the March 16, 2004 Federal Open Market Committee (FOMC) meeting, fearful sellers became certain that the Fed would start increasing interest rates at its next meeting on May 4, 2004. The average market price for high quality preferred stocks dove for the cover that the $25 par value can provide, settling at $24.73.
Elated buyers jumped in, pushing prices back up. The resulting "V" price pattern illustrates how this premature speculation by fearful sellers created opportunities for elated buyers in early 2004.
The Fed did not actually begin raising the federal funds rate until their June 30, 2004 meeting, doing so by a mere 0.25 percent. Confident that the Fed was going to increase rates gradually, market prices of high quality preferred stocks did not fall back under $25 per share until April 2006, almost two years after the rate increases started (see "Fed Policy Fails On Jobs But Highlights Opportunity For Income Investors" for chart).
Fearful Sellers Have Shown their Hand
The Federal Reserve has made their intentions very clear - we should not expect a change in their interest rate policy until (A) the unemployment rate has dropped below 6.5 percent and (B) inflation advances above 2 percent. The FOMC and its members have reiterated that policy for many months both at their regular meetings as well as in public speaking engagements.
The U.S. economy has to add about 180,000 to 200,000 jobs each month just for unemployment to keep from getting worse; that's the break-even point. The May unemployment data came in with a weak 175,000 new jobs pushing the unemployment rate up 0.1 percent to 7.6 percent.
While no one knows with certainty when the Fed will begin to increase rates, these data do not suggest that any such policy change is imminent. And yet, on May 30 we saw just how much sensitivity there is in the minds of many preferred stock investors - they showed their hand.
The 2004 "V" price pattern appears to be repeating itself. The list of 34 high quality preferred stocks that are now available for less than $25 is likely to grow. Buyers should be paying attention.
Footnotes:
[1] Source for preferred stock price data in this article: CDx3 Notification Service database at www.PreferredStockInvesting.com. Disclosure: The CDx3 Notification Service is my preferred stock email alert and research newsletter service and includes the database of all preferred stocks and exchange-traded debt securities traded on U.S. stock exchanges used for this article.
[2] "High quality" includes preferred stocks and exchange-traded debt securities that meet the criteria from chapter 7 of my book, Preferred Stock Investing, without consideration of coupon rate.
[3] Source for the nine sub-$25 high quality preferred stocks from May 29: CDx3 Research Notes, June 2013, page 3. Source for current sub-$25 high quality preferred stocks: the "CDx3 Bargain Table" HotList, CDx3 Notification Service website (subscription required).
Disclosure: I have no positions in any stocks mentioned, and no plans to initiate any positions within the next 72 hours. I wrote this article myself, and it expresses my own opinions. I am not receiving compensation for it (other than from Seeking Alpha). I have no business relationship with any company whose stock is mentioned in this article.