It can be costly to be a monopoly. However, despite Microsoft's (NASDAQ:MSFT) large anti-trust and unfair competition outlays this financial year, it has been more than worth Microsoft's money. Moreover, recent extra fines and legal cost outlays created a situation in which Microsoft has paid for most of its past mistakes and monopoly status. The company now has a cleaner slate, not only in terms of its future financial statements, but also in terms of a better public picture going forward.
State of the U.S. and Canadian legal disputes
The vast majority of class action suits has been already settled, as the note 14 of the most recent Microsoft's 10-Q filing reveals:
A large number of antitrust and unfair competition class action lawsuits were filed against us in various state, federal, and Canadian courts on behalf of various classes of direct and indirect purchasers of our PC operating system and certain other software products between 1999 and 2005. We obtained dismissals or reached settlements of all claims made in the United States.
However, three cases remain unsettled in Canada:
The three cases pending in British Columbia, Ontario, and Quebec, Canada have not been settled. In March 2010, the court in the British Columbia case certified it as a class action. In April 2011, the British Columbia Court of Appeal reversed the class certification ruling and dismissed the case, holding that indirect purchasers do not have a claim. The plaintiffs have filed an appeal to the Canadian Supreme Court, which was heard in the fall of 2012. The other two actions have been stayed.
Costs of the U.S. and Canadian legal disputes
Microsoft's reputation scars continue to hurt the company and its shareholders financially. In the third quarter of the financial year 2013 ending March 31, the company reported significantly higher general and administrative expenses compared with previous quarters. Microsoft cited higher legal fees as one of the main reasons why these costs shot up by approximately $500M.
As the note 14 of the most recent Microsoft 10-K filing reveals, Microsoft estimates that the total cost to resolve all of the U.S. and Canadian overcharge class action cases will reach $2B at most, and on March 31, 2013, the company recorded a liability related to these claims of approximately $500M, representing the estimated total outstanding liability because approximately $1.4 billion has already been expensed, mostly for vouchers, legal fees, and administrative expenses:
The maximum value of vouchers to be issued as a compensation is approximately $2.7 billion. However, the actual costs of these settlements will be less than that maximum amount, depending on the number of class members and schools that are issued and redeem vouchers.
The European Commission fine
The following is the table that shows reconciliation of Microsoft's financial results reported in accordance with generally accepted accounting principles (GAAP) to non-GAAP financial results for the quarter ending March 31, 2013 (FY2013 Q3).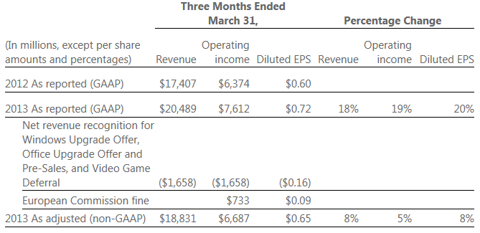 Among other things, it reveals a $733M European Commission fine for failing to properly implement commitments from the 2009 EC ruling regarding displaying a browser choice screen on Europe-sold PCs with a Windows-based operating system that had Internet Explorer preinstalled as the default browser. Microsoft decided not to appeal the fine and the case will be closed as a result.
Other outstanding legal disputes
Microsoft is involved in many other unsettled legal disputes, for example, with Novell and Motorola. Microsoft accrued substantial amounts for these and other outstanding legal battles:
As of March 31, 2013, we had accrued aggregate liabilities of $419 million in other current liabilities and $176 million in other long-term liabilities for all of our legal matters that were contingencies as of that date. While we intend to defend these matters vigorously, adverse outcomes that we estimate could reach approximately $450 million in aggregate beyond recorded amounts are reasonably possible.
Balance sheet and income statement impact
Legal disputes have thus far cost Microsoft approximately $1.233B ($500M U.S., $733M EU) this financial year ending June 30. So, the bad reputation and monopolistic position definitely still continue to hurt MSFT both financially and in terms of its brand reputation. However, despite this financial year being exceptionally heavy in terms of the costs of anti-trust and other monopoly battles, these extra high "monopoly" costs represent only 6% of the $20.6B total operating income for the first nine months of this financial year ending March 31, 2013.
The main finding is that Microsoft's costs related to its monopoly are ridiculously small, and they definitely pay off in the long run
Moreover, most of Microsoft's outstanding legal dispute liabilities are already accrued in its accounting in liabilities ($419M+$176M), except for a possible total liability of up to $450M, which cannot be accrued yet due to being unpredictable in size, and which materializes if Microsoft loses all of its future outstanding legal battles that are currently known and unsettled. Of course, new legal disputes can emerge in the future, which would further increase the bill.
Microsoft is no longer considered the main and only villain
On the other hand, despite many past and ongoing legal battles, Microsoft is no longer viewed as the only villain among the IT/technology companies, as was virtually the case a decade ago. Of course there were others, such as many tobacco or Oil & Gas companies, that were being frowned upon by society; however, Microsoft was really the main and virtually sole IT/technology/software company being targeted by consumers and authorities.
Today, the situation is different. There are other technology monopolies and enfants terrible out there, for example, Google and Apple. As a result, not all eyes are on Microsoft any longer and the company has much more room to do business as usual than before.
I would even argue that Google (NASDAQ:GOOG) and Apple (NASDAQ:AAPL) are now viewed as bigger mischiefs than Microsoft. Take, for instance, the very recent actions by the EU against Google, Apple and Amazon (NASDAQ:AMZN) regarding tax evasion, and also the dominant position of Google's Android operating system, or increasing concerns about all of Google's growing array of monitoring technology such as Google Streetview, Google Goggles, online and mobile user tracking for the purposes of marketing and advertising campaigns and sending users more precisely targeted ads. The recent PRISM leaks seem to punish all top U.S. tech companies equally.
Or take Apple, with Tim Cook very recently testifying for 4 hours to the U.S. Senate regarding Apple possibly hiding the largest corporate cash piles in foreign tax shelters. Or the publicity around the troubling conditions in the Foxconn factories producing iPhones.
On the other hand, Microsoft tries to keep a low profile and improve its public image. Take, as an example, the software and operating system security tests. Microsoft ended well below Google and Apple in terms of the number of security vulnerabilities in its software.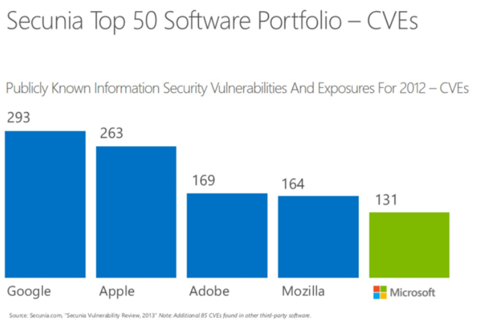 I am not trying to insinuate that Microsoft is now the darling of the masses and a clean and altruistic business, but rather that there are now equally strong - if not stronger - monopolies in the technology/software world that rightfully get their fair share of authorities' attention.
I would even argue that Google is now taking on Microsoft's position of being the main technology monopoly and privacy concern out there today, as Microsoft is becoming more of a regular company with just an occasional monopolistic or privacy hiccup.
The takeaway
In conclusion, Microsoft has settled large, outstanding anti-trust and unfair competition bills this financial year and as a result, its balance sheet and income statement should emerge stronger and more shielded from negative impact of legal costs in the upcoming years. The costs of the monopoly are extremely low and definitely pay off in the long run.
This is yet another positive development for investors and one more reason for me to recommend Microsoft as a long-term buy, as I did in my recent post.
Disclosure: I am long MSFT. I wrote this article myself, and it expresses my own opinions. I am not receiving compensation for it (other than from Seeking Alpha). I have no business relationship with any company whose stock is mentioned in this article.