There has been considerable discussion among Seeking Alpha commentators recently about the perceived year-long sideways movement in Nokia (NYSE:NOK) shares. It's been often stated in the threads that it is "dead-money" to hold the stock and the only way to profit from it is to trade with the ups-and-downs. To that my only answer can be "yes and no." Certainly, I've seen Seeking Alpha members profit from selling on Nokia's frequent mini-surges and re-buy at lower levels. I participated in one of these recently around the L925 unveiling and after commissions and exchange rates, benefited with a 2.7% increase in the (modest) number of my shares, something not worth the trade-off for me in retrospect. More technically advanced investors frequently make such trades using calls and puts and some have derived much greater benefits over the long term. On the "no" side to trading it, I believe that the stock is poised at some point to move to a perpetually higher plateau. Judging exactly when that will occur is the issue and it is perhaps much safer to just buy and hold waiting for this moment. I suspect that over the next few weeks, we are about to have one of those moments where both traders and long-term holders can benefit and here's why.
I believe there are several significant catalysts that will affect Nokia's share price right up until July 18th 2013, the provisional date for the 2Q2013 Earnings Report. These will be mostly positive, however, Nokia shares also have a tendency to lose the gains from these catalysts as their recent history shows.

Click to enlarge
The above chart is merely my interpretation of some of the swings that its shares have experienced over the last year. While shares have risen 17% in the last year, it masks the 52 week range difference of nearly 300% from trough ($1.63 in July 2012) to peak ($4.70 briefly in January 2013). I would therefore consider it slightly dubious comparison for Nokia to be put in the same bracket as genuine sideways moving stocks such as Exxon (NYSE:XOM) or Wal-Mart (NYSE:WMT) which have low betas. So with that in mind, let's take a look at what will affect the stock over the coming weeks.
Possible Positive Catalyst 1: The Eos - A New Lumia With An Incredible Camera
There will be two related catalysts I believe associated with this. Firstly, the invitations for its launch will be sent out very soon, possibly they will have done so by the time this article is published. The second catalyst will be the unveiling event itself, which increasingly seems like early July.
Regular readers will know already that I am very excited by the Eos. Just to give an idea of how much potential this phone has, consider the following picture.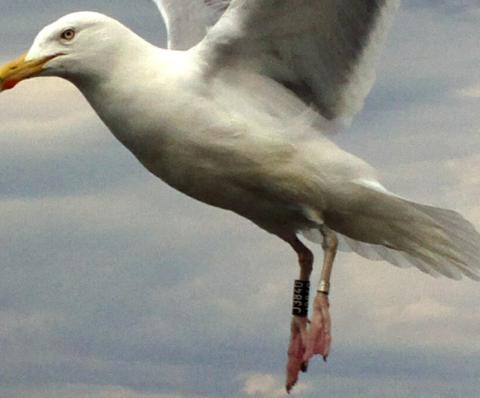 Click to enlarge
Source: AllaboutSymbian.com
That photo was taken by the Nokia 808 Pureview - The very last Nokia Symbian smartphone which was launched in Spring 2012. It carries a 41-megapixel camera which makes it the best cameraphone even in many current consumer tests more than a year since its release. The reason lies in that photo. In a shot of the harbor, the photographer captured that seagull in mid-flight. Not only that, but if you see its feet, the picture is clear enough for its identification tag to be seen.
The 808 Pureview itself sadly sold quite poorly due to several factors. These were: non-existent marketing; focus by Nokia on Windows phones; limited availability off-contract; and having minimal carrier support.
So the Google trends graph comparing the 808 Pureview with the Lumia 920 doesn't surprise with the greater interest in the latter phone.

Click to enlarge
However, there is still something intriguing in that graph. The initial interest for the 808 Pureview nearly matched that of the Lumia 920 due to the amazement it was greeted with by technology websites.
With a proper marketing effort, I genuinely believe that the spike that will follow the new Nokia Eos launch will exceed that of the Lumia 920. Not only because of the general increase in product awareness of the Lumia range, but because I don't believe ordinary people are yet aware that Nokia managed to produce such an impressive phone last year. The launch therefore has considerable potential to cause a bullish surge in Nokia shares.
Possible Positive Catalyst 2: Tablet launch
Rumors have started to percolate that Nokia is about to launch a new tablet. This tablet interests me a lot more than its squashed predecessor, an un-launched Microsoft (NASDAQ:MSFT) Windows RT tablet which I believe was killed off around December 2012. Its successor is rumors suggest a Windows 8 tablet between 7-8 inches big and may come with Office 2013 pre-installed.
To me, that strikes all the right characteristics to be able to take on and beat the Apple (NASDAQ:AAPL) iPad mini. The fact that one will be able to easily use Office 2013 especially in a business context is a very exciting one.
I do not know when exactly this tablet will be launched. But if it is indeed being tested at the same time as the Eos with AT&T as of now, it is highly possible this will be launched at the same event as the Eos in July.
Possible Positive Catalyst 3: July 4th Positive Earnings Warning
On January 10th 2013, Nokia released a positive earnings warning for its 4Q2012 results. This caused the stock to spike 25% over the next couple of days. It is conceivable something like this could happen again. Under Finnish law, a company must issue such a warning if it believes its results will differ from the guidance issued in its last quarterly earnings release.
So in its 1Q2013 Earnings report we see the following guidance for its Devices & Services division.

Click to enlarge
We also see the following guidance for its Nokia Siemens Network division.

Click to enlarge
Source: 1Q2013 Nokia Earnings Report - Page 4
The question is thus whether we expect to see Nokia phone sales operating margin to exceed +2% and/or NSN sales to exceed +9%. Due to the business-to-business nature of NSN sales, it is exceedingly difficult to judge this division's performance between earnings reports. We do hear regular reports both positive and negative; however, I feel they are currently no different to business-as-usual. What can help us are stories which materially affect our expectations. However I do not believe I have found any since its last set of results in January. I therefore find it improbable that it will surprise us with something different from its guidance.
With "Devices & Services," however, we have considerably more information. We already know that Nokia is expecting 7 million+ Lumias to be sold in 2Q2013. So we have two variables to work with. These are how much we expect this to be exceeded by and if we expect feature phone sales to exceed Nokia expectations also. Regarding Lumia sales, indications are that the Lumia 520 is selling exceptionally well. However, it is very difficult to calculate an approximate figure as of now. The founder of AdDuplex, a Windows Phone website has teased that L520 has doubled its share of the ecosystem to approximately 9% from 4.4% last month. This very likely makes it the fastest selling WP phone yet launched. However as we do not know how fast the other phones are selling, it only gives us a relative indication, not an absolute one. So instead let's see what figures Nokia needs to beat by using the report itself.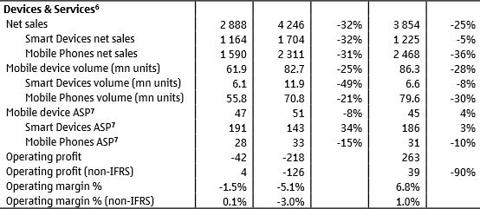 Click to enlarge
Source: 1Q2013 Nokia Earnings Report - Page 6
(figures in Euros - €1:$1.32 as of 06/10/2013)
So, if we take the above figures and predict all ASPs remaining equal, if we increase smart device volume to 7 million, total net sales will only rise to $3.88 billion (€2.93 bn), a 1.7% increase which won't be significant enough to raise the operating margin over 2%.
However, it is unlikely the exact above scenario has occurred. It is possible mobile phone ASPs may have slightly increased to $38 (€29) or so due to an increase in Asha sales (which retail for much higher than other Nokia feature phones). I also think with several bullish market analysis reports such as Kantar's that it is quite possible that Lumia sales have exceeded 8 million this quarter. So let's assign that a figure of 8.5 million. I will keep the ASP the same for the smart devices line-up as with the phasing out of old cheap Symbian models (0.5 million of the 6.1 million in the above table) and the phasing in of cheap L520s and L620s, the ASP will be roughly the same. So with Smart Device net sales of $2.14 bn (€1.62 bn) and mobile phone net sales also of $2.14 bn (€1.62 bn), our total net sales are now $4.29 bn (€3.24 bn). This would represent a 12% increase in net sales QoQ and is quite likely to cause an earnings beat for Nokia and make it issue a positive profit warning.
There are several variables and unknowns in my calculations, especially around the feature phone sales volume and ASP. These two variables can affect the operating margin but need large changes to significantly affect it due to the large price differential between feature phone and smartphone ASPs.
On the other side of the equation, these basic calculations show that just 1.5 million extra Lumias sold are enough to cause this positive earnings warning to be released. This shows the impact that these higher ASP phones can have compared with regular Nokia feature phones. Therefore even with a modest decline in feature phone sales, Nokia may still be able to beat expectations.
Regarding feature phone sales in particular, I do not see much recovery in Nokia's sales volume. Additionally, if it does recover, I believe it will be at the cost of lower ASPs (excluding Asha phones). Not only are feature phone sales contracting, but I do not think Nokia is capable any longer of competing satisfactorily in this market against the likes of Samsung, Lava, Micromax and other generic phone makers. This brings us to the final potential catalyst.
Possible Negative Catalyst: July 18th Earnings Report
I am long term bullish on Nokia; however, past experience has taught me to be wary of Nokia earnings releases. There do tend to be hidden surprises within which can cause adverse market reactions on the day. I personally will give strong consideration to selling some shares post July 4th regardless of what happens. If Nokia gives a positive warning, the stock price spike will let me lock in some profits. If Nokia doesn't give a warning, I will also (probably) sell as I think it will have had another poor quarter of feature phone sales. After the July 18th Earnings release, I will then pick an opportune time to re-invest and perhaps this time benefit by more than 2.7%.
Future Catalysts
Over the coming quarters, I believe we will have several positive stories. I believe Nokia will record successive quarters in the black driven by continued Lumia sales increases which will cause a re-evaluation of the company's fundamentals by the market and result in a sustained upward push. This could have the counter-intuitive effect of yet further increasing its share price as it is re-admitted into fund portfolios and indices such the Euro Stoxx 50 index. I also strongly suspect that Nokia is working on a "phablet" for launch in 4Q2013. There will also be a true Lumia 920 successor in 4Q2013. This phone I believe will serve the same function as the L920 in serving as a template for other phone designs such as the L928 and L925.
There is an early way to judge if these catalysts will indeed occur. When the Eos is launched, compare the interest it generates on Google Trends versus the Lumia 920. If it generates significantly more interest, especially over a number of months, it will bode very well for Nokia as it will indicate that it is succeeding in recapturing the attention of consumers. If it fizzles out, then perhaps those who believe in trading around Nokia's sideways movements will have another year to put their technical skills to the test.
Disclosure: I am long NOK. I wrote this article myself, and it expresses my own opinions. I am not receiving compensation for it (other than from Seeking Alpha). I have no business relationship with any company whose stock is mentioned in this article.
Additional disclosure: This article is not an investment recommendation. Any analysis presented in this article is illustrative in nature, is based on an incomplete set of information and has limitations to its accuracy, and is not meant to be relied upon for investment decisions. Please consult a qualified investment advisor. The information upon which this material is based was obtained from sources believed to be reliable, but has not been independently verified. Therefore, the author cannot guarantee its accuracy. Any opinions or estimates constitute the author's best judgment as of the date of publication, and are subject to change without notice.