An expansive stimulus package and an increase in lending have helped China's economy, as well as the PowerShares Golden Dragon Halter USX China ETF Portfolio (NASDAQ:PGJ), surge in recent months. PGJ has been solidly within the top 10 funds on the ETF International Momentum Table since mid-April, reflecting the rebound in China's economy. Despite some long-term inflation fears, China's economy could continue to grow quickly in the short term, and PGJ offers investors a balanced way to access this expanding market.
PGJ tracks the Halter USX China Index, which is composed of the U.S.-listed securities of companies that derive a majority of their revenue from the People's Republic of China.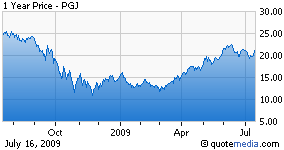 Currently, 45.93% of the fund is giant cap, 32.65% is large cap, 4.19% is medium cap, 12.01% is small cap and 5.23% is micro cap. While PGJ's assets are noticeably weighted toward the larger-cap stocks, access to the smaller-cap holdings helps investors keep a more balanced portfolio. The largest three economic sectors represented in the fund's portfolio are information technology, energy and telecommunication services, with 22.28%, 18.88% and 13.86% allocations, respectively.
China has good long-term fundamentals, and the country is rich in resources and consumer growth. The population is booming, and the Chinese are stockpiling the raw materials necessary to meet future demand. Recent stimulus measures have led to growing reserves of steel, necessary to meet growing automotive demand. The stimulus funds have also helped to spur a number of infrastructure-related IPOs. Since the beginning of June, eight companies have gone public in Hong Kong as investors predict a resurgence for China.
A 4 trillion yuan ($585.42 billion) government-led stimulus plan and an explosion in bank lending have helped to fuel the Chinese economy. Interest rates are nearly zero, and people are beginning to use funds to buy equities and real estate to keep their money from depreciating. The influx of "easy" money has also prompted a spike in retail. Sean Darby, a strategist with Nomura International in Hong Kong, recently noted that "there's lots of cash and no demand from the real economy, which is perfect for asset prices."
PGJ's top component, China Petroleum & Chemical Corp., now known as Sinopec Corp. (NYSE:SNP), has been looking to expand reserves. In late June, Sinopec made a $7.22 billion takeover bid for Addax Petroleum, an international oil and gas exploration company. State-owned SNP would gain access to oil fields in Africa and Iraq through the deal, adding to fields in Gabon and Sudan. More recently, SNP took over two strategic petroleum reserve depots under the first-phase reserve program. China's government recently raised petroleum prices in an attempt to bring the cost more in line with international oil fluctuations. The price increase is positive for SNP, which was burdened under the old system.
The second largest component in PGJ, with 5.01% of assets, is China Life Insurance Company Limited (NYSE:LFC). This firm operates in three parts: individual life insurance, group life insurance, and accident and health insurance. The large network of agents who are employed by China Life Insurance are able to reach a broad audience in the provinces, while competitors are confined to metro areas. As China's population grows, the demand for life insurance and the price of China Life shares could continue to surge in the long term.
While the recent uptick in China's economy has been positive for equity holders and PGJ, some investors are concerned that this emerging market is moving too fast toward recovery. China's central bank recently raised concerns about the expansion in bank lending, noting that it would adjust its policy as the economy improves. In the meantime, the influx of capital into the Chinese market should continue to make PGJ an attractive buy over the next few months.