I am happier than ever to own shares of MGT Capital Investments (NYSEMKT:MGT). I have been following its story since $3.00 per share, bought shares at $4.00, enjoyed profits at $5.25, and have added more during the recent pullback to the low $4s. I continue to believe that shares will hit $6 this year, and although there are stocks with more upside potential, I can find no other stock with so little downside. Investing is simultaneously about seeking upside while limiting downside, and I think MGT is the best risk/reward-adjusted opportunity in the stock market today.
1/4 cash

1/6 insider owned

low float

no debt

no preferred

current market cap close to fully-diluted valuation

shares in lower portion of 52-week price range

rapid-growth sector with escalating M&A

bonus, home run potential from litigation
This article will explain why I believe MGT has recently retraced 25% from the $5s to $4s per share: unprecedented amounts of negative press about patent trolling, disappointment in the Markman Hearing "delay" from fall 2013 to spring 2014, and temporary selling pressure from warrant holders. I will explain these three issues in detail, but first, let me update the ledgers. I do my own homework and never trust Yahoo Finance. Below are my calculations based on all public information as of June 10, 2013.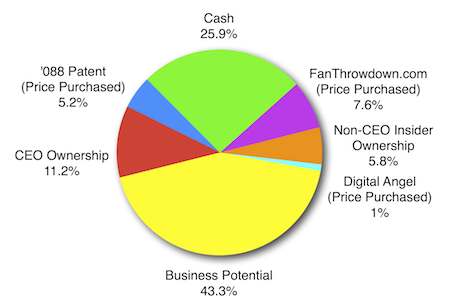 | | |
| --- | --- |
| Market Capitalization | $32.8 million |
| CEO Ownership | 11.2% [A] |
| Other Insider Ownership | 5.8% [A] |
| | |
| ASSETS | |
| Cash | $8.5 million [B] |
| Debt | |
| Digital Angel (wholly owned) | $325,000 at acquisition, likely higher now |
| MGT Sports (wholly owned) | $2,482,500 at acquisition, likely higher now [C] |
| MGT Gaming (55% owned) | $1,704,000 [D] |
| | |
| SHARE STRUCTURE | |
| Shares Outstanding (O/S) | 7.5 million by July [E] |
| Float (included in O/S) | 4 million |
| Number of Shareholders | 1,800 as of 5/28/13 |
| Vested Restricted Stock (included in O/S) | 7,000 as of 3/31/13 |
| Non-Vested Restricted Stock (included in O/S) | 957,667 [F] |
| Warrants Outstanding (not included in O/S) | 1.6 million exercisable at $3.65 average |
| Preferred Outstanding | |
| | |
| FULLY-DILUTED VALUATION | |
| Fully Diluted Share Count by Summer | 9.1 million [G] |
| Fully-Diluted Market Capitalization | $40 million |
[A] As of 5/17/13, CEO owned 13.4% and non-CEO insiders owned 6.9%. MGT's presentation states that insiders own 17% combined as of 5/28/13. If the 20.3% (13.4% + 6.9%) combined insider ownership as of 5/17/13 was reduced to 17% combined insider ownership as of 5/28/13, then this means that ownership stakes were reduced by 16.26% from 5/17/13 to 5/28/13 (mostly because of warrant conversions increasing cash on the balance sheet while raising O/S). Therefore, the CEO's 13.4% stake as of 5/17/13 reduced by 16.26% = 11.2%, and non-CEO insiders' 6.9% stake as of 5/17/13 reduced by 16.26% = 5.8%. In the above table, 11.2% and 5.8% are listed.
[B] $7.0 million as of 5/28/13 + $1.5 million from the sale of MedicSight.
[C] I expect MGT Sports' FanThrowdown.com to be valued at $8 million by the end of 2013 with a proportionate increase in value for MGT's 63.12% stake. Anyway, MGT's 65% ownership acquisition of FanTD LLC, as it was originally announced, was valued at $2,584,500 (627,500 shares when MGT was trading at $3.80 per share on 4/22/13 + $200,000 cash), yet MGT actually finalized a 63.12% stake for $2,482,500 in value (600,000 shares + $202,500 cash on 5/20/13). Even after adjusting for the 1.88% reduction in acquired ownership, MGT should have paid $2,509,748 in value, but it actually paid $2,482,500 in value, and thus saved $27,248 in value. This small amount savings nevertheless reduced shareholder dilution by 27,500 shares, and MGT's savings actually increase over time if MGT common stock rallies, because FanTD LLC will not own those extra 27,500 shares to benefit from higher prices. For example, with MGT trading at $4.37 as of the close of trading Friday, those 27,500 shares reflect additional savings of $15,675 for MGT shareholders- savings that will continue to increase if the stock rallies further.
[D] MGT purchased its stake in the '088 patent for $1,819,000 in value. For bookkeeping purposes, it will amortize this intangible asset at $204,000 annually for at least five years. It now carries the patent on its books at $1,704,000. (If the patent is successful in litigation, of course, it could be worth billions.)
[E] O/S reflects likely approvals at MGT's shareholder meeting on June 20, 2013 at 3:00pm in New York City. I see no compelling reason for shareholders to not approve these proposals, so I assume the highest possible O/S.
[F] 307,667 as of 3/31/13 + 600,000 FanTD + 50,000 Digital Angel.
[G] Fully-diluted share count reflects likely approvals at 6/20/13 shareholder meeting (making O/S 7.5 million) + 1.6 million warrants remaining at an average price of $3.65 per share.
1. MGT Is Cheap Due to Negative Patent Trolling Press

Thanks to Google Trends for the above chart. It graphs interest in the topic of Non-Practicing Entities (NPEs) and so-called patent trolling. Interest has reached all-time highs due to a flurry of media exposure about frivolous lawsuits and political banter regarding the U.S. patent system. To be clear: this past week has shown the highest level of interest in this topic at any time in history. Queries for "patent troll" have tripled since May 28 - precisely when MGT fell from $5.20 to $4.20 per share. Because MGT has an ongoing lawsuit as an NPE, this negative sentiment has carried over into poor share price performance.
All the cheaper for value investors like me. As I have repeated, I am an investor solely because of I expect shares to hit $6 even if MGT ultimately loses its lawsuit. Throw the whole patent out the window, and I still think MGT's FanThrowdown.com doubles in value, Digital Angel launches a game-changing wagering platform by the end of the year, and institutional hedging from warrants subsides, allowing the tiny float of 4 million shares to finally run.
2. MGT Is Cheap Due to Markman Hearing "Delay"
MGT is suing five companies for patent infringement. I think many investors were overly optimistic, hoping that its Markman hearing would be scheduled for fall 2013. We now know that the Markman hearing will not occur until spring 2014. Impatient traders who are not interested in holding the extra 4-6 months have let go of their shares. I have always assumed that the trial would last two years, so their disappointment is simply my opportunity to pick up more shares at cheaper prices.
If you are not familiar with this lawsuit, you can read more about MGT's complaint here. The update since my last article on the lawsuit is that Mississippian court has announced its case management order, and I am happy to find that most of my original estimates were accurate. The following deadlines for the lawsuit are now fixed.
August 30, 2013: MGT to serve infringement contentions

October 25, 2013: Defendants to serve non-infringement and invalidity contentions

November 22, 2013: MGT to serve responses to invalidity contentions

December 6, 2013: Parties exchange claim terms

January 10, 2014: Parties exchange constructions of terms

January 17, 2014: Meet-and-confer to limit claims and claim terms

February 14, 2014: Claim construction discovery ends

February 28, 2014: File opening claim construction briefs

March 28, 2014: Responsive claim construction briefs
For background, MGT is suing the following companies. WMS is the main defendant, and because Scientific Games (NASDAQ:SGMS) is acquiring WMS before the end of the year, WMS is under pressure to resolve MGT's complaint quickly.
WMS Gaming, a subsidiary of WMS Industries (NYSE:WMS-OLD)

MGM Resorts International (NYSE:MGM)

Caesars Entertainment (NASDAQ:CZR)

Penn National Gaming (NASDAQ:PENN)

Aruze Gaming America
The claim construction hearing (aka Markman Hearing) will be scheduled by a separate court order. I estimate April 2014, then summary judgment motions in the summer, pre-trial briefings in the fall, pre-trial conference around Thanksgiving, and final jury trial around New Years. This timeline would match the broad average for federal courts in 2012 (two years from complaint to trial) and the 25-month average for the most closely related court to the U.S. District Court of the Southern District of Mississippi, the Eastern Court of Texas. The case management order stipulates that the trial (if needed - only 5% of cases make it to trial) will last 10-12 days with nine expert testimonies and 25 witnesses.
Remember that we are still awaiting the judge's decision on defendants' motions to change venue, sever, and stay. There are separate motions to transfer to Nevada, Illinois and Pennsylvania; sever the lawsuit into individual lawsuits against each defendant; and stay the proceedings against the casino operators (MGM, CZR and PENN) until the proceedings against the manufacturers (WMS and Aruze) are resolved. I explained these motions in my previous article with my expected outcomes on each issue. I continue to believe that buzz surrounding positive negotiations with WMS/SGMS, as well as the slow run-up into the Markman Hearing, are two catalysts for MGT's low float to hit $6 this year on speculation alone, regardless of the final outcome of the lawsuit.
In all, I still believe that gambling on patent lawsuits is foolish. Even without this lawsuit, MGT's daily fantasy sports business - by itself - is cause enough for shares to hit $6 per share this year. The lawsuit could flop completely, and my investment thesis would remain intact. I have encouraged readers to remember that there are innumerable legal processes in patent lawsuits that are completely beyond most people's comprehension or ability to analyze. Nevertheless, MGT's lawsuit provides a jackpot opportunity for shareholders, and it costs nothing to maintain that opportunity aside from minor, out-of-pocket expenses to the law firm, Nixon & Vanderhye. I wish them the best, and I am happy owning shares, regardless.
3. MGT Is Cheap Due to Selling Pressure from Warrant Holders
Hundreds of thousands of warrants have been converting over the past few months in the mid-$3s. These conversions have raised the share count and added cash directly to MGT's balance sheet. MGT now holds $7 million in cash and will shortly collect a respectable $1.5 million from its sale of Medicsight patents. I have known that these warrant conversions were limiting the rally potential of common shares, but I would like to take a moment to explain this institutional issue to readers.
If you are a large fund like Hudson Bay, you are investing in hundreds of companies through a smorgasbord of security offerings. You have staff to help you keep track of all your debentures, rights, warrants, options, swaps and preferreds, but to be honest, you do not really care about the intricacies of each company. You are looking to capture your 10-20% return and move along to the next deal. Sometimes you catch a few home runs, but most of the time, if you can lock in a double-digit gain, you lock it in.
The same concept applies here. We know that warrants have been converting in the mid-$3s, and MGT was recently trading in the $5s. If you hold warrants at that point, you might decide that the short-term gain is enough and convert. If you watched MGT trading a few weeks ago, as I did, you might have noticed the magnetic attraction of the $3.85 price level. This is no coincidence - a large block of 755,000 warrants were converted at $3.85 . Eventually, enough buying burned through the sellers from that block, and MGT went to the $5s. Then more warrants were converted, and MGT traded back down to accommodate the temporary influx.
I call this "burning through the warrants." There is nothing wrong with this phenomenon. The warrant holders are simply locking in their gains. They are just doing their job and are generally not interested in the long-term performance of each individual company in their portfolio. Note that they could actually be selling awarded and delivered common shares, or, in some cases, they could be shorting the stock in anticipation of receiving their shares, accomplishing the same thing. I am not familiar with the legality of shorting in anticipation of receiving converted shares, but I always assume the worst, so I assume it happens. None of this bothers me. As long as there are warrants outstanding, there will be some overhang on the stock. Investors who simply look at O/S and do not pay attention to warrant count are always caught off-guard by this.
This is why I do my own homework, calculate fully-diluted valuations and invest as if I am investing in the fully-diluted company. The bottom line is that we have 1.6 million warrants left at average price of $3.65 per share, which is not much relative to the tens or hundreds of millions of warrants at most companies. Also remember that each conversion adds $3.65 per share worth of cash to MGT's balance sheet and, therefore, shareholders equity.
Conclusion
The recent selling pressure in MGT from the $5s to $4s per share is temporary across all three issues: negative press on patent trolls, Markman Hearing "delay," and warrant conversions. The downside is limited to the liquidation value of the company (see pie chart above), and the upside is nearly unlimited. As always, any stock can keep going down, and I have detailed specific dangers in my previous article (see the subsection "Risks"). Personally, I hope the selling continues a bit so that I can acquire a full position. I love the safety profile of MGT's capital structure and its multiple shots on goal for triple-digit returns.
Disclosure: I am long MGT. I wrote this article myself, and it expresses my own opinions. I am not receiving compensation for it. I have no business relationship with any company whose stock is mentioned in this article.