On Tuesday June 4th, 2013 President Obama took steps to curb lawsuits brought by companies that make or sell nothing. Most of these companies have no specific product and have no revenues, but make money by suing other large companies. They are commonly referred to as patent trolls. In 2011, both Apple (NASDAQ:AAPL) and Google (NASDAQ:GOOG) spent more money on patent litigation than on research and development! This money should be going into developing new products.
Apple's Chief Executive Officer, Timothy Cook, stated that patent battles have not slowed innovation at the company, but mentioned that some battles have "kind of gotten crazy". This article explains how big the patent troll industry is. In 2011, an estimated $29 billion was paid to these small companies. Companies specializing in patent litigation filed 2,921 infringement lawsuits in 2011. This White House report gives more information on the problems.
This act is known as the SHIELD act, a bill to stop patent trolls. Two representatives, Oregon Congressmen DeFazio and Jason Chaffetz, are sponsoring this act to combat patent trolls.
Chaffetz argues:
"Patent trolls contribute nothing to the economy. No industry is immune to these attacks. Instead of creating jobs and growing the economy, businesses are wasting resources to fight off frivolous lawsuits".
The number of lawsuits have exploded in recent years. Companies like VirnetX (NYSEMKT:VHC) have sued Microsoft (NASDAQ:MSFT) and Apple and have won large amounts of money. VirnetX was awarded $368.2 million in 2012 after a federal jury said Apple infringed its patents for virtual-private-network technology used in Apple's FaceTime video-calling function. In 2012, VirnetX won $200 million after a settlement and licensing act from Microsoft. All this is fine and dandy, however, one must remember that VHC has no operating business producing revenues. In the latest earnings report filed on May 10th, 2013 the company had $293 in revenues.
You might ask. Why would I want to invest in Document Security Systems (NYSEMKT:DSS) when it is also suing other companies? This is where DSS is different. DSS has an operating business and I also believe the company will have a big opportunity in the IP space, as it will be able to acquire other IP portfolios as some Non-Practicing Entities (NPE) perhaps fall along the wayside.
Let's have a look at DSS' latest earnings report. The last earnings report was filed on May 15, 2013 and results can be seen here.
Printing sales increased 34%, licensing and digital sales increased 23% whilst plastic sales increased 22%. The company also managed to achieve a gross profit of $1.5million, a 16% increase over the first quarter of 2012. This resulted in a gross profit margin of 38.6%. One must remember that DSS had $17million in revenues in 2012! This was 28% over 2011. The company has $1.2m cash in hand. The float is around 20m shares.
DSS has a definitive merger agreement signed with Lexington Technology Group (LTG) pending shareholder approval which should be announced July 1st. This merger will further augment the potential opportunities in the intellectual property field for DSS. Following the merger, ~$7 million will be added to the cash balance of the merged company and there will be 41.7 million shares outstanding.
On June 20th, 2013, DSS shareholders will vote on proposals relating to the proposed business combination of DSS and LTG. The combination of Lexington and DSS is expected to close on or about July 1, 2013, if approved by DSS' stockholders.
LTG also reported earnings on June 5th 2013. 2013 was a stellar year for LTG and the future remains bright. The Markman hearing in its infringement case against Facebook (NASDAQ:FB), LinkedIn (NYSE:LNKD) and other defendants is set for October 2nd, 2013. Bascom Research, which is a subsidiary of LTG, has reached a settlement with two defendants in 2 cases thus far.
On April 23, 2013, Bascom Research LLC reached a settlement with a defendant in its ongoing litigation in the Northern District of California. Terms of the patent license are confidential as stipulated in the agreement, but include an effective royalty rate of approximately 4% for use of the four Bascom patents currently in litigation. As a result of this settlement, Lexington will record settlement revenue during the second calendar quarter of 2013.
On May 17, 2013, Bascom Research reached a settlement with a second defendant on another litigation. An effective royalty rate of approximately 5% was achieved. LTG will record revenue of this settlement in the third calendar quarter of 2013.
Technical analysis
Looking at the daily chart, a base is building between $2.50 and $3. The price is currently above the 50-day moving average, which is bullish. Stochastics are in a bullish uptrend. I expect new highs shortly and a scenario where the 50 day moving average will cross the 200 day moving average, creating a golden cross.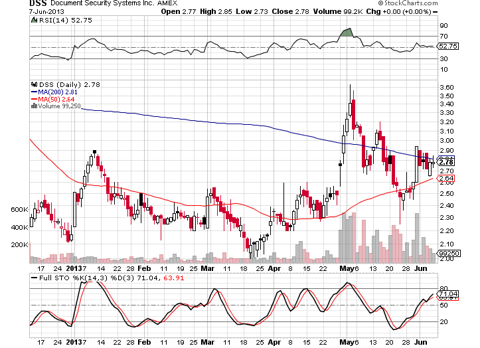 Click to enlarge
CONCLUSION
If the proposed legislation goes through, the whole IP sector might take a hit. I still believe it could end up being a big positive for DSS, however. I continue to believe in the DSS story. With the shareholder vote for the pending merger scheduled to be announced in 20 days, I remain long in my position and will be accumulating on any dips in prices.
Disclosure: I am long DSS. I wrote this article myself, and it expresses my own opinions. I am not receiving compensation for it (other than from Seeking Alpha). I have no business relationship with any company whose stock is mentioned in this article.