While McDonald's (NYSE:MCD) missed first quarter earnings estimates by 1 cent, both revenues and earnings have continued to climb in recent years, in the midst of the tough economic environment. Despite some of the usual doom and gloom talk from people who overreact to quarterly numbers, the overall position of this company remains strong, and the bad news has begun to mitigate.
To be sure, the quarter was disappointing. Global comparable sales (for stores open at least 13 months) were down 1%, which was a first for about a decade. Asia was particularly hard hit, a region which had been a reliable winner for them in recent history. The company points to the residual effects of consumers worried about supply issues in the chicken industry. Something which they state was not an issue with them. Events such as these will have negative impacts for brief periods, but don't do anything to hamper the amazing brand recognition of the company moving forward.
The market's reaction to the first quarter news was not very pronounced, but the stock still has lagged a bit behind the overall market lately. It finds itself off about 4 dollars from its 52-week high.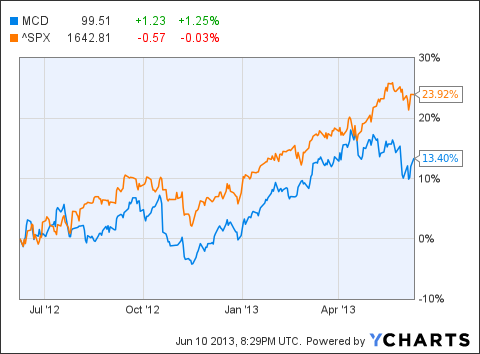 April saw a continuation of this trend witnessed in the first quarter numbers (albeit one which was expected by the company) as global comparable sales were down again, this time 0.6%. May's numbers are now out however, and the trend has unsurprisingly been bucked. Global comparable sales were up 2.4%, including positive numbers from all 3 of their main geographic regions.
A main catalyst pointed to by the company is their expansion of their late-night breakfast menu. An "after midnight" menu from participating 24-hour stores which allows customers to mix and match with pieces of breakfast included.
Their ability to come up with new products to match the unique demographics as they move forward should be praised, as it has proved to be very fine-tuned within this company. In fact, the company sometimes eliminates some of their most traditional products to meet the desires of local cultures and still meets with success. Some examples of unique international items are the Casse-Croute combo from France and the Western Burger from Germany.
The company's willingness to not remain stagnant with their product portfolio is a step above their competitors, and their competition finds themselves having to emulate their business model in order to compete. Even nationally, they have been doing some major shifts with their product portfolios. They have released their lineup of McWraps, which have replaced their Angus Burgers, increased options for their smoothies, breakfast menu and revamped the dollar menu. Their coffees have remained an expanding hit as well.
Internationally, one of the areas open for the greatest expansion is breakfast for its Asia-Pacific, Middle East and Africa segment. Breakfast constitutes only 11% of sales in this area vs. it making up a full quarter of total sales in the U.S.
One of the most shareholder friendly companies, a stated goal from the company, which was articulated during the 1st quarter conference call, was that after investing in the business, they want to return all free cash flow to the shareholders. After a 4th quarterly dividend of 77 cents a share this summer, expect the company (a member of the S&P 500 Dividend Aristocrats list) to once again raise dividends. At over a 3% yield at this point, and with normally healthy yearly increases, the stock will be far above the yield of S&P 500 which sits below 2% at present, making it one of best dividend plays currently.
Disclosure: I am long MCD. I wrote this article myself, and it expresses my own opinions. I am not receiving compensation for it (other than from Seeking Alpha). I have no business relationship with any company whose stock is mentioned in this article.