It has been a wild couple of weeks for shares of SodaStream (NASDAQ:SODA). The company that allows you to make your own soda at home has been the subject of numerous analyst notes, buyout rumors, and widespread speculation. Today, I'll break down the recent chain of events and discuss why when it comes to SodaStream, a bubble may be forming. As always, I'll show why you should buy a stock when the company has great fundamentals, not for takeover rumors.
The recent chain of events:
It's been a month since the company reported its fiscal first quarter. The headline numbers were solid. Revenues came in at $117.6 million, which beat estimates for $113.1 million. Earnings per share came in at $0.57, which beat by two cents. Shares traded in the low $50s at that point, but quickly raced into the mid $60s after analysts thought the company could hit the $1 billion revenue mark in 2016.
But in mid-May, the rally stalled for the time being as a couple of analysts threw cold water on the fire. Deutsche Bank came out and downgraded the name from Buy to Hold. They liked SodaStream's prospects but grew a little weary after the recent rally. JP Morgan then echoed similar thoughts, downgrading the stock from Overweight to Neutral on a stretched valuation.
SodaStream ended the month of May at $63.80. On the first day of trading in June, Monday June 3rd, Barclays raised its price target from $55 to $100. They stated that the product was not a fad, and that channel checks indicated 20% top line growth was conservative. Barclays stated that the bull case for SodaStream could send shares as high as $150. The analyst note sent shares up by $5.26, or 8.24%. The close of $69.06 was the highest since 2011.
The following day, Tuesday June 4th, a rumor came out that Coca-Cola (NYSE:KO) was interested in purchasing SodaStream. SodaStream shares rallied another $1.30, nearly two percent, and were even higher throughout the day. Volume was again heavy, and shares hit another 52-week high, breaking $72 for the first time since 2011.
But Thursday June 6th was the day that seemed to change everything. A report came out that PepsiCo (NYSE:PEP) was willing to pay up to $95 a share for SodaStream sent shares of SodaStream through the roof in pre-market trading. Shares rallied more than 26% at one point, trading above $87 a share, a new all-time high. But after PepsiCo CEO Indra Nooyi stated the rumors were not true, SodaStream shares began to fall back to earth. Shares opened at $72, and after reaching a high of $76 during the day, closed at a multi-year high of $71.24. It was the highest share volume day for SodaStream since May 9th, 2012. Shares closed another dollar or so higher on Friday at $72.52.
On Monday, shares flew higher again. SodaStream cancelled an appearance at an Oppenheimer conference, and their reason was a "scheduling conflict." However, it seems that many think Coke or Pepsi are putting together a bid. Shares rallied by $3.59, or 4.95%, to $76.11, reaching a new multi-year high of $77.80 at one point (not counting pre-market moves last week).
At this point, SodaStream shares are up 46.5% since May 8th. While results have certainly been good, most of the rally has been due to the buyout rumors and Barclays' $100 target, which has probably led to some short covering. In the next few sections, I'll discuss some real reasons to own SodaStream, arguing why you shouldn't jump on to this name, or any name, for buyout speculation.
Continually higher guidance:
When looking at a business like SodaStream, growth prospects are definitely a key. SodaStream is in the early stages of growth in many countries, and they have certainly had some good years lately. In my opinion, the real time to look at SodaStream started in 2012. The shares popped way too much in 2011, and that was the year that they were working on greatly expanding their US retail footprint. Those efforts have certainly paid off, and I'll get into some of that here.
It all started with the company's fourth quarter 2011 results. The company would issue the following guidance for 2012, and the numbers I will give are the convenience translation from Euros to US Dollars. Until the first quarter of 2012, the company reported all results and financial statements in Euros, but would provide a translation amount and the currency conversion amount. Starting with Q1 last year, they went to US Dollar reporting. Here is their original 2012 guidance.
Revenue growth of 28% over the 2011 figure of $289 million.
Net income growth of 42% over the 2011 figure of $27.5 million. This is for true net income, which subtracts share-based payment expenses. The company also provides adjusted net income figures, but I'll focus on the two most important numbers.
That original forecast roughly translated to $370 million in revenues for 2012 and just over $39 million in net income. SodaStream does not give quarterly guidance, so investors have to focus on the yearly forecast. When the company reported first quarter results in May 2012, they boosted that forecast. Revenues were now expected to rise by 33%, roughly to $384 million, over the previous forecast for 28% growth. Net income was now expected to see 50% growth, to $41.25 million, up from 42% originally.
After that huge raise in guidance at the Q1 report, you might have thought that it could not get better. Well, you would be wrong. At the second quarter report, SodaStream raised the forecast again. Revenue guidance now called for 40% growth, roughly $405 million, up from 33% growth. Net income guidance called for 55% growth, $42.6 million, up from 50% growth.
You can probably guess what I'm going to say next. When SodaStream reported Q3 results in November 2012, they raised their yearly forecast. The new forecast called for 46% revenue growth, or $422 million, up from 40% growth. Net income was now projected to grow by 59%, to $43.7 million, up from 55% growth.
When the company reported 2012 final results back in February, the results were even more spectacular than originally planned. The company came in at $436.3 million in revenues, 51% growth. Remember, they had originally guided to just 28% growth. Original guidance was for $370 million, and they came in more than $66 million ahead of that! Quite impressive I would say. Net income ended up rising by 59.6% to $43.9 million for the year. Not as much of a beat as revenues, but that was because sales were so high, that they had to use subcontractors to fill orders. I don't see that as a negative, because you have to have sales before you can have earnings.
Before 2013 even started, I called for more than $525 million in SodaStream revenues this year. At that point, analyst expectations were for just $498 million, and my number was higher than any other analyst number out there.
When the company handed out guidance for 2013 at that fourth quarter report, here's what they said:
Revenues to increase by 25%, which implied about $545 million.
Adjusted EBITDA to increase by 34% over 2012's $61.1 million.
Adjusted net income to rise by 25% over 2012's $50.0 million.
Net income to increase by 18% over 2012's $43.9 million.
One of the main reasons I was such a big fan of SodaStream was that they were not afraid to take on the big boys, Coke and Pepsi. SodaStream had an ambitious marketing campaign, which included a Super Bowl ad. Their primary Super Bowl ad was rejected for being too unfriendly towards the soda giants, so they went to the backup ad. But the rejection of the primary one gained them even more attention, and gave the company free press in a sense.
The marketing blitz paid off, and Q1 results came in extremely strong. As you can probably figure, the company raised its forecast for 2013. Here's what they said at the Q1 report:
Revenue growth of 27% now instead of 25%.
Adjusted EBITDA growth of 36% instead of 34%.
Adjusted net income growth of 27% instead of 25%.
Net income growth of 20% instead of 18%.
I have twice raised my forecast for SodaStream in 2013, and my latest revenue number calls for $565 million, which would represent about 29.5% growth. I'm a little ahead of the SodaStream guidance, and analysts are currently calling for $558.46 million, or 28% growth.
SodaStream has been a great company in recent years because they keep destroying their own forecasts. The original 2012 forecast turned out to be a joke, and that's a good thing. They've already raised the 2013 forecast once, and I would expect at least one more raise. It wouldn't even surprise me if they saw 30% revenue growth this year. SodaStream continues to sparkle, and that's one reason why the stock has taken off.
2016 target forecast / room for growth:
I mentioned above the potential for SodaStream to hit $1 billion in annual revenues by 2016. This was a figure established by the company at its investor day, and you can view both parts of the presentation on their investor relations website. They believe that this is possible due to three factors:
Innovation
Distribution
Consumer Education
You can probably guess what innovation is. Developing new products and expanding new partnerships are a tremendous opportunity. Just look at recent partnerships for Kool Aid, Country Time, and Crystal Light flavors. Getting those products to the consumer is the next big part of it, and I've constantly detailed their plan to enter US drug and grocery stores in 2014. Educating consumers about social responsibility can also help. On their website, SodaStream has a counter: Saving the world from X number of bottles. That number is currently above 3.13 billion, and it is rising quickly.
If SodaStream gets that 27% revenue growth in 2013, that will put their revenue number at about $554 million. That still leaves a bit of room to go to hit $1 billion by 2016, but it can be done. Broadly speaking, if they were to do an additional 25% growth in 2014, 22% in 2015, and 18% in 2016, they'd be at $997 million, just under $1 billion. I think this year is the key though. At 27% growth, the margin for error is a bit high. But if they could do like 30%, or maybe even 35% revenue growth this year, the math gets a lot easier.
Comparisons in the industry:
When it comes to making both competitive and financial comparisons, Coke and Pepsi are obviously two good names to look at. But in the broader beverage space, I usually include Dr. Pepper Snapple (NYSE:DPS) when I look at the two beverage giants. Also, while their main product is coffee and not soda, Green Mountain Coffee Roasters (NASDAQ:GMCR) has always drawn tons of comparisons to SodaStream. Green Mountain's products allow you to make single serve coffee, and both it and SodaStream have been part of the "momentum bubble" which I'll discuss in more detail later on.
So I put together a large table below that shows a number of comparisons between these five names. I first started with revenue and earnings growth for this year and next, as currently expected by analysts (not company guidance). Based off those estimates and Monday's closing prices, I've shown valuation metrics for each. The bottom half of the table shows the average analyst rating, with a 1.0 being an extremely strong buy and a 3.0 being a hold. The average price target is also displayed, with the corresponding upside (or downside) to that target from Monday's close. I also included the dividend yield, if applicable, and whether or not the company is buying back stock. These are two items that investors must consider when looking at any name. The yellow highlight indicates the leader in that specific category.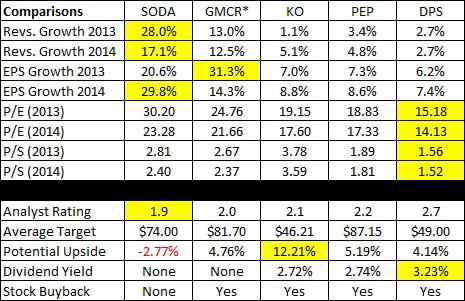 *Green Mountain's fiscal year ends in September, so these estimates are fiscal year ones.
I had originally started working on a SodaStream article about two weeks ago, one that was going to be fairly positive on the name. At that time, the valuation was a bit more reasonable, because shares were about $15 lower than where they are now. Obviously, the recent buyout rumors have pushed the valuation higher, and they might be to a point where I'm starting to get a little negative on the name.
Two weeks ago, SodaStream's P/E valuation (based on 2013 estimates) was actually lower than that of Green Mountain. Now, it is well above. Yes, SodaStream is expected to show the most revenue growth of all these names, and the most earnings growth next year. Green Mountain actually will show a fair amount of earnings growth this year, thanks to a sizable stock buyback program and some nice increases in gross margins. SodaStream definitely provides more growth opportunities than the other four names on the list. But all four of those names are buying back stock right now, and three of them are also paying decent dividends. SodaStream trades at a huge premium to all of these names, excluding the strange price to sales figure Coca-Cola trades at. So investors have to wonder if that growth is worth the price, especially with no dividend and no buyback. Two weeks ago, things were much more reasonable. Now, I'm not so sure. At this price, you would need multiple guidance raises for any additional upside in the stock, and it was those growth concerns that sent this stock plunging a couple of years ago.
Potential risks with the business:
No business is without risk. SodaStream, with a market cap under $1.6 billion and volatile trading, can be a risky investment. In this section, I'll break down some of the key risks facing this company. For simplicity, I'm not going to say something like missing revenue estimates for one quarter is a risk. All businesses face that risk. I'm looking at more longer-term and company based risks.
The first risk is brand loyalty. There are consumers out there that are glued to their Coke, their Pepsi, their Mountain Dew, etc. While SodaStream continues to develop flavors that rival those of the existing soda giants, some people just won't switch. Why should I switch to SodaStream if I love the taste of Sprite? That's a common question, and decreasing brand loyalty from the big boys is one area SodaStream looks to improve on.
The second risk is cost. SodaStream used to say on its website that its soda cost about 25 cents per can. Now, the cost can easily vary, depending on what flavor you are using, where you purchase your supplies, and a variety of other factors. Just looking at their online shop, certain flavors go from $4.99 to $9.99 for each syrup bottle. Again, depending on how much syrup you use can affect the cost as well. Now there are certain retailers where you can use coupons, and that will offset the cost partially. For simplicity, let's use the 25 cent per can price for our argument, but realize that it does vary. At that price point, you are talking about roughly $1.40 for a 2-liter bottle. Can you get your 2-liters cheaper? If you can get them for $1.00 or less, like I do frequently, SodaStream is a bit expensive. Yes, some of that cost is offset by the convenience, but if you are going to the store every week, some of that argument is lost. Don't forget, you still have to plop down $100 or $150 for the soda maker to begin. Some consumers don't want to pay that much for something that they may not like. That's a risk to the business.
Another risk is that the product is a fad. Some believe that this isn't a product with a long-term future, and SodaStream is fighting that idea. In the long run, it's not just about selling soda makers. They could sell a billion soda makers this year, but if in six months nobody is using them, it does the company no good. SodaStream will need to continuously innovate, and developing new flavors is a great start. Expanding to other drinks such as Kool-Aid, Country Time, Crystal Light, and more is a way to generate more sales and build loyalty to the SodaStream brand.
There is one risk to the stock that I must also cover here. That is the risk of a market bubble, as central banks like the Fed have been pouring billions in. Once the printing presses slow down or even stop, there is a risk that money comes out of this market. SodaStream, like many other momentum names, has been off to the races lately. In November 2012, this stock was under $35. While the company's results have been better than expectations, we are now around $76. The momentum names have all rallied, and if the bubble were to burst, it would not be pretty. We've seen that happen with SodaStream before, and it could certainly happen again.
A bubble forming / even options are iffy?
I love SodaStream's growth potential as a company, but I think that the M&A rumors have created a mini bubble, and you can definitely see that in the chart below. I even showed above how the company is now trading above the average analyst price target, implying that the stock will go down from here. SodaStream shares have basically doubled in six months, with a large share of those gains in the past month or so.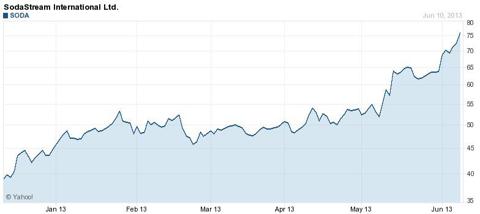 Click to enlarge
(Source: Yahoo! Finance)
So let's get back to those buyout rumors again. I understand why the soda giants would want to acquire SodaStream, but my skepticism has more to do with timing. Back in November, just seven months ago, this stock was under $35. At that point, why was there no bid for SodaStream? Even if they paid a large premium, a deal could have been done at what, $60, maybe $65? At $65, you're almost talking about a 100% takeover premium.
Now the stock is over $76 a share. Yes, I understand that SodaStream has continued to raise guidance and that is certainly positive. But why a bid now? Was it the raised 2013 forecast, the investor day presentation with the 2016 $1 billion target? A deal six months ago probably would have cost a buyer $20 to $30 less a share, or more. That's a significant amount.
Plus, let's go back to that $95 rumored price regarding PepsiCo. That leaves about $19 of upside from here, a little under 25% upside. That would still be a nice premium, but just two weeks ago we were at $61 (and even a recent low of $59). If you are looking to buy this on speculation for a takeover rumor, you've essentially missed half of the rally if you think $95 gets it done. To me, that leaves a lot of risk, because if a deal doesn't get done, this stock probably trades back down towards that $60 area.
Is $19 worth of upside worth $16 of potential downside? It may be to some, but it is not to me. A week ago, when this stock closed at $69, that upside to downside ratio would have been $26 to $9, nearly three to one. Of course, the math would be better if the takeover price is $100 or more, but because these rumors have come out, don't expect a buyer to raise their takeover price too much. If they were looking to buy this name at $95 two weeks ago, they probably won't raise their target to $110 just because the stock rallied $15.
So what else could you possibly do? Well, if you really want to speculate on a buyout, I think the options area is a better way to play this. The table below shows the options available at the $75 strike as of Monday's close. Remember, the stock closed at $76.11 on Monday, more than a dollar over the strike point (but it is the closest one).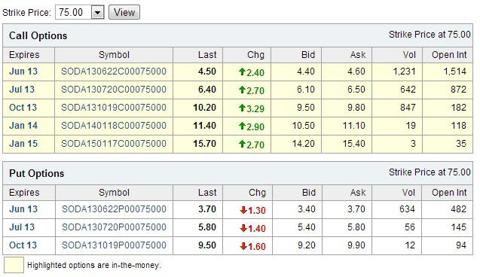 Click to enlarge
(Source: Yahoo! Finance)
If you think a buyout could occur over the next month, the July options would cost you just $650 for 1 contract, or 100 shares. Contrast that to the $7,600 plus that 100 shares would cost you. Sure, options could lose you more in percentage terms, but if this stock fell below $70, you'd start losing money. If it goes to $60, you'd be down $1,600 on 100 shares, as opposed to just $650 on the options (ignoring commissions for this argument). You could also use a covered call strategy here or sell puts, but I'm not going to discuss these strategies because I think the option prices are just too great right now. Even the options don't look great for a buyout, another mark against speculating on a takeover.
Final Thoughts:
SodaStream is a great company with one of the best growth profiles out there. I love to analyze this company and discuss it with other investors. I have been one of the most positive people out there when it comes to this name. I showed you above the positive guidance trends and that this name has a ton of growth ahead of it to make a point about a company, not a stock.
That being said, I think that the stock has gotten a little ahead of itself thanks to a bunch of buyout rumors. This stock has rallied $15 in just two weeks and has doubled in the past six months. The valuation is a significant premium to others in the space, and investors still think another 25% or 30% takeover premium is possible on top of that.
In the end, I've always argued that you should never buy a stock on takeover speculation. If you don't believe that, ask the people that bought this stock at $87 or higher in the pre-market the other day, only to see the stock open the actual day's trading at $72. Right now, if you're looking at buying this name for its takeover potential, I don't think your potential reward is much more than your potential risk. That scares me a little, and a bubble seems to be forming. The last time this name traded towards $80, the next stop was around $35 in a very short time period. I'm not at all saying this stock will go that low, but if a takeover doesn't happen in the next few days or weeks, this stock is headed back into the $60s in my opinion. I love SodaStream as a company and they have one of the best growth profiles out there. But that doesn't mean you should overpay for it, and I certainly won't be buying at these levels. Two weeks ago, or even any time during the past six months was your chance. Right now, you are overpaying for this name without a buyout, and that makes it a short candidate for those willing to speculate that a buyout will not occur.
Disclosure: I have no positions in any stocks mentioned, and no plans to initiate any positions within the next 72 hours. I wrote this article myself, and it expresses my own opinions. I am not receiving compensation for it (other than from Seeking Alpha). I have no business relationship with any company whose stock is mentioned in this article.
Additional disclosure: Investors are always reminded that before making any investment, you should do your own proper due diligence on any name directly or indirectly mentioned in this article. Investors should also consider seeking advice from a broker or financial adviser before making any investment decisions. Any material in this article should be considered general information, and not relied on as a formal investment recommendation.