It is not an easy task to grow the free cash flow at an average 61% for three years in an industry that is relatively mature and value oriented. It is especially challenging when the input costs are tied to a highly volatile commodity like Natural Gas. At 33% CAGR for revenues and 73% for Net Profits during 2009-2012 and at a P/E multiple of only 6.59x TTM EPS $29.52, CF Industries (NYSE:CF), the world's second largest nitrogen fertilizer maker, is a nice blend of value and growth investment. Based on FCF valuation, the stock offers a potential upside of 71% from the last close.
CF recently reported 1Q-FY2013 numbers with net profits up by 17% from the same period last year. The earnings per share stood at $6.47 in 1Q-FY2013 from $5.54 in 1Q-FY2012. CF sold 3 million tons of nitrogen products in 1Q-FY2013, declined by 6 percent compared to same period last year while it sold 495,000 tons of phosphate products in the period, compared with 516,000 tons a year earlier. This is mainly due to seasonal slowdown during the first quarter of every year.
Strong Liquidity Position
As per the last reported numbers (March 31, 2013) the cash position is very strong at $2.27 billion which covers 48% of the total debt. All the liquidity and debt management ratios reflect a healthy balance sheet as the current ratio is at 2.26x, quick ratio at 1.96x, capitalization ratio at 22%, and the total debt-to-equity at a healthy 80%. The liquidity and debt management ratios have remained very stable during the last 4 years as charted below: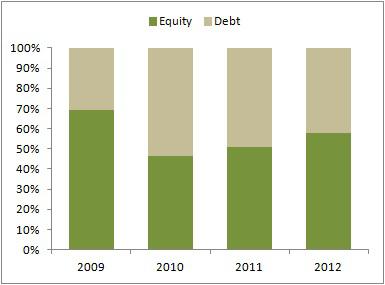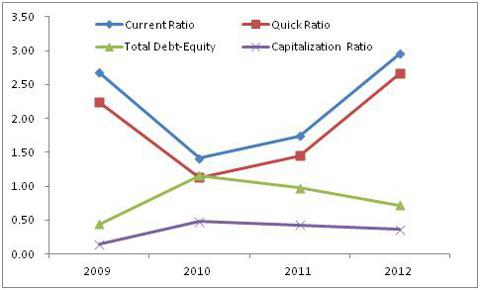 Earnings Growth
The average revenue growth per annum during 2009-2012 is 33% while the net profits grew at a whopping 73% per annum during the same period. The PEG ratio is at 1.05 and the stock has cheap valuations with a P/E multiple at 6.57x, offering a significant upside potential.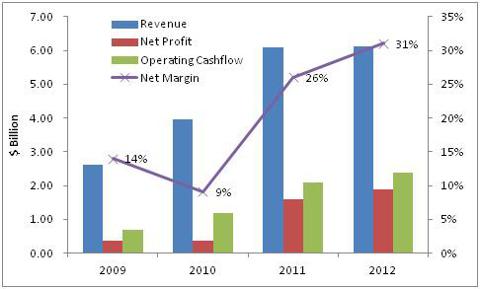 Sizable Free Cash Flow
Given the skepticism over the accuracy of P/E multiple based fair value, one could also develop a more reliable perspective using free cash flow which registered an annual growth of 61% during 2009-2012. This is despite the fact that the company has spent over $1.26 billion in capex which has contributed well enough to the phenomenal earnings growth.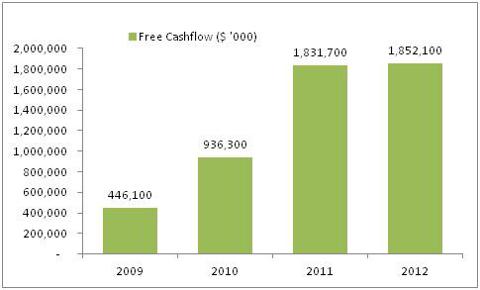 Cheap Valuation
However, a similar kind of growth is hard to imagine for the next 5 years; therefore, I have outlined below a sensitivity table based on various FCF growth and discount rate assumptions. Even a conservative estimate of zero FCF growth for the next 5 years at a discount rate of 10% suggests a fair value at $332, an upside of 71% from $194.42, the closing price on last Friday. There is a strong possibility that this cash flow is utilized in further capacity expansion, which is in essence beneficial for the long-term earnings growth and company value.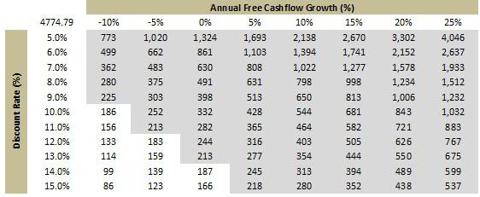 Disclaimer: The opinion in this document is for informational purposes only and should not be considered as a recommendation to buy or sell the stocks mentioned or to solicit transactions or clients. I do not recommend that anyone act upon any investment information without first consulting an investment professional as to the suitability of such investments for his or her specific situation.
Disclosure: I have no positions in any stocks mentioned, and no plans to initiate any positions within the next 72 hours. I wrote this article myself, and it expresses my own opinions. I am not receiving compensation for it (other than from Seeking Alpha). I have no business relationship with any company whose stock is mentioned in this article.