Introduction
I wrote an article about the turnaround of the Greek economy four weeks ago, when a debt strategy team at Morgan Stanley (NYSE:MS) recommended the Greek government bonds. Paolo Batori, Morgan Stanley's global head of sovereign strategy, said that the Greek government bonds was one of the bank's top fixed-income trades of the year. He also said: "We believe that Greece is going to be an improving macro story this year and next. Greek growth is going to regain strength this year and turn positive next year".
My article about the turnaround of the Greek economy is here. In that article I also discussed the first foreign companies that decided to increase their investments in this country and help it come out of the woods faster than expected. Few hedge funds made a killing last year by buying Greek bonds but some famous managers (i.e. John Paulson and George Soros) lost their shirts. During his scary speech back in 2010, Paulson estimated that gold price could hit $4,000/oz by 2012. Paulson noted that the price of gold would hit $2,400/oz based only on monetary expansion, and as high as $4,000/oz based on a projected overshoot. This is why he put a whopping 80% of his assets in gold. However, big bets often result in big mistakes. After a short-lived rise to ~$1700/oz, gold price has dropped down to ~$1400/oz as of today.
Paulson's case was analyzed in my article here. In that article I presented my investment choices from the commodities sector that yielded more than Paulson's choices from the gold sector. I also advised Paulson on ways to improve the performance of his fund on a going forward basis.
The New Catalysts
The signs of the Greek recovery (a.k.a. Greekovery) are getting stronger and stronger every day. Firstly, the interest-rate spread between 10-year Greek and German government bonds hit its highs of 3,530.1 in March 2012. It remained over 2,000 until September 2012. Since then, it has been declining consistently and closed below 800 basis points last Friday.
Furthermore, the 10-year Greek yield fell to almost 9% last Friday after surging to as high as 44.21% before private bondholders agreed to write off more than 100 billion euros as part of a restructuring of the nation's debt in March 2012. Greece agreed in December 2012 to pay 11.3 billion euros to buy back 32 billion euros of bonds, reducing its debt burden.
New strong catalysts showed up in the past few days, adding to the rosy outlook from Morgan Stanley and fueling optimism for a Greekovery:
1) Fitch upgraded both the Greek banks and the Greek bonds. Greece's sovereign rating was upgraded to "B-" from "CCC" with a stable outlook.
Fitch Ratings also upgraded National Bank of Greece's (NBG), Piraeus Bank's, Alpha Bank's and Eurobank Ergasias' Long-Term Issuer Default Ratings to ΄B-΄ from ΄CCC΄, Short-term IDRs to ΄B΄ from ΄C΄ and Viability Ratings to ΄b-΄ from ΄f΄. The agency has also revised the Greek banks΄ Support Rating Floors to ΄No Floor΄ from ΄CCC΄ and affirmed the Support Rating at ΄5΄. The outlook on the banks΄ Long-term IDRs is stable, reflecting the close correlation with that of the sovereign.
Piraeus is now the second largest bank by assets and first by domestic market shares (29% for both loans and deposits). National Bank of Greece is now the second-largest bank by deposit market share (22% in deposits and 18% in loans) followed by Alpha Bank (20% in deposits and 24% in loans). Eurobank is Greece΄s fourth largest bank (12% of deposits and 16% of loans).
Greek banks remain vulnerable to the Greek macroeconomic developments. Their overall financial strength is sensitive to the recessionary pressures which can prolong the return to profitability and the capacity to absorb further loan losses without putting renewed concerns on capital levels, a material reduction in central bank funding and to depositors΄ and investors΄ confidence. It helps much that the four biggest banks will have synergies from integration and restructuring, which are vital for their future profitability.
2) In its Q1 2013 report, National Bank of Greece showed solid profitability. In the company's press release, the CEO Alexandros Tourkolias noted: "NBG Group reports profitability for the second consecutive quarter, as net profit in Q1 2013 amounted to €186 million, compared with losses of €265 million in Q1 2012". The financial improvement of National Bank of Greece stood on the following points:
A) Stabilization of core income in Greece at €385 million in Q1 2013.
B) Strong performance by the company's Turkish subsidiary (Fininsbank) with profits up by 23% on constant currency basis to €155 million, over and above the performance of the previous year.
C) Positive input from the Group's Southeast Europe subsidiaries of €13 million versus losses in Q1 2012.
D) Operating costs in Greece and Southeast Europe cut by 10% and 3% respectively, compared with Q1 2012.
3) The European Commission's measure of "economic sentiment" in Greece has soared since last fall. For the first time in years, Greeks are now more optimistic than the euro area as a whole. The Athens business sentiment index hit a 3½ -year high last month.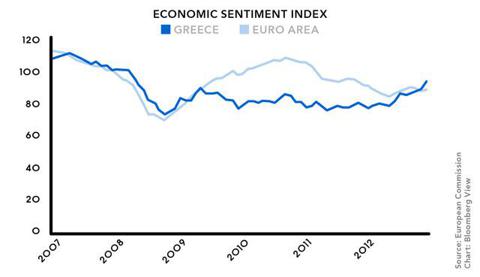 4) According to its latest report, Nomura Holdings (NYSE:NMR) is bullish on the Greek bonds and does not rule out an earlier-than-planned return of Greece to bond issuance.
Nomura also notes that "Last week's better-than-expected Q1 GDP release (-5.3% y-o-y) provides some support to Troika's optimistic 2013 forecast of a decline in GDP of 4.2% (our forecast is -4.8%). Furthermore, the recent trend in hard data supports the view that within the next 12 months Greece should return to positive q-o-q growth rates".
5) A few days ago, Citigroup (NYSE:C) changed view too and Citi's chief economist Willem Buiter no longer expects Greece to leave the eurozone in 2014. In late 2012, it was Buiter who claimed that Greece had 90% odds to exit the Euro over the next 12-18 months, and said the most likely date was some time in the next "2-3″ quarters. In their recent update, Citi economists still see a "fairly high risk" of Grexit in coming years, but no longer put in their "base case at any particular date".
6) A few days ago, Financial Times noted that optimism returns as Greece sees light at the end of tunnel. Trust is coming back and more and more officials get cautiously confident that the economy is moving on the right path to recovery.
Additional Kickers
All these new and promising indications above are also supported by the following recent kickers:
1) A few days ago, the Athens Exchange and the American-Hellenic Chamber of Commerce organized the 2nd Greek Investment Forum, "Greece: Seizing the Opportunities," followed by a roadshow in New York. The forum informed the U.S. business community of new investment opportunities in Greece and provided insights into the types of enacted legislative, economic and structural reforms employed to foster growth and create a positive investment climate.
The event featured key government officials and prominent U.S. and Greek business leaders including Daniele Antonucci, Senior Economist, Morgan Stanley. Several investment opportunities were also presented in that roadshow, representing companies from several sectors of the Greek economy.
In addition, Morgan Stanley is thinking to exploit these opportunities by launching an investment fund during the coming weeks. This fund will be either an ETF or a closed-end fund.
2) The Greek Government recently announced a very significant initiative. That plan allows the foreign investors to get a five-year residence permit if they invest 250,000 euros or more in real estate in Greece. This is a very important program aiming at reviving the real estate sector by encouraging entrepreneurs from China, Russia, and India to buy properties in Greece. The first major deal has already been struck between a Greek real estate firm and a Chinese brokerage, according to a Greek newspaper.
How To Play The Greekovery
International investors without direct access to the Greek stock exchange can capitalize on the Greekovery in two different ways. Firstly, they can buy the two Greek banks traded at the U.S. markets. One of them is Alpha Bank which has risen 70% since I recommended it in early May 2013, and the other one is National Bank of Greece.
Secondly, they need to be aware of Global X FTSE Greece (NYSEARCA:GREK), the Greek ETF that allocates over 15% of its weight to banking shares. Apart from the banking shares, GREK is also closely associated with several other big companies on the Greek stock exchange whose index rose higher than 6,000 points in 1999. The index of the Greek stock exchange stands at ~1,000 points currently. GREK hovers at January 2013 levels currently after moving higher to 20 and 22 in February 2013 and May 2013 respectively.
Conclusion
Greece has completed about two-thirds of a €13.5 billion program of fiscal and structural reforms but faces a demanding stretch to achieve a return to sustained growth and substantial primary surpluses. Although Greece is not yet out of the woods, the situation is getting better every month. I believe that the bottom is in, and despite the corrections, the index of the Athens Stock exchange has the potential to go substantially higher during the coming months.
Disclosure: I have no positions in any stocks mentioned, and no plans to initiate any positions within the next 72 hours. I wrote this article myself, and it expresses my own opinions. I am not receiving compensation for it (other than from Seeking Alpha). I have no business relationship with any company whose stock is mentioned in this article.