U.S. markets took a breather after last week's exceptionally volatile action. The S&P 500 traded in a narrow range between its intraday high in the opening minutes yesterday, up 0.32% from Friday's close, to its -25% intraday low about 40 minutes later. Of the 110 market days so far in 2013, Monday's trading range was at the top of the lowest quintile -- quite a change from last week's roller-coaster. There was no economic data to juice the market, and Standard & Poor's upgraded U.S. credit outlook from "negative" to "stable" was a ho-hum event. Even St. Louis Fed President Bullard didn't trigger any buy signals with his observation that "surprisingly low inflation readings may mean the Committee can maintain its aggressive program over a longer time frame." The index closed with a scant loss of 0.03%.
Here is a 5-minute look at Monday's (in)action.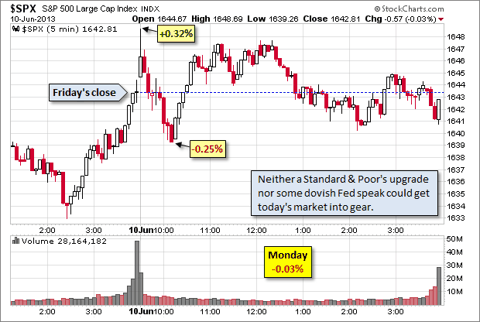 Click to enlarge
(Click to enlarge)
Not surprisingly, Monday's narrow trading range was characterized by thin volume, about 14% below its 50-day moving average.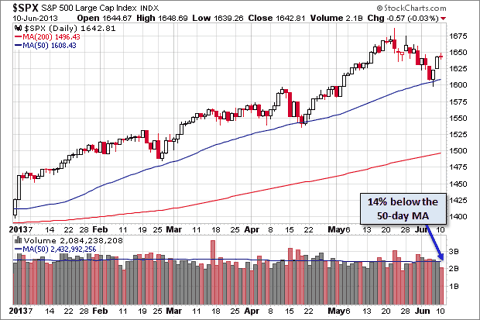 Click to enlarge
(Click to enlarge)
The S&P 500 is now up 15.19% for 2013 and 1.58% below the all-time closing high of May 21.
For a better sense of how these declines figure into a larger historical context, here's a long-term view of secular bull and bear markets in the S&P Composite since 1871.