BlackBerry (NASDAQ:BBRY) is poised for a large directional move. Fundamentally, BlackBerry is clearly at an inflection point - the first U.S. orders for the Q10 have rolled into the major carriers, while the first full quarter of Z10 sales will be reported later this month. And, whether those devices succeed or fail will be the key factor in determining whether BlackBerry can compete in the Droid/iOS-driven smartphone market - and ultimately, whether BBRY can survive.
I received my Q10 today - and my initial reviews of the device are high. It meets and exceeds my needs. But... I don't like iPhones - and prefer the QWERTY keyboard. The million-dollar question, though, is whether there are enough people like me.
The June 28 earnings announcement is a critical point in the near future, and buying or selling the stock ahead of that is an extremely risky proposition. Last month, an analyst at Jefferies & Co. said that sales of the BlackBerry 10 would exceed 3 million units for the May quarter, upgrading the stock to a buy and slapping a $22 price target on it.
Since that upgrade, the stock has moved roughly 5 percent lower. The reason: other estimates have alternated between boom and bust.
But recently, it was reported that BlackBerry is stepping up purchases of parts and components, with some of those orders reflecting BlackBerry's emerging market model. Some of that meshes with BlackBerry CEO Thorsten Heins who, in early May, noted that he expected Q10 to be very popular within the existing user base - even selling tens of millions of units.
Price action:
BlackBerry's price recently has perfectly reflected this market anxiety and uncertainty. For the year, however, BlackBerry is up 17.5 percent. The price is down sharply from its January high of $18 - when optimism for BlackBerry's Q10 and Z10 peaked. Over the past year, BlackBerry has traded in a 52-week range of $6.22 to $18.32 - a large $12 range.
This is to say that BlackBerry is also consolidating in price - trading right now toward the bottom of a wedge. As the chart below indicates, BlackBerry is trading below its 50- and 100-day moving averages, a price break that has happened during the past two weeks.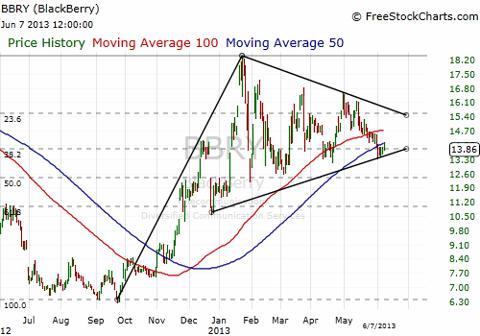 Beyond June:
Past June earnings, however, BlackBerry is not out of the woods. Even if strong sales are reported, the main question will be whether they reflect only existing users or whether BlackBerry was able to convert iPhone and Android users to the device. What this means is that one quarter's earnings cannot revive BBRY - but it could sink it. If BlackBerry's initial sales of Q10/Z10 devices miss expectations, earnings estimates will drop - bringing down BlackBerry with it and potentially forcing the company to liquidate its assets.
That may seem like a strong statement, but when the BlackBerry 10 devices were in their infancy last year, there was already heavy pressure (WSJ, ZDNet) on the company to sell off patents. In fact, shortly after taking his position as CEO, Mr. Heins stated that BlackBerry "would consider" a sales bid, if the strategic conditions were met. It's hard to imagine that a flop of the BlackBerry 10 wouldn't help bring about those conditions.
So, what is a "flop?" It seems like the line in the sand might be the 3 million mark for the quarter ending May 2013. But, over the next few weeks, analysts will firm their expectations and generate new ones for the current quarter. Particularly, BlackBerry's guidance on Q10/Z10 sales moving forward will be the number to watch - along with "who" the buyers are. Mr. Heins set the bar high with his estimate of tens of millions of BlackBerry 10s sold, an estimate that may come back to bite the leader if they don't get off to the right trajectory.
Recommendation:
It is true: BlackBerry has a strong cash position - $7.3 billion in short-term and long-term assets compared with $3.7 billion in total liabilities, essentially putting a floor on the stock at $6.87 per share. This measure does not include harder-to-measure assets, like patents and a loyal core user base, which would bring that per share bottom higher.
A breakout below current levels could signal renewed weakness, while a move towards the top of the range could send the price to new highs. I recommend positions that can take advantage of this volatility when it happens, expecting the price to head towards $18 or $11 and make a good trade.
On any sell-off, it will be interesting to see whether Mr. Heins and his management team pivot and open themselves to a sale to realize real shareholder value.
For now, though, it's best to steer clear and wait for the fundamental news that could cause a tectonic shift in BBRY.
Disclosure: I have no positions in any stocks mentioned, and no plans to initiate any positions within the next 72 hours. I wrote this article myself, and it expresses my own opinions. I am not receiving compensation for it (other than from Seeking Alpha). I have no business relationship with any company whose stock is mentioned in this article.