Yesterday I wrote an article (The REIT Way To Sleep Well At Night, Carpe Diem) arguing that the REIT bull market is in the "early innings" and that the length of the recovery should be measured from the time the financial meltdown began. As I explained:
The difference this time is that the REIT bull market started from the bottom of a liquidity crisis, which was not true of either of the previous REIT bull markets. Measured from the bottom of the liquidity crisis, this one should be a little longer with returns a little bit larger. Alternatively, we could measure this bull market from when the market recovered back to where it was at the end of September 2008, when the liquidity crisis started.
From a "market timers" perspective one could conclude that REITs have a few more innings remaining and that the recent sell-off was simply a concession break…maybe something like a third inning stretch and a quick dash to get Coke and some peanuts. As I wrote:
It wasn't until September 2011 that the REIT market fully recovered from the liquidity crisis, which means that (by that measure) the current bull market is "really" only 20 months old -- and returns are almost exactly what they were during the first 20 months of the previous bull markets.
However, noticeably different from the other REIT bull markets have been the more recent wave of companies waiting to elect to obtain REIT status. Oh yes, blame it on Mr. Market as valuations have created a highly desirable playing field in which low cost debt and equity make it so compelling to non-REITs and their shareholders. I wrote about the REIT epidemic in the December (2012) issue of Forbes:
Now, 50 years after REITs' inception, the industry is buzzing again. A generation of boomers craves income, and more and more companies have become wise to tax and other advantages of the REIT structure. Everyone wants to get in on the REIT bonanza, as operating businesses from cell phone towers to timber companies, billboard firms and private prisons are converting to REITs.
Remembering that the rules for the REIT game were formed in 1960 when President Dwight D. Eisenhower signed that law that gave average investors access to investment returns of commercial real estate. Before then, the core asset class was available only to institutions and wealthy individuals having the financial wherewithal to undertake direct real estate investment.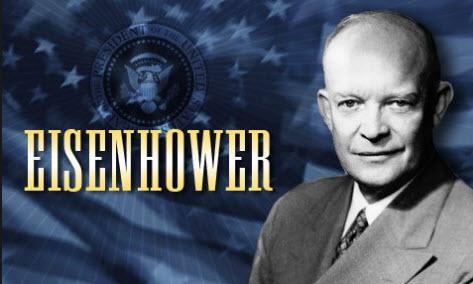 Will The IRS Slowdown The Game?
Last week according to a report by The Wall Street Journal, Equinix Inc. (NASDAQ:EQIX) confirmed the IRS has delayed its decision on the ruling for REIT conversion as it looks closer at its policy with a view to narrowing the definition for what a REIT can actually be.
Data-center operator Equinix Inc.and outdoor-advertising provider Lamar Advertising Co. (NASDAQ:LAMR) confirmed the U.S. Internal Revenue Service has delayed a ruling on their potential conversions to a real-estate investment trust as the agency reviews its policy.
Also Iron Mountain (NYSE:IRM) was also notified by the IRS that the agency has formed an internal "working group" to study the current legal standards it uses to define "real estate" for purposes of qualifying as a REIT. The main thing that the "working group" is doing is to insure that the definition of "real property" can be applied to the new asset classes. Remember as I said, Congress has already defined the definition of "real estate" and the term "real property" is being examined more closely to determine whether or not certain "interest in real property" are included.
To reiterate, Congress has the power to create laws and the IRS has a job to interpret the tax laws. Accordingly, the IRS does not make moral judgments and the agency can only issue rulings (with broad discretion) and has no ability to legislate - only interpret.
The crux of the Iron Mountain issue has to do with the interior racking and whether the structures constitute real estate (for purposes of qualifying as a REIT). Around eleven months ago Iron Mountain submitted its request and the IRS is still trying to determine whether the racking structures are permanent or affixed to the building shell.
Equinix, a proposed data storage REIT, is in no hurry to obtain an IRS Private Letter Ruling as the $9.8 billion company was not planning to become a REIT until 2015. However, the primary issue has more to do with its qualification for interconnection fees, not racking. CoreSite Realty (NYSE:COR) has already obtained pre-approval from the IRS and CyrusOne Inc. (NASDAQ:CONE) recently received an IRS ruling that interconnect fees would be considered rent.
In addition to document and data storage, some other new REIT-able candidates under consideration include billboards, casinos, amusement parks, landfills, and anything else that can be bolted to the floor.
In a research report dated June 10th (2013), Wells Fargo Securities Jeffrey J. Donnelly, CFA, wrote:
There are numerous companies from the billboard, gaming, records management, data storage, and other industries contemplating a conversion to the REIT structure. We believe the IRS is seeking to clarify whether these businesses can inherently be considered real estate in their totality (structure and contents therein) or if they are ultimately real estate with an abundance of personal property (e.g., racking systems, office equipment, etc.). The answer relates the permanence of the fixtures in our view.
Donnelly points to a clear cut example:
Few would question whether an industrial building is real property; it is clearly real estate and the income generated from its leases would qualify under REIT rules. If that same building was owned by a printing company (and its heavy, affixed presses), would the income of the printing company qualify as income from real estate, or is it merely a building that is occupied by a printing company? In this example we believe it is the latter. The same example is frequently applied to hotels and ski resorts. Both occupy real estate but the net income of the business (emphasis) conducted thereupon is not considered income from real estate.
Donnelly adds:
This does not mean companies with an abundance of personal property cannot organize as a REIT. It means the net income of their business operation may not qualify as a REIT. To qualify they could create a prop-co/op-co structure whereby the REIT owns the asset and improvements and leases the facility to the operator. The downside is the leakage of G&A and profit to the operator.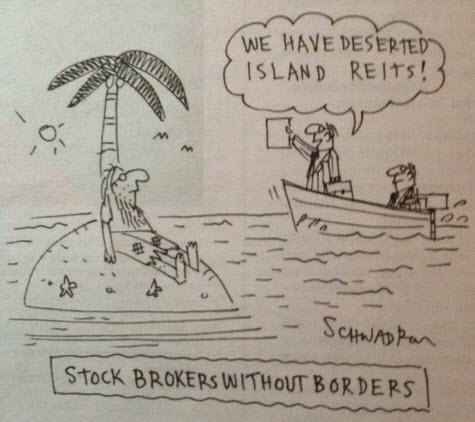 Source: Barron's
Why Will the Game Keep Going?
Broadly speaking, the IRS interprets laws in a manner in which the agency benefits. If the IRS decided that it was going to be more restrictive in its distinction of "Real Estate" it would simultaneously broaden its definition of "Real Property". Now remember, from an accounting perspective "Real Property" has a shorter depreciation period and "Real Estate" has a longer depreciation schedule. In other words, the IRS brings in significantly more revenue when its uses the broader definition of "Real Estate" vs. "Real Property".
In a recent article, I summed up the extraordinary capital markets (source: SNL Financial):
REITs are not a new asset sector. In fact, the securitized "brick and mortar" evolution commenced over 53 years ago and the $660 billion (equity and mortgage) industry (based on market capitalization) continues to aggregate capital at an incredible pace. REITs raised $28.98 billion year-to-date through May 31, higher than the $24 billion raised through the same period in 2012 (source: SNL Financial). Common equity offerings aggregated $14.72 billion through May 31, senior debt totaled $10.90 billion and preferred equity accounted for $3.36 billion. In the prior-year period, common equity offerings totaled $10.80 billion, senior debt accounted for $8.43 billion and preferred equity reached $4.78 billion.
It's clear that REITs are here to stay and regardless of the delay with the recent IRS rulings, there is strong evidence that the dividend-centric model has become a "core" asset class among both individual and institutional investors. By owning real estate you win two ways (if the dividends grow while you own a REIT). First, the higher payouts increase your yield and, second, the dividend increase usually drives the share price higher. There is simply no better way to create value. Donald Trump summed up the value proposition (in Think Like a Billionaire):
Real estate is at the core of almost every business, and it's certainly at the core of most people's wealth. In order to build your wealth and improve your business smarts, you need to know about real estate.
Trumps right. Real estate should be a core asset component and with REITs, investing in a diversified pool of real estate is as easy as buying shares of stock. I expect Equinix and Lamar to make the transition into REIT-dom and investors will enjoy the benefits of other potential companies in the future. As a financial journalist I would like to set the record straight and dispel the myth that the IRS is "loosening" its standards. It is my opinion that the IRS is simply insuring that the definition of real property is applied on a consistent basis.
At the end of the day, REITs are considered one of the best dividend paying structures and the forced component of paying out 90% (or more) of net income (in the form of dividends) has created a highly sustainable asset class that should endure many more innings. President Eisenhower and Congress got it right in 1960 and investors can continue to enjoy the steady and rising dividends that create one of the most powerful forces in the universe. Yes, compounding is the secret to building wealth and that's why "nothing can beat, investing in a REIT." Good luck and Sleep Well at Night.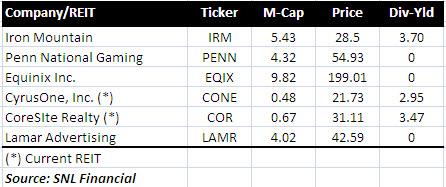 Source: SNL Financial
Disclosure: I am long O. I wrote this article myself, and it expresses my own opinions. I am not receiving compensation for it (other than from Seeking Alpha). I have no business relationship with any company whose stock is mentioned in this article.