Ceco Environmental (NASDAQ:CECE) is a company that is engaged in providing air pollution control products and services worldwide. In fiscal year ended December 31st, 2012, net sales were $135.052 million and net profits were $10.9 million. At the current share price of 11.97 as of this writing, it has a market cap of $212.28 million.
CECO has 3 major segments of business operations:
1. Engineering Equipment Technology and Parts Group
This is their largest revenue generating segment which contributed total sales of $88.679 million or 65.7% of total sales in fiscal year 2012.
Of that total, the worldwide sales breakdown is as follows:
United States $75.824 million (85.5%)
Canada $7.611 million (8.6%)
China $4.905 million (5.5%)
Brazil and India $0.339 million (0.4%)
2. Contracting/Services Group
This is their second largest group which generated annual sales of $25.527 million or 18.9% of total sales.
3. Components Parts Group
This segment contributed $20.771 million in sales in fiscal year 2012 or 15.4% of total sales.
To get an idea of where this company is going, it's a good idea to see where it's been. Here is a chart of the share price over the last 10 years: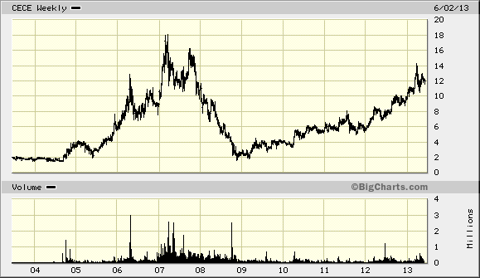 Source: Bigcharts.com
Historical Sales from the company as well as sales per share looks like this:

Source for all above and below historical data: Value Line Investment Survey
Historical Operating and Net Profit Margins look like this: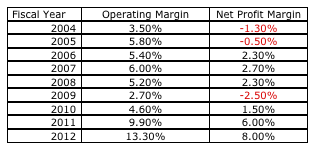 So far, what we can gather from this data is that both sales and margins are very erratic and likely very difficult to predict. The current state of profit margins are the highest they've been in at least the last 9 years. We can also note that while they operate worldwide, the bulk of their business is in the United States.
As for the share price, using price to book value as a reference, the historical price to book value per share looks like this:

As of June 10th, 2013, the share price is 11.97. The book value per share is 3.96, so the price to book value is about 3.0. If we look at the chart above, the price to book value has not been higher than 3.0 since 2008. At the same time, when we look at the low share price each year, it has only been above 3.0 in 2 years, 2006 and 2007.
Aggressive Growth Strategy
Given the volatile nature and extreme cyclicality of CECO's business, the CEO, Jeffery Lang, who has served as CEO since February of 2010, has not only helped to get CECO's margins up but has recently embarked on an acquisition campaign to grow the company's top and bottom lines.
Beginning with an acquisition in December of 2012, CECO acquired 100% of the capital stock of Adwest Technologies, Inc, a leading manufacturer of regenerative thermal oxidizers and volatile organic compound abatement systems. CECO paid $4.0 million in cash and 52,632 shares in the company's common stock worth approximately $500,000.
On February 28th, 2013, CECO acquired Aarding Thermal Acoustics B.V., a Netherlands company that is a provider of natural gas turbine exhaust systems and silencer applications. The purchase price included cash of $24.4 million and 763,673 shares of restricted common stock.
The big deal emerged on April 22, 2013, when CECO Environmental announced that they had entered into a definitive agreement to acquire all of the outstanding shares of Met-Pro (NYSE:MPR) common stock in a cash and stock transaction valued at approximately $210 million. Met-Pro holders would receive $7.25 in cash and $6.50 cents in shares of CECO Environmental. The amount of shares Met-Pro holders will receive will be based on the volume weighted average share price of the 15 day period ending on the date immediately preceding the signing of the agreement as noted in a conference call with the CEO, Jeffery Lang in April.
Given CECO's market cap of $213 million, for them to have made this deal with Met-Pro for approximately $210 million is a big deal. Let's look at Met-Pro's historical data to make some observations and see just what Met-Pro will bring to CECO's table.
Historical Sales for Met-Pro as well as sales per share looks like this:

Historical Operating and Net Profit Margins look like this: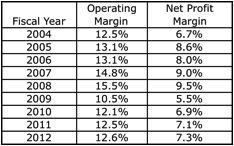 U.S. sales at Met-Pro were 72.1% for both fiscal year 2012 and 2013 and foreign sales accounted for 27.9% in both years as well.
Met-Pro offers more consistency and less volatility in both sales and margins vs. CECO. The share price of Met-Pro has also been a lot less volatile than that of CECO's, albeit, still volatile: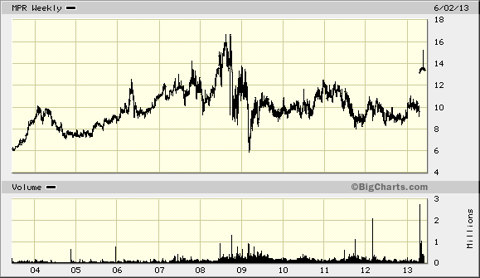 The deal with Met-Pro is expected to be completed by the 3rd quarter of 2013.
Why The Combined Company Is Pricey
While the merger between CECO Environmental and Met-Pro is a good one for both the benefit of the economies of scale and the relationship synergies that should ultimately help with both the top and bottom lines, price is what we pay and value is what we get. The $13.75 per share price offer for Met-Pro was a 44% premium over the closing price of $9.55 a share the day before the announcement.
, I calculated the book value per share as of the most recent quarter ending April 30th, 2013 to be $5.69 per share based on $84.588 million in equity and 14.854 million shares outstanding. That comes out to be 2.42x book value. Met-Pro has earned in the past 4 quarters, 48 cents per share, so the purchase price would be 28x trailing 12 months EPS. CECO is currently valued at $212 million or 11.97 per share. The book value as of the most recent quarter ended March 31st, 2013 was 3.96 a share, so the price per book is about 3.
The trailing 12 months earnings are 64 cents per share making price 18.7x trailing 12 months earnings. The trailing 12 months net profit margin was 8.02%, the highest since at least 2004. Just as sales are cyclical, so are profit margins and CECO is currently at the high end of their net profit margin cycle along with the rest of Corporate America.
Foreshadowing The Future Combined Company
Met-Pro recently announced results of their 1st quarter of 2013 and they were a bit disappointing. Total sales for the 3 months ended April 30th, 2013 were $21.968 million Vs. $25.207 million in the prior year. This is a decrease of 12.9.%. Sales declines were across the board in the 4 major segments of Met-Pro.
Non-GAAP earnings per share were 10 cents Vs. an estimate of 14 cents. On the bright side, Met-Pro earned 9 cents per share in the same quarter in the prior year at a net profit margin of 9.6%. While sales were down in Q1 of 2013 Vs. Q1 of 2012, net profit margins increased to 10.3%.
Conclusion
This business remains highly erratic and should prove to be very difficult to predict future sales and profit growth. Based on the current valuations, using price to book and price to earnings, CECO shares are not timely to be purchased at the current price. Met-Pro's recent results should be a warning that the industry appears to be in a slow down. Based on the current state of profit margins, which are at the high end currently, any regression to the mean in margins would hit profits hard.
However, both CECO and Met-Pro have proven to have strong brands and have weathered the great recession very well. That is what makes this business worth owning. I would wait for the share price to get to 2.0x book value, or about 8.00 a share based on today's book value, before taking the time to look at taking an equity position in CECO Environmental.
Disclosure: I have no positions in any stocks mentioned, and no plans to initiate any positions within the next 72 hours. I wrote this article myself, and it expresses my own opinions. I am not receiving compensation for it (other than from Seeking Alpha). I have no business relationship with any company whose stock is mentioned in this article.