We were surprised to see the Mexican cement titan Cemex (NYSE:CX) rack up losses from 2010 to the present day and stagnating sales from 2008 to the present day. Despite dealing with multibillion peso losses for the last three- going on four- years, notable investment firms and personalities such as Soros Fund Management (6.25M shares), Viking Global Investors (57.4M shares), Brandes (16.85M shares), Marko Dimitrijević's Everest Capital (14.2M shares), Guy Monson's Sarasin & Partners (11.3M shares) and John Lykouretzos's Hoplite Capital Management (10.7M shares) have taken an ownership stake in Cemex. Notable Bondholders include the Franklin Income Fund ($431M), Fidelity High Income ($52M) and Franklin High Income ($50M). We're going to break down the good, the bad and the ugly pertaining to investing in Cemex.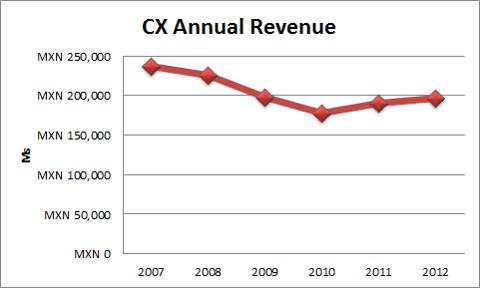 Source: Morningstar Direct
The Good:
Cemex's shares enjoy strong institutional support from the six aforementioned institutional investors

Three high performing bond funds are amongst

Cemex's top 10 bond holders.

Cemex's 2012 revenues are up 10% relative to when its revenues bottomed out in 2010

The company's share price is 67% below its split-adjusted high of $34 achieved in June 2007.

Cemex's P/S ratio is 0.835 and its P/B ratio is 1.15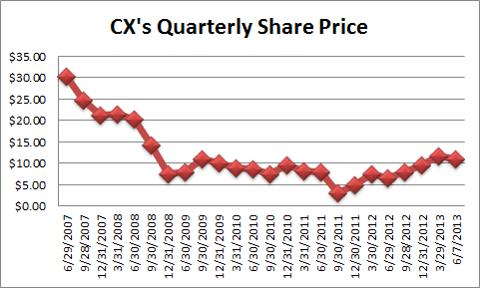 Source: Morningstar Direct
The Bad:
Cemex suspended its dividend after 2008

Cemex's operating income has not been sufficient to cover its rising interest expenses from 2010 to present

Cemex's share price has already increased by 110% over the last 12 months

Cemex is trading at a price to free cash flows of 46.5X

Cemex's total capital asset base (property, plant and equipment) has eroded by 25% since 2008.

Cemex's revenue is still 12% below its 2008 peak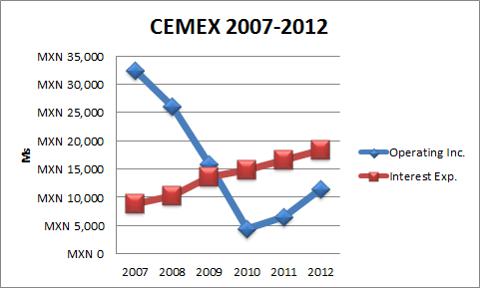 Source: Morningstar Direct
The Downright Ugly:
Cemex has accrued MXN 50B (~US$4B) in losses from 2010 to 2012

Although Cemex's operating income has bounced back relative to its 2010 lows (MXN 4.4B, ~US$350M), it has still declined by 56% from MXN 26B (~US$2.05B) in 2008 to MXN 11.5B (~US$900M) in 2012.

CX's adjusted annual interest expense has increased by 80% from 2008 (from MXN 10.2B (~US$800M) in 2008 to MXN 18.34B (~US$1.44B) in 2012).

CX's weighted average outstanding share count increased by 43% from 2008 (23B) to 2012 (32.8B)

CX's net debt of MXN 180B (~US$14.2B) is 15.65X its 2012 operating income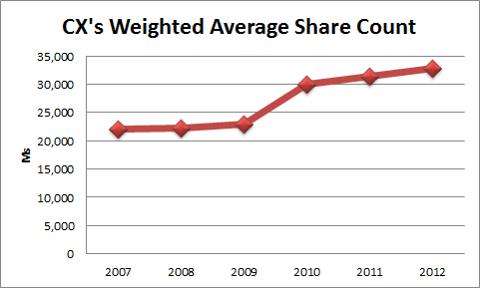 Source: Cemex's 2007-2012 Annual Reports
We were surprised that Morningstar rated CX's Economic Moat as 'Narrow' because we thought it would have been rated as having No Moat. However, we weren't surprised that Morningstar had rated CX's Stewardship as 'Poor' and its Fair Value Uncertainty as 'High'. One of the reasons why CX has a poor reputation for stewardship of shareholder assets was due to its acquisition of Rinker in 2007. The deal left CX with too much debt heading into the global economic downturn and forced it to sell valuable assets and reduce its CapEx. At least we can know why Cemex's property, plant and equipment base has steadily eroded over the last few years. Cemex gets 50% of its EBITDA from its home country of Mexico and the company enjoys EBITDA margins of 35%+ there due to its widespread distribution network and large operating scale. This is good news because Mexico has significant economic potential but also bad news because Mexico's economy has long been stunted due to the culture of corruption that has plagued its ~200 year history as an independent nation.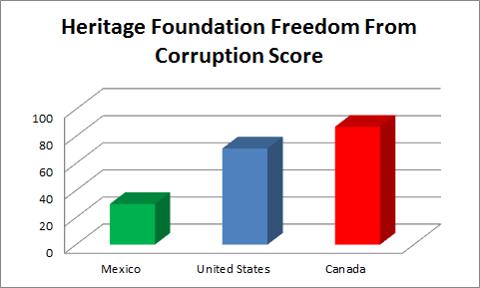 Source: Heritage Foundation
One piece of good news for Cemex is that it is not alone with regards to dealing with a challenging industry environment. We compared Cemex against notable construction materials companies like Vulcan Materials (NYSE:VMC), Lafarge (OTCPK:LFRGY) and Holcim (OTCPK:HCMLY) and we found that those companies had also generated weak financial performance since 2007 as did Cemex. At least in the case of Lafarge and Holcim, those companies were still profitable during the crisis unlike Cemex. One thing Cemex has in common with Vulcan Materials is that both companies made an untimely acquisition in 2007 and both companies made the mistake of using debt in order to fund the purchase.
In conclusion, we recognize that CX has potential and that is why a number of leading value investors recently took a stake in the company. However, we also recognized that it is a highly cyclical, high beta investment. We're not as optimistic about global economic growth in general and construction in particular even though our local town is spending $1B on capital infrastructure from 2014-2033, including $85M on streets and sidewalks and $650M on building projects. We are concerned that the European economy will continue to suffer from ongoing economic weakness, the emerging markets will slow down and the United States will suffer from the 2013 tax increases as well as the 2014 implementation of ObamaCare. CX's shares have seen a 110% run-up over the last 12 months and we'd prefer to see a 20% pullback before investing ourselves.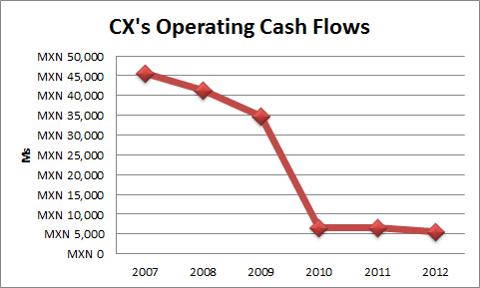 Source: Morningstar Direct
Disclosure: I have no positions in any stocks mentioned, and no plans to initiate any positions within the next 72 hours. I wrote this article myself, and it expresses my own opinions. I am not receiving compensation for it (other than from Seeking Alpha). I have no business relationship with any company whose stock is mentioned in this article.
Additional disclosure: This article was written by an analyst at Saibus Research. Saibus Research has not received compensation directly or indirectly for expressing the recommendation in this article. We have no business relationship with any company whose stock is mentioned in this article. Under no circumstances must this report be considered an offer to buy, sell, subscribe for or trade securities or other instruments.