With credit markets continuing to open up and risk takers returning to the market, we are hopeful that in the next year or two we will have returned to more normalized times. The early movers will be big winners and, with that said, we have to wonder exactly how much business companies like JPMorgan Chase are picking up due to their healthy balance sheets and ability to act on improving markets. Our guess is that it will set them apart from their peers in the next few years and will force others to take on more risk and lesser terms to try to steal the businesses back.
Chart of the Day: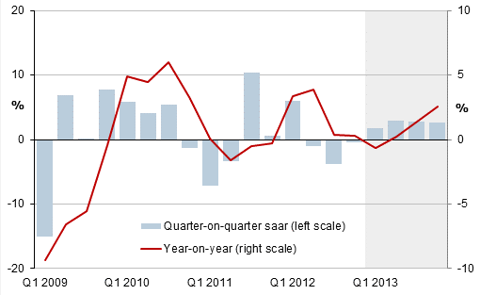 Chart courtesy of focus-economics.com
We have economic news due out today, and it is as follows:
Wholesale Inventories (10:00 a.m. ET): 0.2%
Asian markets finished lower today:
All Ordinaries -- up 0.41%
Shanghai Composite -- CLOSED
Nikkei 225 -- down 1.45%
NZSE 50 -- down 0.22%
Seoul Composite -- down 0.62%
In Europe, markets are lower this morning:
CAC 40 -- down 0.26%
DAX -- down 0.56%
FTSE 100 -- down 0.63%
OSE -- down 0.36%
Disappointing News for Investors...
The announcement yesterday from Apple (NASDAQ:AAPL) was exactly what investors had anticipated for the most part with the announcement of iTunes Radio and the release of a new operating system. The streaming service was widely expected and there had been mention of an upgraded operating system, but that was less of a focus for investors leading up to yesterday. The market was neither surprised by the news, nor impressed with the result as the stock price action indicated. Investors rotated out of Apple shares and into Pandora (NYSE:P) shares as the chart below highlights. Volume was above normal for both names and the only winner here was Pandora as investors became a bit more emboldened in their belief that Apple's Goliath is not going to slay Pandora's David.
The chart below shows where the stocks shall open today, but what we are trying to highlight is the moves that took place after the iTunes Radio announcement. Pandora zoomed higher while Apple dropped lower.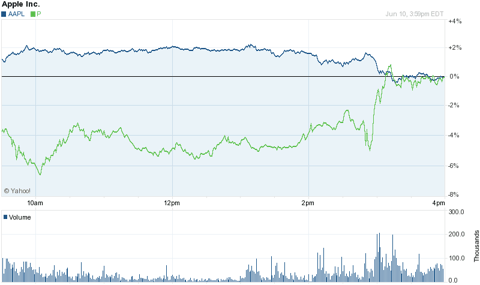 Chart courtesy of Yahoo Finance.
Investors in Lululemon (NASDAQ:LULU) were hit with a surprise after hours as the company announced that current CEO Christine Day would step down as soon as a replacement was found (see the NY Times article here). One could look to the recent recall on their yoga pants as a potential reason for her departure; however, it seems a bit more likely that the company's continued growth and transition into an international retailer require a specific skill set Mrs. Day felt would be better served by another individual. With that said the shares were down almost 13% in after hours trading and there was little attention paid to the actual conference call aside from her announcement. If history is a guide here, the weakness which will take place in today's market should be bought...if not for a long-term investment at least a short-term trade. For those looking to buy for the long term (say the next 2-3 years), we would recommend reading the transcript (located here).
While We Continue to Get Offsetting Good News...
Yesterday everyone was focused upon the Japanese data and their impressive 4% growth rates and paying very little attention to the fact that McGraw-Hill's (MHFI) Standard & Poor's rating division raised their outlook on the US government debt due to the improving economy and changes in the deficit. We thought the downgrade on the debt from AAA was bogus to begin with, but to keep the outlook to negative was absurd at the time and this at least brings their opinion back towards reality. Maybe the market thought that it could overlook the event because it was an outlier; however, the fact that S&P is now viewing the outlook as positive forces other agencies to stay put and minimizes the risk of future downgrades from other sources. Most certainly a positive.
While the US government was getting their debt stamped with someone's approval so too have the rich. Jumbo mortgages are back and JPMorgan Chase (NYSE:JPM) is moving back into the game. They are not just writing these mortgages for their top clients, but writing these mortgages in order to sell into the market via securitization, and not backed by Fannie Mae or Freddie Mac (see story here). This is good news for the housing market and the overall economy as well, for it paints a picture where credit markets are thawing which is giving lenders more confidence that they will be able to securitize loans and not get stuck with long-term loans on their balance sheets. It is but another step in the right direction for the economy and shows how far we have come, but also highlights how far we must still go.
As this 5-year chart highlights, the financial sector has come back a long way. As credit markets continue to thaw and become more liquid, the fortunes of those willing to take risks becomes brighter as well.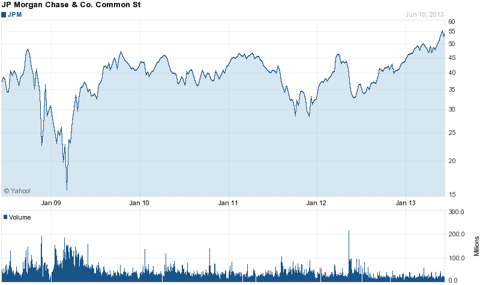 Chart courtesy of Yahoo Finance.
And a Few Wild Cards...
Call it posturing or bluffing, but the bottom line here is that bankruptcy is still an option for Bank of America's (NYSE:BAC) Countrywide unit at this time (see story here). The deal made little sense to us when it was done at the height of the financial crisis as we figured that Bank of America could have bought up these assets for a fraction of the cost after a bankruptcy and not inherited any of the litigation risk they took on by buying the entire company. Billions of dollars have been paid out since and the latest $8.5 billion settlement is coming under attack by large institutional investors. During a hearing, it was revealed that in Bank of America's opinion they could still put the unit into bankruptcy without any issues from regulators and that would hinder any future payouts as the parent would not need to cover the bill any longer. It was an awful acquisition and a bankruptcy for the unit would be a fitting end to this story.
Disclosure: I have no positions in any stocks mentioned, and no plans to initiate any positions within the next 72 hours. I wrote this article myself, and it expresses my own opinions. I am not receiving compensation for it (other than from Seeking Alpha). I have no business relationship with any company whose stock is mentioned in this article.