Exxon Mobil Corporation (NYSE:XOM) is well known as a top of class capital allocator and operator. Through a relentless pursuit of efficiency and endless pushing to develop new technologies and improve operation returns, the company has managed to achieve high returns on capital relative to its sector.
Currently the shares trade at $91 and although record-shattering returns are not likely, when investing in one of America's largest companies, there is an opportunity for modest returns at lower-than-average risk. If you are looking for oil major or want to increase your exposure it might be an interesting stock. Six simple reasons why:
1. Focused on Shareholder Returns
Shareholder return is a focus of management and has been for a long time. The payout ratio hovers around 20-30% while the company also engages in stock buybacks to return money to shareholders. A management with shareholder value high up on its priority list is necessary for a investment in a stalwart to turn out to be fruitful.
2. Valuable Partner to NOCs
Emerging Markets often have National Oil Companies (aka NOCs) that are either limited in the resources they have at their disposal or lack the expertise to fully capitalize on all the opportunities before them. Often they seek partnership with private companies like: Exxon Mobil, BP Plc (NYSE:BP) or Royal Dutch Shell Plc (NYSE:RDS.A). Exxon is often first on their list because of its operational efficiency and ability to tackle projects of any size.
3. Operational Excellence
On the last point I already mentioned Exxon's superior operational performance, which is partly attained due to its very strict norms when allocating capital to projects.
The firm wants to be certain good returns can be achieved or will not start a large project. This prudent way of operating should drive great returns on capital with modest risk, yet at the same time it's detrimental to optimal growth. More aggressive competitors are able to grow faster.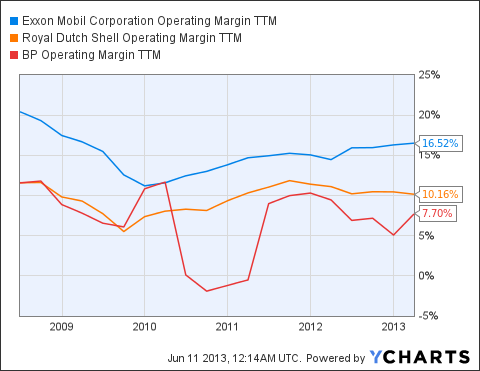 XOM Operating Margin TTM data by YCharts
4. Diversification
Exxon is quite well diversified in multiple ways. It has a great global reach (Asia, Africa, Europe, US, South America and soon even the Arctic) but also performs a wide range of operations both upstream and downstream within the oil and gas business. With these characteristics Exxon certainly adds some world market exposure to a typical USA portfolio and more sector diversification than smaller more focused competitors.
5. Excellent Technology
Exxon has some of the best technology to be able to extract more unconventional resources like bitumen, drill in deep water or with fracturing. This is important because in the future reserves will need to be replaced with unconventional methods and because NOCs are looking for partners in order to gain access to this technology, enabling Exxon to access their oil fields.
6. Valuation
Exxon Mobil is valued at approximately an Enterprise Value/EBITDA of 5.76. Earnings per share come in close to $ 10. Book value is modest at only $ 37 / share. Examining key statistics and recent 10-Q and 10-K lead me to believe Exxon Mobil is slightly undervalued by ~10%.
The company is known as a stalwart and tends to be less volatile than the overall market, which leads me to be more open minded about an investment that is likely to offer only modest returns.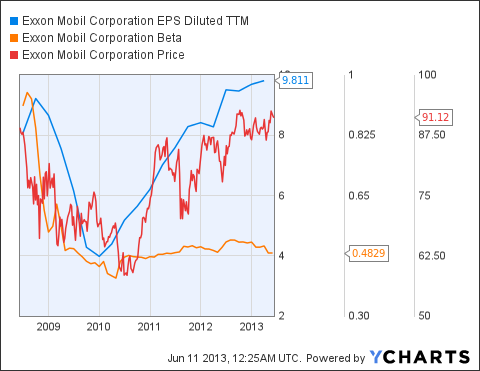 XOM EPS Diluted TTM data by YCharts
What are some of the challenges Exxon faces?
To be fair I want to include some of the important challenges Exxon Mobil faces in this article as well. Although it's hard to find an up-to-date bearish article on XOM within Seeking Alpha I'd also like to present you with a more in-depth variant view.
1. Protectionist Politics
Countries protect their natural resources and NOCs are developing better technology and production efficiencies themselves, making it harder for Exxon to push hard for great deals.
2. Slow Growth Ahead
Production growth will be likely to be found in politically unstable regions or under very difficult circumstances (like drilling in the Arctic) making it tough for Exxon to maintain its track record of return on equity.
3. Maintaining Reserves Will Prove To Be Hard
Exxon is quite prudent in taking on only highly profitable projects so that maintaining reserves appears to be very difficult going forward. Rising oil prices and breakthroughs in technology could alleviate these concerns somewhat.
Conclusion
If you are looking to add an oil major to your portfolio or want to increase exposure to that sector, my first pick would still be RDS as I wrote in my earlier article: Why you should consider Royal Dutch Shell with a 5.5% yield, but Exxon looks like a good choice as well. These companies are not always readily available at their current valuations.
If you want to learn more about the power and history of Exxon Mobil, Steve Coll wrote a highly detailed book about this American dominant energy player and its corporate history and culture.
Exxon can fit well in many portfolios and is a classic dividend stock but investors can also attempt to ride the company up for a 10%-20% capital appreciation and trade out if there are more valuable options available, depending on personal preference and goals.
Disclosure: I have no positions in any stocks mentioned, and no plans to initiate any positions within the next 72 hours. I wrote this article myself, and it expresses my own opinions. I am not receiving compensation for it (other than from Seeking Alpha). I have no business relationship with any company whose stock is mentioned in this article.