Mortgage defaults in Florida are nothing new. Even my four-year old niece is aware that there is a problem with condos in Miami. However a call from a friend prompted a closer look.

This fellow owns a house in a 600 home gated community in Collier County FL. This place has all the amenities and has been around for fifteen years. Two years ago the minimum house price was $1mm and the max was $3mm. Because of the relative age and stability of the resident members it was believed that values would not be impacted as they were in newer and more speculative communities.

No such luck. All involved were shocked to learn that 6 homes had gone into foreclosure from June 1, to July 15 of this year.

The selling season for these types of properties ends on June 1st in Florida. It's too hot and the 'snow birds' have gone back north after that. Demand disappears until the following November. What must have happened this season was that there were some owners who were in payment default. The lenders said, "We'll give you to July 1, and then we will move on you". These owners were 'upside down'. If they had any realizable equity they would have dropped the price to flush out a buyer or held off the lender with some cash. That did not happen. There were very few sales this year. At the end of the season the lenders acted and filed papers.

I reviewed data from RealtyTrac. I looked at the numbers of recorded defaults on properties with a "value" greater than $1mm. I narrowed the time period from June 1 to July 16. Just 45 days. I compared the data from 2009 to 2007. The numbers are for recorded defaults only.

I believe that RealtyTrac does a good job of compiling this information. I am also sure that there are errors in this data. There are some significant changes over the two-year period. This can't all be dismissed as bad data. The following chart looks at various Florida counties.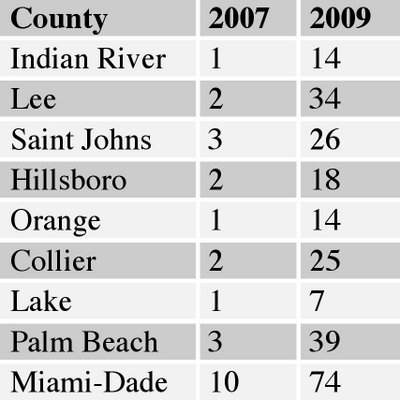 On the assumption that this data accurately reflects what went on during the past 45 days in FL there are some significant conclusions that can be drawn:
Lenders are going to get hurt. This is not a Fannie Mae (FNM) or Freddie Mac (FRE) problem. This is the banks. To my knowledge there has not been much provisioning for losses of the mega jumbo loans that are now going into default.
As with lower-end communities, the defaults will lead to foreclosures and auctions. The result will be that high-end homes will lose value. If the average 'value' in the 600 home example I provided was $1.5mm two years ago, it just went down by 1/3. That implies an asset loss of $300mm. Multiply that by a few hundred of these places and you get some real money. This wealth effect will impact consumption.
The lower home values that will be realized over the next six months will, no doubt, force more leveraged borrowers to walk. The number of defaults on $1mm+ mortgages has nowhere to go but up.
The reduction in RE taxes is going to kill the local communities. These homes were a big component of the tax base. (Approximately 1.8% of purchase price).
I did check a few other areas in the country to see if the phenomenon of jumbo mortgage defaults was popping up elsewhere. In Maricopa County, Arizona, the numbers went from 1 to 26. In San Bernardino County, California, the number went from 1 to 23. This again, is just for the last 45 days.

These numbers could trump the green shoots. It may reopen the door on the issue of the stability of the banks. The stress test did not contemplate the implications of broad based jumbo mortgage default. I can't envision a plan that would result in assistance to high-end homeowners that are underwater. There is no obvious solution to this one.

07 RealtyTrac (click to enlarge)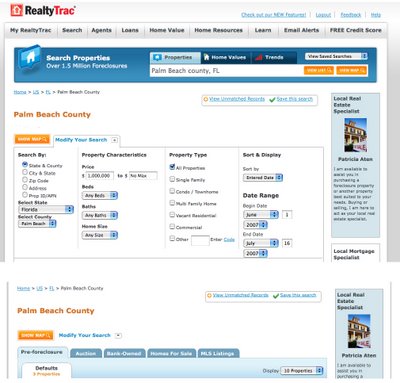 09 RealtyTrac (click to enlarge)