The past few days have featured rising markets as economic reports turned out to be less negative than expected and a few major companies have beat earnings expectations. One particular sector showing strength is airline stocks - but not likely the ones you are thinking of. While large behemoths like Delta Air Lines (NYSE:DAL) and AMR Corp (AMR) - the parent of American Airlines - have remained rangebound, some niche airlines such as Allegiant Travel Company (NASDAQ:ALGT) and a few non-US airline stocks listed on US exchanges have seen strength.
It's been quite some time since my fund invested in Gol Intelligent Airlines (NYSE:GOL), but the company's investment prospects appear to be improving by the day. Most recently, the stock broke above resistance around $6 and has rallied more than 20% this week alone. Investors are quickly realizing that earnings could pick up significantly - with the potential to reach 2006 levels when the stock crossed above $40 to mark its all-time-high.
So what is driving the stock price higher? While it appears investors are now pricing in some relief from the global economic depression, the rebound over the past week is likely more a function of an announcement of an agreement with American Airlines. Gol Intelligent Airlines operates almost exclusively in South America and while it is a leader in its own field, the company may now be able to pull in more revenue from international travelers coming into South America and Brazil specifically. According to the agreement, GOL and AMR will offer a reciprocal frequent flier program which allows customers of each airline to use miles to book tickets on either airline.
It will be interesting to see what kind of additional revenue this agreement produces for both AMR and GOL over the coming quarters. Since GOL is a much smaller player, it would stand to reason that GOL has more to gain as a percentage of revenue than AMR.
At the beginning of the year, GOL investors had significant concerns regarding the long-term viability of the company. GOL was burning through cash and posting an operating loss as late as the first quarter of 2009. With a significant amount of debt and interest expense, this was a deadly combination. However, it looks as if the company has options to raise capital both through a potential stock offering in Brazil as well as a tentative agreement with existing large shareholders who may be interested in providing capital depending on the terms.
The recent spike in oil prices has been a significant headwind for airlines (pardon the pun). But if higher oil prices come as a function of economic demand, that will likely correspond with higher demand for airline tickets - resulting in higher revenue. It is a bit difficult to figure out exactly what GOL's hedging techniques are because the English section of the company's website is limited. If anyone has information on the hedging techniques, I would certainly appreciate comments so that we can all be enlightened.
After posting a tremendous loss in 2008, the company is expected to pull out a small gain of $0.29 per ADS in 2009. If all goes well, analysts expect these earnings to double to 0.57 the following year which would significantly increase the confidence of many investors. GOL operates in an important niche, serving Brazil - offering 640 daily flights to 60 destinations. The company has 108 aircraft so it is positioned well to take advantage of any uptick in travel. And yet the stock is trading at just 12 times expected earnings for next year.
If GOL is able to prove to investors that it has access to capital and can sustain its debt levels, I expect the multiple to increase significantly. It may take time to get earnings back to levels seen a few years ago, but with a strong platform and a talented, experienced management team this is certainly a possibility. GOL is worth watching as a potential investment which will benefit from strength in Brazil. The stock also offers good diversification away from traditional US stocks which may be vulnerable to any number of issues such as inflation, currency fluctuations, sustained unemployment and more. I would consider buying GOL here and up to $10 provided the news flow remains positive.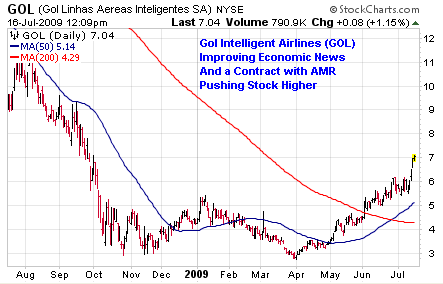 Disclosure: Author does not have a position in GOL.