Disasters are things that we can't really avoid and must be very well prepared for because we would all hate the possibility of losing everything we worked hard for over the years. I always say to prepare for the worst and hope for the best, and the way to prepare for the worst in terms of natural disasters is to purchase insurance to at least recoup some of the assets that may have been lost in a disaster. Most recently we had the tornadoes in Oklahoma, the fertilizer plant explosion in West Texas, and now a wild fire in Southern California.
One of the ways to play the insurance theme in terms of stocks is Cincinnati Financial (NASDAQ:CINF), and the insurance it provides against a market downturn is a healthy dividend, which has room to grow. Since Cincinnati Financial through its subsidiaries is engaged in providing a range of commercial and personal property and casualty insurance, its earnings and stock valuation could be hurt by the kinds of disasters I mentioned. However, these types of disasters are few and far between and insurance companies have recurring revenue in the form of your monthly payment and take their sweet time before paying you back what you are due until after they've done their investigations and the like. That's why I believe property and casualty stocks are good to own in a portfolio because of their ability to make money off of your money until they pay it back to you. Cincinnati Financial has been on par with the rest of the market for 2013 so let's take a fundamental and technical look at it right now to see if it's a buy or not at these levels.
Valuations
Cincinnati Financial currently trades at a trailing twelve month P/E ratio of 15.6, which is fairly priced, but I mainly like to purchase a stock based on where the company is going in the future as opposed to what it has done in the past. On that note, the 1-year forward-looking P/E ratio of 20.04 is currently priced more expensively for the future in terms of the right here, right now. The PEG ratio (6.27), which measures the ratio of the price you're currently paying for the trailing twelve month earnings on the stock while dividing it by the earnings growth of the company for a specified amount of time (I like looking at a 5-year horizon), tells me that Cincinnati Financial is very expensive based on a 5-year EPS growth rate of 2.49%. What all this really tells me is that Cincinnati Financial is very expensive for the long term but is appropriately priced for the near term.
Financials
On a financial basis the things I look for are the dividend payouts, return on assets and equity. Cincinnati Financial boasts a dividend of 3.51% with a payout ratio of 53.99% while sporting return on assets and equity values of 2.96% and 8.9%, respectively. These are all respectable values but not high enough for me personally to consider buying my full position in the stock. If maybe you feel the market will retract a little more and would like a safety play then maybe the 3.51% yield of this company is good enough for you to take shelter in for the time being. The dividend of $0.4075/share is scheduled to go ex-dividend on June 17, 2013.
Technicals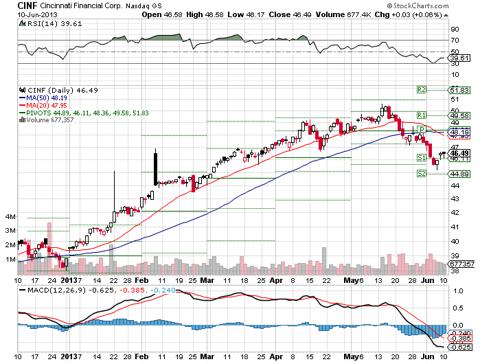 The top chart is the relative strength index (RSI) and it currently stands at a value of 39.61, which says to me that it is oversold. A value of 30 typically depicts an oversold value while a value of 70 depicts an overbought value and as you can see the RSI jumped off of the 30 level in early June, and I believe it can go higher. The next chart I like to look at is the moving average-convergence (MACD) chart on the very bottom, which illustrates the movement of a stock. When the black line crosses below the red line like it did in mid-May it usually shows downward pressure on the stock, and if you look at the middle chart while also looking back at the RSI chart you will see that both of them started moving down at that time. But something to notice on the MACD chart is that the divergence (blue bars) is starting to get smaller, which may mean there might be a flattening out of the stock in this area and a shot up. It will take a couple of days to figure out precisely what is going on. The actual chart in the middle shows the stock is below its 20- and 50-day moving averages, which can act as resistance for the time being.
Conclusion
This good-yielding insurance company has been increasing its dividends for 52 years already and should continue increasing them in the future. The fundamentals tell me that it is currently fairly valued with maybe a little upside from here to keep in the portfolio for the short term. The technicals tell me if the stock can grab some upward movement I see it going to $48.36. If the stock continues its current downward trajectory I'd look for $44.89 to act as a floor of support. There is some downward pressure on the stock but it looks like it is flattening out and can have a pop in the near future. The short-term catalyst I see to provide the pop is the ex-dividend date takes place on June 17, 2013. I'm currently buying into the stock for the short term and will evaluate again after the ex-dividend date.
Disclosure: I am long CINF. I wrote this article myself, and it expresses my own opinions. I am not receiving compensation for it (other than from Seeking Alpha). I have no business relationship with any company whose stock is mentioned in this article.