Investment Thesis
NovaBay's (NYSEMKT:NBY) current market capitalization of approximately $49 million seems small for a company that will report out data on three important Phase II proof-of-concept trials in 2013. NovaBay is developing a molecule, auriclosene (formerly known as NVC-422), for three separate indications: impetigo; adenoviral conjunctivitis; and urinary catheter blockage and encrustation (UCBE). While the molecule is the same within each indication, the disease states are quite different, and so are the formulations. Auriclosene for impetigo uses a topical gel; for adenoviral conjunctivitis it is an eye drop; and for UCBE, it is a special liquid instillate. Each of these formulations represents a unique and promising commercial opportunity.
While there are several indications and potential uses for auriclosene, the focus of this report is the use of auriclosene for UCBE. The Company is scheduled to report out results in the second half of 2013 from a Phase IIa trial of auriclosene in UCBE. Also in the second half of 2013, we should see the results of a Phase IIb study of auriclosene in impetigo and late this year or early next, results should be announced from a Phase IIb study in adenoviral conjunctivitis. Success in any one of these indications could be the basis for a commercially successful company.
The current standard of care for treating UCBE involves removing the problematic catheter and replacing it with a new one. Irrigation of the catheter while it is in place is another option, but there are significant issues that limit this approach. There is an FDA-approved drug for catheter irrigation but it must be used three times daily (or 21 times per week) which is very hard to do and it has also been plagued with manufacturing issues; it is not widely used. Effectively, there is no truly effective standard of care and auriclosene could potentially fulfill a significant unmet medical need for treating UCBE. The following image shows an electron micrograph of crystalline bacterial biofilm that encrusts catheters.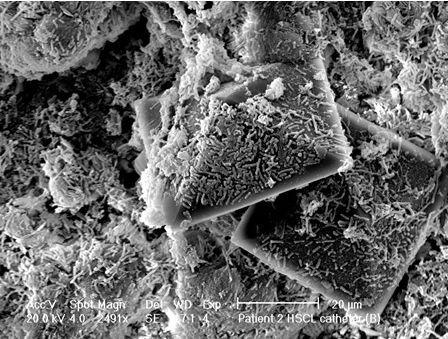 Source: David Stickler, Cardiff University, U.K.
The primary goal of the Phase IIa trial is to show that auriclosene is safe and effective at reducing encrustation and blockage when catheters are irrigated two times per week. It is not designed to address the effect of auriclosene on bacterial infections (i.e., urinary tract infections), which would require a much more extensive and lengthy trial. At some future time, this could be a substantial opportunity for auriclosene.
I think that in vitro and previous human trial results in a small number of patients indicates that there is a reasonable chance for a successful trial outcome in the current Phase IIa trial. If the Company does indeed receive encouraging data, it likely will be able to meet with the FDA to discuss the next steps for approval. The combination of positive data and a successful interaction with the FDA possibly could lead to a New Drug Application with the FDA in 2017 or possibly as early as 2016.
There is risk in this trial as in all trials. Past attempts to treat UCBE with antibiotics and catheters coated with antibiotics have not been successful although one would think that this should be an effective approach. This may be due to the dynamics of urine flow and bacterial encrustation in the catheter that makes it difficult to get a drug to or in the site of encrustation. If so, auriclosene might be proven ineffective for the same reasons. In any event, this trial will provide the signal of activity or lack of activity to determine the next step.
I have made some projections for the commercial opportunity in treating UCBE in the United States. I estimate that there are currently 100,000 long-term catheter use patients who experience chronic UCBE that would require twice-a-week treatment. At a price of $15 per treatment (a price that a NovaBay physician survey suggested might be acceptable) this represents an annual addressable market of $156 million. Regardless of any other potential future uses of the drug, I think that this would be a significant commercial opportunity for NovaBay.
Although it has not announced its plans for commercialization, I believe that NovaBay could form its own sales force to market auriclosene in the US. About 80% of potential U.S. sales are concentrated in 50 clinical sites so that a small sales force of 20 salespeople could reach the majority of the market. The cost per salesperson would be about $200,000 annually and the cost of goods sold would be about 5% of sales. At a sales level of $4.2 million, auriclosene could cover the cost of goods sold and the cost of the sales force.
For the year ended December 31, 2012, NovaBay's selling, general and administrative expenses were approximately $6.0 million. Research & development spending for the same period was approximately an additional $9.3 million. Just for the sake of illustration, let's assume that these expenses remain constant through the launch of auriclosene and beyond. This suggests that auriclosene sales of $20 million in the US could bring the company as a whole to breakeven. At $20 million of auriclosene sales, this would represent just 8% of the addressable market. At $100 million of sales or 40% of the market, auriclosene could produce pre-tax profits of nearly $80 million.
Urinary Catheters Can Become Encrusted and Blocked by Crystalline Bacterial Biofilm
In some conditions such as spinal cord injury or multiple sclerosis, neurological dysfunction interferes with the ability to void urine from the bladder. This is treated by inserting a catheter through the urethra and into the bladder. Urine then drains through the catheter into a collection bag. Patients can be catheterized as needed, or have an indwelling catheter; the latter is very helpful for patients with compromised motor abilities. The most commonly used indwelling catheter is the Foley catheter. It has one tube that empties urine and a second with a balloon at its end through which saline is instilled to inflate the balloon and hold the catheter in place in the bladder.
The upper right hand corner of the following image illustrates how urine flow is impeded by encrustation. The lower right hand corner shows how a Foley catheter is implanted. The upper right hand corner shows in close up the balloon that holds the catheter in place in the bladder and the eyehole above the balloon that urine enters the catheter. It is at the eyehole and slightly below that encrustation often takes place.
Source: NovaBay Pharmaceuticals
A major problem with catheter use is that it provides easy access for bacteria to migrate upwards from skin and external surfaces into the bladder. Also, the retention balloon of the Foley catheter creates stagnant urine pools around it in the bladder. This provides bacteria a luxuriant environment for growth so that in a matter of a few hours, rapid replication can result in millions of bacteria. The following image shows more illustrations of the eyehole and catheter.
Source: NovaBay Pharmaceuticals, Inc.
Bacteria are very good at adhering to catheter surfaces as they flow by in the urine. Once attached, they multiply very rapidly and some species cover themselves with a protecting gel or biofilm. This enhances the formation of large colonies that can contain as many as one billion bacteria per centimeter of catheter. Attempts to develop catheters (e.g., silver-coated) which prevent the development of biofilm and the associated encrustation have all failed. Biofilms are extremely difficult to treat with antibiotics and are the primary cause of UCBE; eliminating or reducing the size of the obstruction to allow adequate urine flow is the primary therapeutic goal of auriclosene. The following image shows examples of encrustation in several different catheters.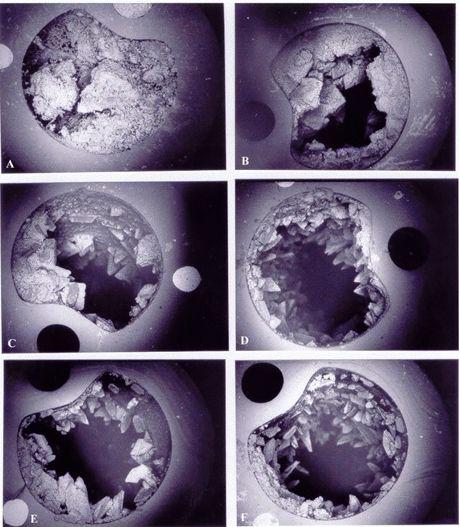 Source: David Stickler, Cardiff University, U.K.
Who Is At Risk of UCBE?
Individuals with the highest risk for UCBE come from a wide range of conditions that have caused neurological damage such as spinal cord injury, stroke, multiple sclerosis or just old age. It is a large and diverse group, ranging from young paraplegics who have suffered a sports injury to immobile bed-ridden elderly men and women. It is estimated that there are about 100,000 chronically catheterized patients in the US who are susceptible to UCBE.
Auriclosene and UCBE
Auriclosene is a topical, non-antibiotic, fast-acting, broad-spectrum anti-microbial, which exhibits the potential to prevent the growth of urinary pathogens, including Proteus mirabilis and others. The use of auriclosene in a catheter irrigation solution may prevent biofilm formation and encrustation leading to blockage. This holds the potential for keeping the catheter patent longer, resulting in fewer catheter changes and potentially lower incidence of urinary tract infections and improved quality of life.
Design of the Ongoing Phase II Study of Auriclosene in UCBE
Previously, NovaBay has announced positive Phase 2 data. In the current part of the Phase II study, subjects enrolled in the study suffered from spinal cord injury or some other neurogenic condition that required a chronic indwelling catheter and they must have had a history of catheter blockage and/or encrustation. The design of the study is a crossover study in which 19 subjects were randomized into two groups. A new catheter is inserted at the start of the trial. One group is given a saline solution and the other auriclosene using 8 treatments over 26 days, which is roughly twice per week. There is then a washout period of two weeks after which the patients were crossed over; saline-treated subjects are switched to auriclosene and vice versa.
If there is blockage during the 28-day period, the catheters are removed at that time. Otherwise, they are removed at the end of the 26-day period. All are then packed in ice and sent to the Company for analysis. The caregiver, investigators and outcomes assessors in the trial are all blinded.
The primary outcome measure is the catheter patency (openness) following 26 days of treatment. This is defined as the amount of the cross sectional area that is not encrusted (open area through which urine can flow). This measurement is taken at two pre-selected locations on the catheter. The secondary endpoints are (1): the incidence of catheter removal prior to the completion of the 26-day trial, (2) a qualitative and quantitative assessment of biofilm on removed catheters, and (3) and qualitative and quantitative assessment of encrustation of the catheter. The following image shows differing degrees of encrustation.
Source: NovaBay Pharmaceuticals, Inc.
In a Foley catheter, a balloon that is inflated with saline holds the catheter in place in the bladder. Immediately above the balloon is an eyehole opening in the catheter that drains urine from the bladder to a collection bag outside the body. The two pre-selected cross sectional areas to measure obstruction of the catheter due to encrustation are at the eyehole and an area about 2 millimeters below the eyehole. Experience has taught urologists that these are the two most frequent areas at which blockage and encrustation occur.
One of the two cross sectional areas will be more encrusted than the other and will determine the rate of urine flow. The amount of cross sectional area blocked at that site will be included in the primary outcome measurement in the trial. For example, the cross sectional area blocked at the eyehole might be 75% and the area below at 55%. The 75% would be the area defined as cross sectional blockage included in the final analysis. Of course, complete blockage at one of the two sites would be 100% and could occur before the end of the treatment period.
The top-line data on the primary endpoint will be the average cross sectional encrustation of the 19 patients while they are given auriclosene and the same measurement for when they are given saline. Remember that each patient receives a 26-day treatment of either auriclosene or saline, followed by a two-week washout period and a switch to the opposite treatment. Hence each patient will contribute a cross sectional score for auriclosene and another for saline.
As a secondary endpoint, the Company will also report the number of catheters that had to be removed when patients were on auriclosene and then on saline. This is an indicator of effectiveness, but there is a possibility that catheters are removed for some reason other than blockage (such as kinking). The eyehole and balloon of the Foley catheter are shown below.
Source: NovaBay Pharmaceuticals, Inc.
What Are the Chances for Success?
Results from earlier in vitro and human studies are encouraging and suggest that there is a good potential for success. In vitro studies with auriclosene have shown that it is capable of penetrating a biofilm and effectively killing the contained microbes. With anti-bacterial agents, efficacy in laboratory models is a good predictor that the drug will be effective in humans if it can be delivered in sufficient amounts to the site of the bacterial infection.
An earlier human study enrolled 20 patients and produced encouraging signals of efficacy. However, it was a two-week study primarily intended to determine safety and this was not sufficient time to demonstrate meaningful efficacy. Still, investigators found that in the saline patients who were experiencing catheter blockage, auriclosene was subsequently successful in preventing blockage in 80% of those patients. These results encouraged the company to move on to a new more potent formulation and extend the study to 4 weeks instead of 2 weeks and reduce the frequency of irrigation from 3 to 2 irrigations per week, with a crossover study design.
The Next Development Step for Auriclosene
Assuming that results are encouraging, NovaBay will schedule a meeting to discuss the next stage of development with the FDA. One of the key discussion points should be determining endpoints that the FDA will accept for a pivotal Phase III or Phase IIb trial, and the statistical plan to assess those endpoints. The FDA could agree to a pivotal Phase III trial using a crossover design in which auriclosene would be compared to saline with the same primary and secondary endpoints used in the 19-subject trial. This would be a good outcome for NovaBay, as the company could go directly into pivotal Phase III trials.
The Market Opportunity
It is clear that twice weekly irrigation of catheters will be substantially less expensive and burdensome than dealing with a number of problems patients can have as a result of urine backing up into the kidney and potential for kidney infection. This program also may be able to reduce emergency or scheduled catheter changes which are the current standard of care.
Disclosure: I am long NBY. I wrote this article myself, and it expresses my own opinions. I am not receiving compensation for it. I have no business relationship with any company whose stock is mentioned in this article.