Expiration of patents in US drug manufacturing industry is a major issue these days. Companies are expected to lose revenues due to the loss of their exclusivity because of patent expiration. Because of this, all major drug manufacturing companies are putting the bulk of their investment into R&D projects and acquisitions of companies which are expected to deliver medication breakthroughs. This strategy has been recently executed by the second-largest drug manufacturer in Britain, AstraZeneca (NYSE:AZN), which is all set to acquire the American privately held company Pearl Therapeutics Inc. for up to $1.15 billion. Pearl Therapeutics is a specialty drug maker in the field of lung treatments, and would secure AZN's position in the emerging market of long-acting beta agonists [LABA] and long-acting muscarinic antagonists [LAMA], which promise improved disease control without steroids.
A number of analysts consider the LAMA/LABA inhalers to be the dominant future therapy for chronic obstructive pulmonary disease [COPD], and AZN's acquisition of Pearl Therapeutics would strengthen the respiratory portfolio of the company and bring it into a better position to compete with its rivals GlaxoSmithKline (NYSE:GSK) and Novartis (NYSE:NVS). Lately AZN's revenues and profit margins have significantly fallen due to the loss of patent protection of older medicine. This is why the company acquired Omthera Pharmaceuticals (NASDAQ:OMTH) and is now going for Pearl Therapeutics. Pearl's main product, PT003, is in final stage clinical trials and is expected to be out on the market soon after FDA approval. Another product by the company is PT010, which is a triple-combination medicine using LAMA and LABA components. Analysts believe that this triple combination along with the PT003 inhaler is a huge upside for AZN, and might bring it to the second spot in the market after GSK (Source: Yahoo Financials).
Industry Position of AZN
Lately AZN's standing compared to its competitors has improved, as it is putting up a great effort to increase the number of new pipeline drugs and increased R&D. The following figures show the company's improved standing along with its competitors since 2011.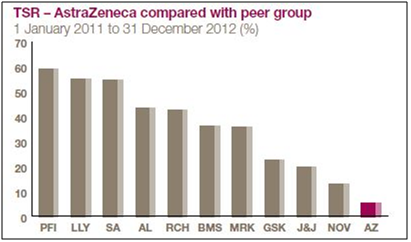 Source: Company Financials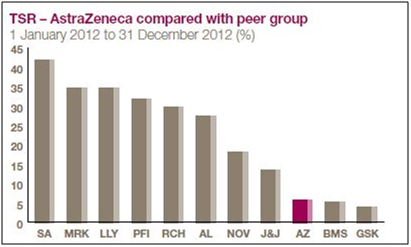 Source: Company Financials
The company is determined to increase its pipeline products in order to come out as a strong competitor in the market and improve on its sale and profit margins. The diagram bellow shows some of the company's recent projects in different stages at the end of 2012.

Source: Company Financials
Declining Revenues: A source of concern
As mentioned above, the company is on a downhill slide in terms of its revenue and market share in certain geographic areas. The following figure shows the company's revenue segmentation by different geographic regions.

Source: Company Financials.
It shows that AZN has lost its share in all the major continents it is operating in, mainly because of losing patent protections on older medicine. Thus, catering to this downside is a major challenge for the company. So it has adopted an aggressive strategy of acquiring several small pharmaceutical companies which have a sound R&D base and are expected to be very close to launching improved drugs. For this purpose, the company is expected to have ample cash flows, and the comparison between the 2011 and 2012 financials shows that even though revenues have declined, the cash flows have marginally increased from last year.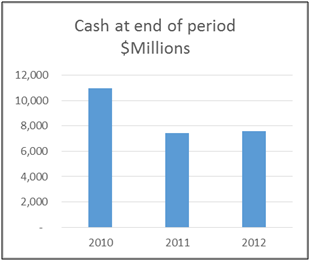 Source: Morningstar
Stock Performance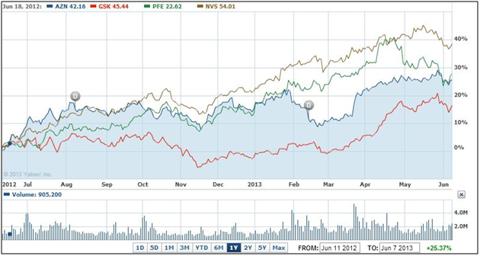 Source: Yahoo Finance
AZN's stock has performed at a steady rate and right now is standing at a 26% increase from its value in July 2012. The largest concern for AZN is that its competitor's performance has been improving. GSK is the only major drug manufacturer which has performed below AZN, with 18% growth. On the other hand, Pfizer (NYSE:PFE) has performed better than AZN, and Novartis tops them all.
Comparative Analysis: Valuation

Source: Morningstar
The table above shows that AZN is performing better than its competitors on the basis of price-to-earnings multiple. It is quite undervalued compared to the industry average and the mean of its peer group. On price-to-book and price-to-sales, it is marginally overvalued. As far as dividend yields are concerned, AZN has a greater yield than the industry average and its competitor's mean.
Financial Health

Source: Morningstar
The company's financial health does not pose a threat for them. Current and quick ratios are above 1.00, which is a plus for them. Financial leverage has been on a steady decline over the years with a stable debt-to-equity ratio that adds up another positive aspect for the company.
Conclusion
The company's revenue growth has been negative this year, largely due to its old medicine losing patent protections, and therefore its share in the global market has decreased. Still, the company is compensating for that by acquiring new business and strengthening its respiratory portfolio through the acquisition of Pearl Therapeutics, which would certainly grow the company's revenues in the future and would ensure optimistic future prospects for the company. Therefore, I would suggest a buy for investors looking to invest in the long term.
Disclosure: I have no positions in any stocks mentioned, and no plans to initiate any positions within the next 72 hours. I wrote this article myself, and it expresses my own opinions. I am not receiving compensation for it (other than from Seeking Alpha). I have no business relationship with any company whose stock is mentioned in this article.