Department Store Industry Analysis
The department store industry within the U.S. is enormous. But the sector has faced tough conditions over the last five years - from 2008 to 2012. In this period the industry earned revenue at a declining average annual rate of 1.2%. However, in 2013, the industry has started recovering and revenue is projected to grow at a rate of 2.2%, and profits are estimated to be 4.8% of the total revenue. This rate rose from a lower rate of 2.9% in 2008.

Click to enlarge
Source: CSIMarket
The chart above depicts that the retail sector's performance has been recouping in recent years, after experiencing a downturn in the previous two years.
Today in this review, I will assess the three key players of the sector. Combined, Wal-Mart (NYSE:WMT), Macy's (NYSE:M) and J.C. Penny (NYSE:JCP) hold a large share of the total market.
Wal-Mart is a multinational retail corporation that runs chains of large discount department stores and warehouse stores. It is the world's third-largest public corporation. It has the largest market capitalization and the strongest financial position among these three key players. During the last fiscal year it earned revenues of $470.331 billion. The chart below shows that Wal-Mart experienced a sharp decline its sales of women's clothing in the past six years due to the economic recession and lower disposable income of consumers. As Wal-Mart has the largest number of stores, it faced the greatest decline compared with its competitors, which have relatively less market share.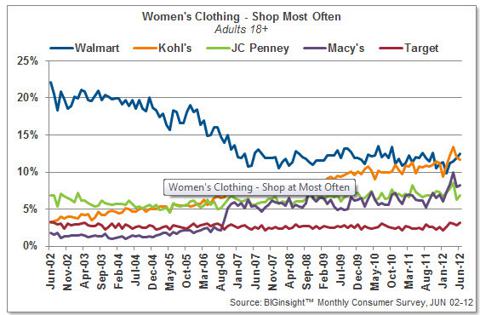 Click to enlarge
J.C. Penny is a mid-range chain of department stores, which provides merchandise and services to consumers through department stores, catalogs, and the Internet. Revenue per store decreased by 28.54% from last year. The company recorded a net loss of $552 million in the fourth quarter of the last fiscal year, an increase from a net loss of $87 million in the fourth quarter a year ago. The total revenue of JCP in FY12 was $12.985 billion. The chart above shows that JCP's revenue increased in 2012 compared with earlier years, but its net loss has also increased, revealing that the company has immense selling and other expenses.
Macy's is a mid-range to upscale chain of department stores. Its sales per store were $157,575 while total revenue was $27.686 billion.
Stock Price Performance
The chart represents the percentage change in the stock prices of the three competitors. Macy's shows the highest price appreciation. The stock is constantly performing well. Wal-Mart's stock is also showing good performance, but the price is below the industry average, whereas J.C. Penny's stock performance is the worst. Its stock is continuously depreciating.

Click to enlarge
Relative Growth
WMT's and Macy's revenue has grown at higher rates than the industry, whereas JCP's revenue has been declining over the past three years at a rate of 9.6%, which is far below its two peers and the industry. The table shows the revenue growth of FY 2010 to 2012.

Click to enlarge
Financial Performance Analysis
Both WMT and Macy's have performed well in terms of efficiency, but this efficiency has slightly declined compared with earlier years. Both of the companies are better able to pay their fixed costs. JCP has negative operating and net margins, showing that the company lost control over its costs compared with the last two years.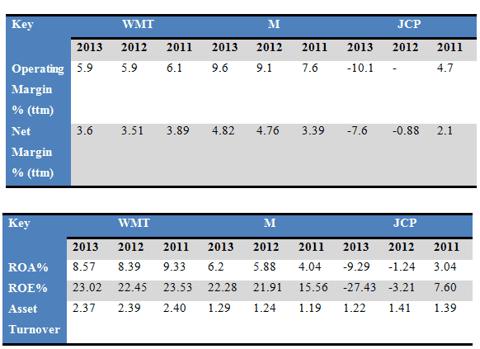 Click to enlarge
WMT and Macy's have performed significantly well, but JCP's performance is not on par with its peers due to higher costs and losses. The asset utilization of WMT is the highest, whereas the other two companies have achieved somewhat similar asset utilization with an asset turnover rate slightly above 1. The asset utilization of WMT has faced a downturn, while JCP and M have improved their asset utilization over the years. Similarly, WMT has achieved the highest return on assets and return on equity. JCP has demonstrated a negative ROA and ROE in the last two years due to its net losses.

Click to enlarge
For the department and discount industry, total debt outstanding grew by 5.45%, from the previous quarter. WMT's earnings seem better when compared with its peers, due to its lower level of risk, as represented by the debt/equity ratio. Macy's has the highest debt in its capital structure, bearing the highest risk. JCP's risk level stands in the middle, as it has a debt/equity ratio greater than WMT but lower than M.

Click to enlarge
All three companies pay higher dividends to their shareholders than the industry average. However, WMT pays the highest among all three, and Macy's pays the lowest.
Valuation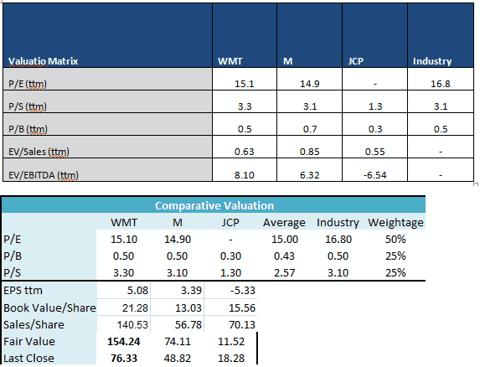 Click to enlarge
In multiples-based analysis, I have given 50% weight to P/E and 25% weight each to P/S and P/B. The reason for a relatively higher weight to P/E is that this multiple better depicts the core earnings of the company.
According to the analysis shown in the table above, the estimated equity value is calculated as the weighted average value of each stock. Based on the analysis, WMT and M are relatively undervalued, with an upside potential of 76.91% and 24.29% respectively, whereas JCP is relatively overvalued, with a downside potential of 7.76%.
Conclusion
Since the market is currently recovering, WMT is reasonably undervalued, which is evident based on multiples. The company is shifting its focus to providing online services too, providing customers with more convenience, so the future looks promising. The company is giving a higher dividend yield (4.19%) than the industry average, and it bears the lowest risk as its debt/equity ratio is lower than its peers and the industry. Considering these factors, and due to its high upside potential of 76.91%, it is recommended to buy WMT.
Disclosure: I have no positions in any stocks mentioned, and no plans to initiate any positions within the next 72 hours. I wrote this article myself, and it expresses my own opinions. I am not receiving compensation for it (other than from Seeking Alpha). I have no business relationship with any company whose stock is mentioned in this article.