Micron Technology (NASDAQ:MU), the high-flying DRAM (dynamic random access memory) and NAND producer that traded from about $1 per share in 1990, to $100 during the technology boom years of the late 1990's, reports their fiscal 3rd quarter earnings after the bell on Wednesday, June 19th.
Consensus analyst expectations (per Thomson Reuters data) is for MU to report earnings per share (EPS) of $.01 on $2.225 billion in revenues for expected year-over-year growth of 2% in revenues. (The EPS growth rate is not meaningful since MU reported a loss of $0.18 per share in the May '12 quarter. )
Estimates have been stable to slightly higher since the February '13 quarter was reported in mid-March. (I did see a $0.03 per share EPS estimate for this quarter on another site.)
Last quarter, MU reported revenue growth of +0.5% on a drop in EPS of 73% thanks to continued weakness in PC's. However management did comment that ASP's (average selling prices) through early Spring were higher by 5% - 8%. DRAM revenue rose 24% in the February '13 quarter even though DRAM operating income fell 72% year-over-year. NAND revenue and operating income fell 3% and 35% respectively.
We are long MU [and SanDisk 9SNDK)] today for trades, although of the two stocks we tend to be longer-term investors around SNDK, and less around MU.
Back in the early 2000s as a portfolio manager writing for Jim Cramer's TheStreet.com, I read a review of MU by an anonymous hedge-fund manager, that described the company as "an airline with a fab attached", which didn't leave the impression on me that it should have at the time.
Comparing MU to the airline business is another way of saying that MU, (like the airlines) "destroys shareholder capital" over long periods of time, since the capex or the investment required to sustain the economics of the business, is greater than the excess cash flow or net income the business generates.
In other words, you are pretty much guaranteed to lose money and destroy value over time given the business's economics.
The cash-flow data:
Here is the 15 year history of MU's cash-flow, capex and free-cash-flow:
MU's cash-flow and free-cash-flow history

Fiscal

Year

CFO
capex
FCF

capex as %

of cash-flow

'12
$2,114
$1,699

$415

80%
'11
$2,484
$2,550
($66)
103%
'10
$3,096
$616
$2,480
20%
'09
$1,206
$488
$718
40%
'08
$1,018
$2,529
($1,511)
248%
'07
$937
$3,603
($2,666)
385%
'06
$2,019
$1,365
$654
68%
'05
$1,237
$1,065
$152
86%
'04
$1,159
$1,081
$78
93%
'03
$284
$821
($537)
289%
'02
$578
$760

($182)

131%
'01
$789
$1,489
($700)
189%
'00
$2,068
$1,188
$880
57%
'99
$848
$804
$44
95%
'98
$165
$707
($542)
428%
Source - cash-flow and capex data taken from MU's 10-K
Fiscal year-ended August 31:
As the reader can quickly see, it is very tough for a company to generate excess cash-flows when the economic reinvestment required for the business (capex) averages 160% of the cash-flow generated from business operations, over a 15-year time span.
On average, it looks like every 3 - 4 years sees a period of years where the economics of the business are horrid.
There is no question MU is a "boom-and-bust" highly cyclical commodity business, since supply comes on quickly, which drives prices down in a hurry, and yet fabs need to be built to continue production.
However after saying all this, MU could be entering a period of contracting supply and firming prices, which might make it good for a trade. In addition, as this article from Trefis details, mobile DRAM could be a potential new product hit for the semiconductor manufacturer.
The Elpida acquisition has been widely lauded as a plus for Micron, since it will significantly boost MU's mDRAM (mobile DRAM) market share.
The chart: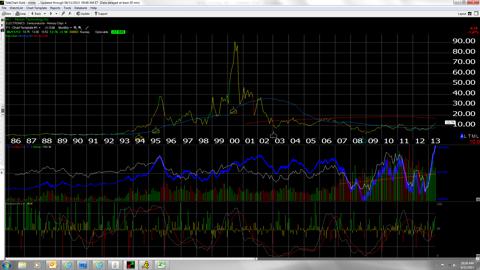 Click to enlarge
(Click to enlarge)
Micron could be setting up for a run into the $17 - $18 area, per the attached chart, which is the 2006 high ($18.65 from October, 2006) and the spot of the 200-week moving average.
As you can see from the long-term chart, if you catch MU right, you can make a lot of money trading the stock, but I wouldn't own it for more than the cycle (however long that may be) and be sure you understand the economic fundamentals of the business.
We are long MU for a trade and are waiting to see what the quarterly results look like on June 19th.
Disclosure: I am long MU, SNDK. I wrote this article myself, and it expresses my own opinions. I am not receiving compensation for it (other than from Seeking Alpha). I have no business relationship with any company whose stock is mentioned in this article.