Unlike Palm (PALM) which I kick myself often for missing but I located myself, I am watching another amazing run in a company called STEC (NASDAQ:STEC). I had never heard about it, but in one of the stories I had posted in Seeking Alpha, a reader commented about it in May. Around $11. On Thursday, this heavily shorted stock was... $31.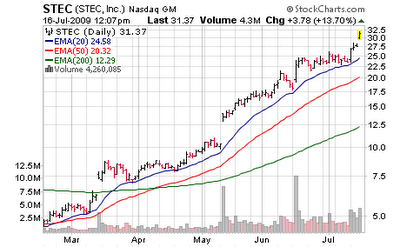 I spent a whopping 45 seconds on research and said "ho hum, just another flash memory type of company like Sandisk (SNDK)".... guess I was wrong on that one. Heck it's more like Western Digitial (NYSE:WDC) than Sandisk. (note to self, spend at least 60 seconds in the future)

STEC was one of best performers of the first half of 2009 [Jul 1, 2009: 83 Stocks that Doubled Your Money in the 1st Half of 2009] but has not let up. It is obvious why it is being shorted as it now rockets to a mid 20s forward PE ratio, but that whole thing with a narrow door that too many people are trying to get out of at once can illustrate the situation for the short seller side in that name. All it takes is some news and boo yah. Actually considering their entire revenue forecast (by analysts) for 2009 was in $330M, this deal is quite an impact - and it all appears to be for "2nd half 2009".

Flash memory storage products maker Stec Inc (STEC) inked a $120 million deal with one of its largest enterprise storage customers to supply solid-state drives in the second half of 2009, sending its shares up 16 percent to an all-time high.
Stec did not name the customer, but said it

now expects revenue from the sale of ZeusIOPS solid state drives to exceed $220 million in 2009. Overall revenue for the company in 2008 was $227 million. Last month, the Santa Ana, California-based company had raised its second-quarter outlook, and said it expects sales of ZeusIOPS drives to exceed $80 million during the first half of 2009.
What the heck is a solid state drive?
Solid state drives are viewed by many as the future of the disk drive industry -- they are faster, and unlike hard disk drives they have no moving parts

and hence are more sturdy. SSDs are still more expensive than traditional hard drives but are increasingly being used in laptop PCs because they are more durable and consume less power than hard disk drives.
Zeus is rocking it.
No position