In this article, we will be talking about what we believe are the four most influential earnings reports for the rest of the week. For each company, we will talk about market expectations, analyze the company's earnings prospects, and discuss key developments that happened in the last three months and how they might affect earnings. Ulta Salon (NASDAQ:ULTA) and PVH Corp (NYSE:PVH) belong to the retail industry and they will give us a good reading on consumer spending. Smithfields Food Inc (NYSE:SFD) was an interesting pick because of it recently being acquired by Shaunghui International, while H & R Block (NYSE:HRB) was chosen to see if the recent tax changes could be lead to earnings play on this company.
Company #1: H & R Block
Earnings Date: 12-June-2013
Average Expected EPS: 2.60
EPS One Year Earlier: 2.04
Expected Revenue: $ 2.27B
Revenue One Year Earlier: $2.00B
What To Watch For
With HRB being one of the largest providers of tax services in the United States, this quarter will prove to be important for the company for the entire year as its their most cyclically important quarter. Reporting at the end of the week, average analyst EPS estimates for HRB are at 2.60, a 29% increase from a year ago when it reported an EPS of 2.04. Revenue is expected to come in at $2.3B this quarter, a 13.5% increase over last year's $2B figure. It is lining up to be a very big quarter for the company if estimates are beaten.
For estimates to be beaten we have to watch for how the company will do when it comes to their revenue from tax services. Although they do provide other services, the name of the game is tax services. For Q42012. We believe that as a result of the tax code changes that came into place this year, HRB will most likely have a larger tax service revenue as clients needed more help filing their taxes. Additionally, with the launch of HRB's Remote Tax Prep Service, for US citizens living and working abroad, the company can take advantage of ex-pats that still need to do tax work overseas.
HRB's PE is currently trading at 25.13 while industry average is 30.9. Forward PE is currently at 15.90, which is on our threshold for rightly valued companies.. As a result we expect to see some gains if HRB does beat earnings in its tax filing quarter period.
Historical Analysis
HRB has beaten earnings 4 times in the last 6 quarters and we expect this quarter to continue this positive trend. In the chart below, we can see that returns after earnings are consistently made one month after earnings therefore we would recommend to stay in the stock for at least that time frame as gains as high as 8.95% can be made.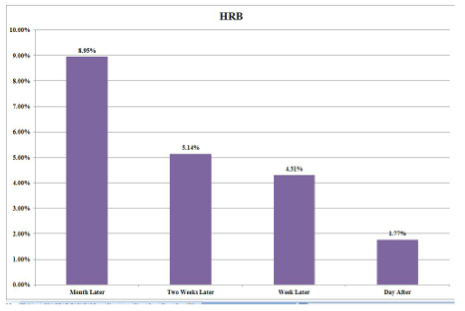 Key Developments
As mentioned above, this previous quarter HRB launched a service to help Americans that are living abroad abide by their tax obligations. HRB is currently the only company that serves this taxpayer and with 6 million Americans living abroad, there is a market there that is ready to be explored.
HRB executive of the Tax Institute stated that "Whether the taxpayer has dual citizenship, works abroad or has retired to a tropical island paradise, H&R Block and its new microsite are here to help in-person and online." There are now HRB offices in more than 14 countries to help these ex-pats and this number will continue to increase.
Company #2: PVH Corp.
Earnings Date: 12-June-2013
Average Expected EPS: 1.35
EPS One Year Earlier: 1.30
Expected Revenue: $1.91B
Revenue One Year Earlier: $1.43B
What to Watch For
PVH is one of the companies that consistently beats earnings and we believe that this quarter will be no different. Average EPS expectations are at 1.35, a nearly 4% increase from reported EPS in the previous year. Revenues, on the other hand, are expected to have a large increase of 38% from the same time in the previous year, which is mostly due to the company's acquisition of Warnaco. The previous revenue was at $1.4B, while expected revenue for 2013 is $1.9B.
There are quite a few factors that will determine the success of this quarter for PVH: mainly same-store-sales in their Tommy Hilfiger and Calvin Klein businesses and the increasing of margins in their total business. Additionally, we will want to see how the company is doing with their acquiring of Warnaco.
PVH has been increasing its sales margins for the last few years. Operating margins for 1Q2012 were at 9.50% and these have increased over the last few months as a result of the continued success of PVH's higher-margin Calvin Klein and Tommy Hilfiger businesses. We also expect same-store-sales to increase this quarter as a result of the better than expected consumer confidence index reported in May. This index reached its highest level in more than five years as it came in at 76. Same-store-sales for the previous quarter for all their business except Tommy Hilfiger were low (Calvin Klein- 2% decrease and Heritage Brand- "relatively flat") but PVH still beat earning so we can predict the same to happen but this time with the help of higher consumer spending.
PVH's current PE is at 19.23, which is below the industry average of 22.6. Forward PE is 13.81, which is below sub-15 (a key level to look at for value). These valuations seem to indicate that PVH is undervalued and therefore we believe it can be a great play into earnings if it can maintain increased sales in their high margin brands and increase same-store-sales.
Historical Analysis
PVH has beaten earning all six times in the last six earning periods. From the chart below we can see that gains after earnings are made very early on. Day after gains can reach as high as 2.53%. After this time period, gain starts decreasing so we would recommend to not stay in the stock to long if you are entering before earnings are announced.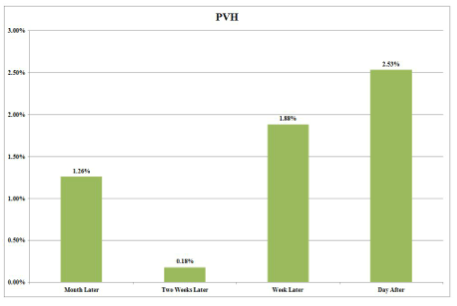 Key Developments
There were no key developments for PVH this period.
Company #3: Ulta Salon
Earnings Date: 13-June-2013
Average Expected EPS: 0.62
EPS One Year Earlier: 0.63
Expected Revenue: $576.30M
Revenue One Year Earlier: $474.10M
What To Watch For
With ULTA being a relatively new company on the market, we believe its growth potential is still very large. Average EPS analyst estimates for Q12013 come in at 0.62, a slight decrease of $0.01 from the same period last year. Revenues are expected to be at $576.30M, a 21% increase from the previous year.
If ULTA is to post good earnings they have to continue their trend of increased same-store sales and store expansion. ULTA ended Q42012 with 550 stores, which was an increase of 13 new stores from the previous quarter. For FY2013, management predicts the opening of 125 new stores throughout the US, which is 22% square footage expansion. Some of these new stores can be expected to be seen in the coming quarter, reiterating the belief that it will be a successful quarter. Additionally same-store-sales for the coming quarter are expected to be at 4%-6%. Although this figure is smaller than the 10% same-store-sales reported in the same quarter last year, we still expect it to be enough to continue the trend of year/year double digit revenue growth.
Furthermore, management has said that they will continue with the expansion of Clinique boutiques, the investment warehouse management systems and their e-commerce website. These moves along with new stores should reflect in a big year for the company.
ULTA's current PE is at 32.31 while industry average is at a high 54.6. Forward PE is at a lower 20.92. ULTA has beaten analyst expectation 6 times in the last 6 quarters and we can expect to see some gains if this happens again even with the relatively high PE's.
Historical Analysis
As mentioned above, ULTA has beaten earnings for the past 6 quarters and we expect this to continue this quarter. With this said, we can see below how the stock price has reacted after beating this estimates.
From the chart we can see that all periods analyzed after earnings show relatively strong gains. The period with the best though, is one month after earnings after the stock has consolidated. If you are playing this stock into earnings look to hold for at least this time period.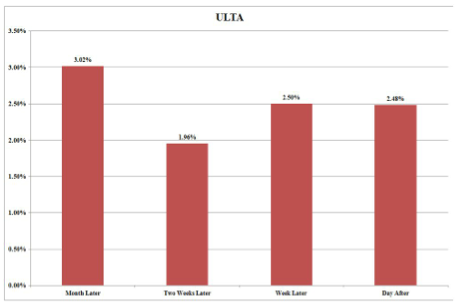 Key Development
This quarter was characterized by better than expected results when it came to key economic indicators. This can be seen for example, with a better than expected consumer confidence index reported in May. This index reached its highest level in more than five years as it came in at 76. This index can indicate how well sales of ULTA will be this quarter.
Company #4: Smithfield Foods Inc.
Earnings Date: 13-June-2013
Average Expected EPS: 0.43
EPS One Year Earlier: 0.43
Expected Revenue: $3.27B
Revenue One Year Earlier: $3.21B
What To Watch For
The main news this quarter relating to SFD is them being taken over by China's Shuanghui International for $7.1B. Although this occurred, analyst estimates did not revise themselves for expectations this quarter. Average EPS estimates were at 0.43, the same figure they were at last year. Revenue estimates for this quarter are at $3.27B, a slight increase from the previous year as can be seen above.
Although the company was acquired by Shuanghui International, which rose SFD's stock price by 30%, we do not believe that this quarter will be as successful as the stock price change. For this quarter, we should look out how growth in its meat packaged business is doing. Last quarter, this section of its business was the biggest reason for relative success. Packaged meat operating profits increased by 7% and this has to be somewhat similar or larger for SFD to post positive earnings. SFD international segment also has to post strong result like the previous quarter (operating profits $43.7m) for positive results.
SFD's current PE is at 21.27 slight below industry average of 20.2. Its forward PE is currently at 12.69, which is lower than what we like, sub-15.
Historical Analysis
SFD has been a company that has missed and beat earnings nearly evenly over the previous six quarters. Although this is the case, we can see from the chart below that the stock price has for the most part increased in the first two weeks after earnings. The biggest increase comes in the week later time period (increase of 4.03%) followed by the two weeks later period (increase of 3.52%). Gains start decreasing after one month so we would recommend not waiting that long to get out of the position if earnings are being used as a reason.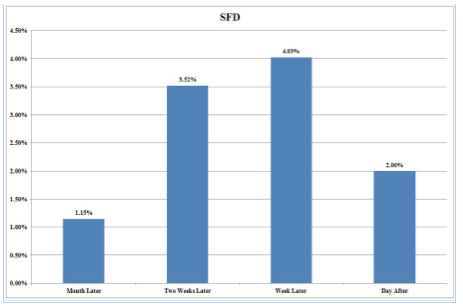 Key Developments
As mentioned above, the main development this quarter when it comes to SFD was its acquisition by Shaunghui International. The acquisition was valued at $7.1B SFD shareholders are to $34.00 per share. Shaunghui International is China's largest meat processing company and wants to have greater access to world food markets.
Shaunghui has also committed to maintain present SFD staff and management so we can expect a smooth transition.
Disclosure: I have no positions in any stocks mentioned, and no plans to initiate any positions within the next 72 hours.
Business relationship disclosure: The Oxen Group is a team of analysts. This article was written by David Ristau, one of our writers. We did not receive compensation for this article (other than from Seeking Alpha), and we have no business relationship with any company whose stock is mentioned in this article