GSV Capital (NASDAQ:GSVC) is a BDC fund specializing in investments in emerging growth companies and venture-backed private companies. A Business Development Company ((NYSE:BDC)) is a form of publicly traded private equity in the United States that invests in small, upcoming businesses (Source: Wikipedia).
While some other BDCs tend to invest in debt instruments and usually provide significant yields, GSVC is more of a venture capital firm and carries no dividend. Not only that, but recently GSVC has made a few blunders by investing in late stage infusions of several well-known equities such as Facebook (NASDAQ:FB), Zynga (NASDAQ:ZNGA) and Groupon (NASDAQ:GRPN) which then had real ugly performances after their IPOs. The end result for GSVC was losses and, more importantly, a significant loss of faith by the market.
Portfolio
As of its most recent filing (10-Q for March 31 2013), GSVC's portfolio (top 11 positions, the rest can be seen in the filing) was as follows: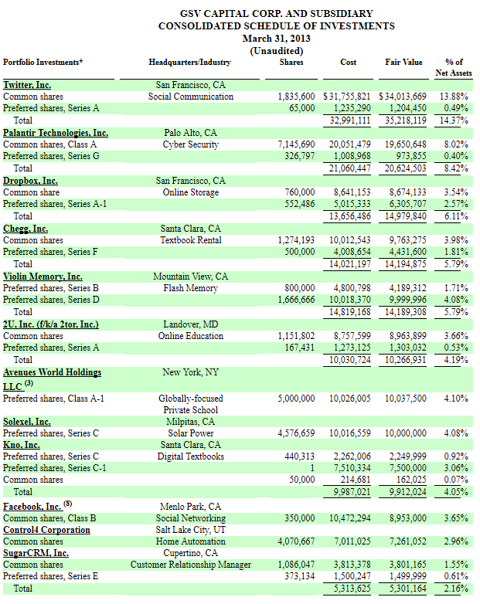 The Net Asset Value of the entire company at the end of March 31, 2013, was $245.09 million, or $12.69 per share and there were 19.32 million shares outstanding.
Positive factors
There are several things to like in GSVC as an equity:
It represents a way to have diversification into venture capital / private equity;
It will always have a few interesting stories in its portfolio. Sure, most will probably do badly, but the logic of a venture capitalist is to have a few rockets and many failures, with the rockets paying for the failures and then some;
And most importantly, GSVC allows this investment in venture capital to be made at a significant discount to NAV. At $8.10 it trades at a discount of 36% to its NAV. To trade at NAV, which it might do during a speculative period, it would have to rise 56%.
Negative factors
Obviously, GSVC is trading at a discount for a reason. Indeed, for several reasons, including:
The NAV going the wrong way. It was at $12.69 in late March, but down from $13.07 at the start of the year and $14.67 back when the shares were issued in December 2011;
Valuation (of its assets). There are doubts about the valuation of some of GSVC's assets. Valuation is always very subjective when a full 88.9% of assets are valued as Level 3 assets. This can clearly have an impact on NAV;
High management fees and costs. Current run rate comes to $10 million per year, or 4.1% of the NAV per year. Also, a great deal of this is due to related party dealings with GSV Asset Management and GSV Capital Service Company. The fear can clearly be that these outside entities are milking GSVC.
Catalysts
So what is the main reason to have a position in GSVC right now? As we've seen, while there are positive aspects to GSVC, there are also significant negative aspects as well. The reason is just one: there are several potential liquidity events in GSVC's portfolio which will probably occur during 2013 and early 2014. These include:
Twitter, the largest position in GSVC's portfolio, which will likely come to the market during 2014;
Palantir, the second-largest position, which will likely come to the market during 2013;
SugarCRM, a Salesforce.com competitor likely to get awarded a significant premium and weighting in at 2.16% of GSVC's portfolio - not much - but remember, GSVC trades at a significant discount and only needs sentiment to get better so that it trades nearer the NAV and so a present buyer can realize gain. SugarCRM will probably come to the market during 2013.
Conclusion
Given the potential catalysts represented by upcoming IPOs for Twitter, Palantir and SugarCRM, I think GSVC is a speculative buy due to its large discount to NAV which will probably contract as these liquidity events approach and happen.
Given the recent investing performance and other negatives, however, I'd also take the chance presented by such liquidity events to abandon GSVC.
Disclosure: I have no positions in any stocks mentioned, and no plans to initiate any positions within the next 72 hours. I wrote this article myself, and it expresses my own opinions. I am not receiving compensation for it (other than from Seeking Alpha). I have no business relationship with any company whose stock is mentioned in this article.