Last week, I discussed why I thought shares of Canadian apparel retailer lululemon (NASDAQ:LULU) would decline after earnings. Shares of the retailer had run too much in my opinion, and the company needed to prove its "pants problem" was behind it to justify a solid valuation. Even with a good quarter and potential raise in guidance, I thought shares could see $75 after earnings, thanks to some profit taking.
Well, shares got crushed on Tuesday, primarily because lululemon CEO Christine Day announced her resignation along with the first quarter results. The fall in the stock seems like a tremendous overreaction to me, as results were better than expected and guidance was very good. The balance sheet also improved and is one of the best out there. Yes, the CEO transition will provide a little bit of short-term uncertainty, but I don't think that it justified the fall we saw in shares. Today, I'll cover the news, explain why the bull case is intact, and explain why I purchased shares for a trade on the overreaction.
Reason 1 - Q1 results not as bad as feared:
Back in March, the company stated it had a black luon pants shortage, as it found that some of its pants were a bit see through. The stock took a hit and the company was forced to issue lower than expected guidance. Additionally, the company was mocked everywhere, from print media to local news and late night talk shows. It was a huge embarrassment that the company had "see through pants".
One thing I've talked about since this issue came up was the ability to overcome this issue. This company has a very loyal customer base, and has been one of the best run retailers out there in recent years. This wasn't a company in trouble where one issue could destroy the company. However, it was a bump in the road for a stock that trades at a premium valuation. The company's ability to overcome this issue quickly would be critical to where the stock went.
It seems for now that lululemon was able to overcome some of the issue, and results were better than expected. The company posted a Q1 revenue figure of $345.8 million, which was above the high end of the $333 million to $343 million range the company guided to. Additionally, analysts were looking for $341.07 million. This was a nice beat for the company, and shows that the company did not lose as much business as originally thought. That's a positive. The company posted an earnings per share figure of $0.32. That beat its own guidance for $0.28 to $0.30, and analyst expectations for $0.30.
That earnings per share figure matched the one in the year ago period, which is not good considering revenues rose by more than 21% in the period. We knew the inventory issue would hurt margins, and gross margins were down 567 basis points over the prior year period. On page 16 of the company's 10-Q filing, it stated that 510 basis points of the drop were due to the pull-back of luon pants. Selling, general, and administrative expenses rose from 29.47% of revenues to 30.32% of revenues. This may seem odd to some. The company was forecasting lower than originally expected revenues due to the pants problem, so you might figure the company would cut back on operating expenses, maybe cut some labor expenses. Instead, the company decided to invest more in its retail store and its employees. It wanted to keep the brand strong and invest in its employees. This is a sign of a solid company.
Yes, the falls in each margin category were large, but they should be one-time issues that will work themselves out over the next few quarters. Additionally, the company guided to a diluted share count (used to calculate earnings per share) of 146 million. They came in at 145.849 million. A lower share count is better because it helps earnings per share over time.
Also, there were some that questioned the company's number on the bottom line thanks to a much lower tax rate. The company had an effective tax rate of 29.84% in this year's period, compared to 36.50% in the year ago period. However, the company guided to a 30% tax rate for the quarter, so it was expecting the tax rate to come down. The beat of just 16 basis points did not have too much of an impact on the bottom line.
I've mentioned in the past how this company always gives conservative guidance, and then beats it handily. Sometimes, this causes the stock to fall, because the company's guidance comes in under what analysts were expecting. This quarter was a bit different because of the pants problem, so we didn't know quite what to expect. The table below shows lululemon's guidance against its actual results in recent periods.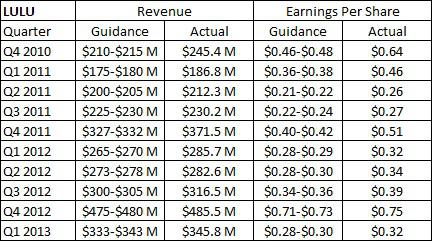 Reason 2 - Q2 and full year guidance:
So you might worry that Q2 guidance would be below analyst expectations, given what's happened in the past. Well, you'd be completely wrong. Here is what the company guided to for Q2:
Revenues of $340 million to $345 million.
Earnings per share of $0.33 to $0.35.
146 million diluted shares and 30% tax rate.
Well, this guidance was tremendous! Analysts were looking for just $328.88 million in revenues and earnings per share of $0.33. So the lower end of the revenue guidance range is more than $11 million ahead of analyst expectations, and for earnings, the bottom end of the earnings estimate. This should not be ignored, because as I showed above, guidance is usually conservative. If lululemon beats its own guidance like it usually do, Q2 will come in well above where analysts are projecting currently.
The company also raised its full year guidance. It originally guided to revenues in a range of $1.615 billion to $1.64 billion, and earnings per share of $1.95 to $1.99 on the year. It also called for a diluted share count of 146.6 million.
The new range calls for revenues of $1.645 billion to $1.665 billion, which is above analyst estimates for $1.64 billion. Earnings per share are now expected to be $1.96 to $2.01 for the year, and analysts were looking for $1.99. The company also now expects 146.2 million diluted shares, less than the original share count. That's positive. Given the very solid guidance, I'm surprised at the reaction in the shares. I wasn't expecting guidance to be this strong, and I was looking at the stock to be at $75 after earnings. In my opinion, the stronger guidance makes up for the CEO departure, and I'll cover that a little later.
Reason 3 - Perhaps the best balance sheet out there:
I've discussed numerous times in the past how lululemon has one of the best balance sheets, not just in retail, but of any company out there. Yes, this balance sheet may rival that of Apple (NASDAQ:AAPL). The following table shows some key balance sheet metrics at the end of this year's Q1, compared to last year's Q1 and Q4. Dollar values are in thousands.

The balance sheet numbers substantially improved, not only over the fourth quarter, but the year ago period as well. The cash number went down from Q4 levels because the company paid off a substantial amount of current liabilities, which went from $133.357 million at the end of Q4 to just $92.326 million at the end of Q1. However, cash jumped from the year ago period. Additionally, working capital increased strongly, and the current ratio jumped. The debt (liabilities to assets) ratio improved even more. This company now has less than 12 cents of liabilities for every dollar of assets. Even Apple can't say that, especially after the debt raise. Lululemon has a tremendous balance sheet, which will not only enable the company to continue growing (expanding its store base), but eventually start buying back its own stock.
Reason 4 - Not all CEO departures are created equally:
It seems that a large share of Tuesday's losses were due to the departure announcement of lululemon CEO Christine Day. A number of analysts voiced their concerns over her departure. I agree to a point that this will create some short-term uncertainty as to who will lead this company, but I don't think this is as big of a deal as some are making it seem.
When it comes to Day's departure, I relate this to the recent situation at chip giant Intel (NASDAQ:INTC). Late last year, Intel CEO Paul Otellini announced that he would be stepping down in about six months, which initially led to a number of question about who would take over. With a tough PC industry over the past year or so, Intel was hitting a rough patch. Revenues were declining slightly, and earnings were coming down as well. Intel was getting ready for a huge 2013 in terms of launches, including products such as Haswell, Bay Trail, etc. Intel was in a brief rough patch, and Otellini decided that this was a good time to step aside and let someone manage the "new Intel" going forward. The stock took an initial hit, but has rallied quite strongly since. This isn't too different to the situation at lululemon. The company is working through its "pants problem", which will suppress revenues and earnings for a couple of quarters. Christine Day is taking the opportunity to step aside and find someone to lead this company for its next leg of growth, primarily expansion into new international markets.
Now, you may argue that Intel had more qualified candidates to take over, and I'll accept that. In the end, Intel's replacement was one of two or three strong candidates, and maybe their best one. But Intel, like lululemon, is a strong and profitable company going through a brief rough patch. This is not a company where everyone is questioning the future. Lululemon is not a company like a J.C. Penney (NYSE:JCP) or a Groupon (NASDAQ:GRPN) that was in trouble and fired its CEO. In those cases, questions arose about the next leader because the company was in trouble, and time was not on its side. The implementation of a new leader could take some time, and those companies may not have had that time. Also, like Otellini with Intel, Christine Day is not leaving until a successor is named. She will remain with the company through this process. There is no interim candidate like you sometimes see when a CEO is fired.
In the end, this CEO departure may not be 100% positive, but it's not the end of the world like many have made it seem. It's not like Day was fired and this company is in trouble. She is simply moving aside to let someone come in for the next leg of this company's growth. Like Intel, this is one of the "positive ways" to replace a CEO, not a negative one. I think the concerns over this CEO departure are way overblown.
Reason 5 - the valuation looks much better now:
Even at my last update, lululemon traded at a P/E discount to fellow retailer Under Armour (NYSE:UA), but LULU does trade at a large premium to Nike (NYSE:NKE). That valuation has come down tremendously thanks to Tuesday's fall, and now makes a buy look even better. In the two tables below, I'll show how the growth and valuation comparisons look between the three names. Remember, these are analyst expectations as of then and now. Don't forget, most analysts really have not changed their numbers yet. With lululemon raising its revenue and earnings guidance, analysts are likely to increase their forecasts. That would make the valuation even more reasonable, and it is not reflected in the table below just yet.
(Comparison table last week)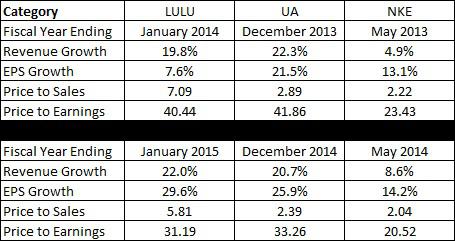 (Comparison table as of Tuesday)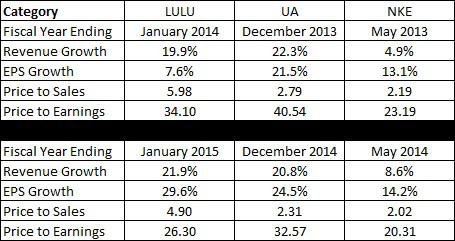 Thanks to the drop, lululemon now trades at a substantial discount to Under Armour, while the growth numbers are fairly comparable (ignoring this year's earnings issue with the pants problem). Next year, lululemon is expected to show much more growth, but trades at a roughly 6 point discount on P/E. Also, lululemon traded at a 52% premium to Nike on forward earnings (yes, I realize the time periods are a bit off) at my last update. That premium is down to 29.5%. That does not make sense, especially given everything I've already discussed above, including the substantial higher amount of growth LULU gives over NKE.
Final Thoughts:
Shares of lululemon fell by more than 17.5% on Tuesday, and I think that is a tremendous overreaction. The company beat on the top and bottom line for Q1, showing that the pants problem was mostly behind it. Q2 revenue guidance was well above expectations, for a company that usually gives very conservative guidance. Earnings per share guidance was great as well, and the company's balance sheet improved even more. While I understand some of the concerns over CEO Christine Day's departure, this is an orderly exit comparable to what we saw at Intel. This is not a company that fired a CEO, or one that is in desperate times.
I bought some shares on Tuesday for a trade, and I'll probably only be in for a day, but this provides a good opportunity for those with a longer term view. When shares got hit in March, I was one of the first to defend it, and when the stock bottomed, a $20 rally was next up. The valuation is now more in line with where it should be, and people seemed to miss the point that this company raised guidance. I thought that shares would drop to $75 after earnings, and I figured guidance would be weaker. We got strong guidance and a CEO departure, which should cancel out. Obviously, they didn't here, and that provides an interesting opportunity.
Disclosure: I am long LULU. I wrote this article myself, and it expresses my own opinions. I am not receiving compensation for it (other than from Seeking Alpha). I have no business relationship with any company whose stock is mentioned in this article.
Additional disclosure: Author long LULU at time of writing for a short-term trade and will update position status in comments section. Investors are always reminded that before making any investment, you should do your own proper due diligence on any name directly or indirectly mentioned in this article. Investors should also consider seeking advice from a broker or financial adviser before making any investment decisions. Any material in this article should be considered general information, and not relied on as a formal investment recommendation.