RECOMMENDATION
We have increased our rating on Novo Nordisk (NYSE:NVO) Class B ADRs from Accumulate to Strong Buy and increasing our Fair Value share price to $213, which represents 23% discount to the price of NVO's shares. We expect to see the company generate earnings per ADR share of $8.20 in 2013 and to increase ADR EPS by 15-19% annually over the following three years.
COMPANY OVERVIEW
Novo Nordisk A/S (NYSE NVO; DC NOVOB) is the industry leader in combining drug discovery with technology to create diabetes care products and solutions. Novo also provides treatments for people with hemophilia, growth hormone deficiencies and for women experiencing menopausal symptoms. Novo has 35,154 employees located in 74 different countries and its products are sold in about 180 countries.
Key products include:
Levemir (a soluble, long-acting modern insulin for daily use for type 2 diabetes).
NovoRapid (NovoLog in the US) the world's most widely used rapid-acting insulin for mealtime use).
NovoMix (70/50/30) (NovoLog Mix 70/30 in the US) a dual-release modern insulin that covers both mealtime and basal requirements).
FlexPen, the world's most widely used prefilled insulin pen, available for Levemir, NovoRapid/NovoLog and NovoMix/NovoLog Mix. It eliminates the need to manually load insulin into a delivery device or use a separate vial and syringe.
NovoDose, the first ever mobile dosing application launched for iPhone and iPad in US
NovoPen Echo comes in two colors and was designed for children. It features dosing with half-unit increments, suitable for children requiring small insulin doses.
Victoza (liraglutide) first and only human Glucagon-Like Peptide analogue with 97% similarity to the natural gut hormone. It works by stimulating the beta cells in the pancreas to release insulin only when blood sugar levels are high and was developed for the treatment of Type 2 diabetes.
NovoSeven-provides effective treatment for rapid control of bleeding episodes and has been a major advancement in the treatment of haemophilia.
Norditropin-The only liquid growth hormone (therapy) product with a formulation that doesn't require refrigeration after first use, available in a prefilled, ready-to-use device.
Vagifem-a Hormone Replacement Therapy for menopausal symptoms.
Novo also has plans to develop products to treat inflammatory diseases. Novo began phase 2 clinical inflammation trials in people with rheumatoid arthritis.
Management: The current CEO and President, Lars Rebien Sorensen, has been President and CEO since 2000 and has been with the company since 1982. He has a strong and diverse level of experience, having worked in NVO's Enzyme Marketing area as well as several different global locations for NVO. We also like that there is a stable, long-tenured management team and the employees get to choose four of the 11 members of the company's board (in accordance with Danish law), which helps align the interest of management and stockholders with employees, who are also an important stakeholder group due to the highly specialized nature of NVO's work. Also, NVO's North American subsidiary was ranked as the 25th Best Company to work for by Fortune Magazine in 2010, the 47th Best Company in 2011 and the 48th Best in 2012.
Ownership: Nearly 25% of the outstanding stock is controlled by the Novo Nordisk Foundation through its sole ownership of Novo A/S, which was established in 1999 to administer its portfolio of securities and minority capital interests and to administer and vote on the A shares and B shares of Novo Nordisk A/S. Though disappointed in the small shareholding percentage by Company Management and Board Members, the fact that the Novo Nordisk Foundation owns about $22.5B worth of stock provides a satisfactory level of alignment between the interests of stockholders, management and other stakeholders, though we'd prefer that its Class A Shares did not have a 10 fold supermajority vote relative to Class B Common Shares and ADRs.
SUMMARY OF OBSERVATIONS
We like the fact that the firm has been able to increase its high gross margins from 78% in 2006 to 83% in YTD 2013 and we feel that the company can maintain or steadily expand its gross margins, due to its mammoth scale and organic growth.
NVO has increased its revenue from DKK 23.78 Billion (~US$4.2B) in 2001 to DKK 78 Billion (~US$13.7B) in 2012 (11.4% CAGR) and its profits from DKK 3.5 Billion (~US$614M) to DKK 17.1 Billion (~US$3.07B, 17.9% CAGR) during the same time period. Due to continued strength in its product sales, as well as the weakened Danish Kroner (which is weak due to its peg to the Euro), we are expecting revenue in Kroner to exceed DKK 85 Billion (~US$14.9B) in 2013. Novo achieved this through organic volume growth as well as a shift in the product mix from basic commodity human insulin products to more modern insulin products. Novo Nordisk increased its revenue by 14% on a constant currency basis in the first nine months of 2012 and the improved Kroner/Euro only subtracted 1%.
Modern Insulin products (insulin analogues) more closely mimic the physiological insulin profile and are therefore associated with an improved balance between glycemic control and tolerability. These products are also associated with a lower risk of hypoglycemia, less weight gain, and greater treatment flexibility than traditional human insulin products. Furthermore, you can time the administration of the modern insulins differently over the course of a day, rather than only taking it close to meal time, as these products have longer lives than traditional human insulin. These benefits, in combination with new insulin delivery devices, such as pens, have greatly improved patients' treatment satisfaction and medication adherence, leading to improvements in clinical outcome.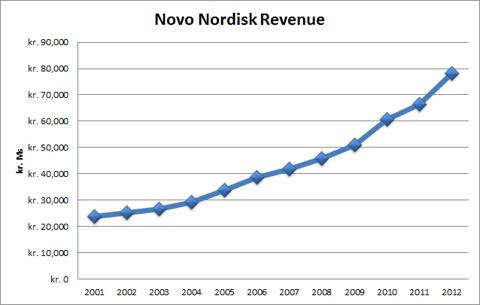 Source: Morningstar Direct
NVO has a commanding market share with regards to insulin products, particularly high margin modern insulin products. Novo entered the US in 1977 and has grown its market share to 41% for all insulin products and 38% for modern insulin products in the North American region. Novo enjoys dominating market share in its other markets ((Europe-50% total insulin, 50% modern insulin products), (Japan and Korea-55% total and 50% modern), (China-60% total and 64% modern) and all other (International Operations-57% total and 54% modern). Novo's two biggest markets are North America (45.1% of company sales) and Europe (23.8%), with Japan/Korea generating 6.2% of revenue, China (9.4%) and all other International Operations (15.5%). Novo also enjoy a 26% market share in the broader diabetes care industry (versus 24% last year and are the only company with two new generation Glucagon-like peptide-1 insulins (Degludec (Tresiba) and DegludecPlus) submitted for approval in the US and Europe. Tresiba was launched in the UK, Denmark and Japan in March 2013.
We also believe that the firm can continue to achieve operating leverage improvements. In 2006, Novo's selling, general and administrative expenses were 36.8% of revenue (DKK 14.27 Billion, ~US$2.5B) and the company was able to reduce it to 31.9% in 2012 (DKK 24.8 Billion, ~US$4.35B). Novo also increased Research and Development spending from DKK 6.3 Billion (~US$1.1B) in sales (16.3% of sales) to DKK 10.9 Billion (~US$1.9B) in 2012 (14% of sales) and we expect it to exceed DKK 11.6B (~US$2.04B) in 2012.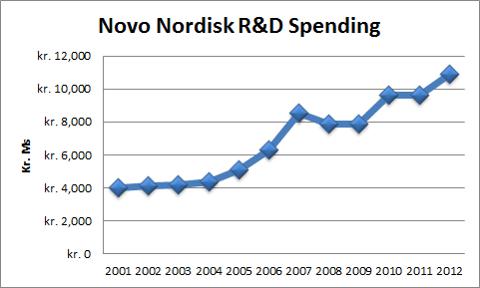 Source: Morningstar Direct
VALUATION and PROJECTIONS
Our $213 per ADR FV is based on applying a 24 times price to earnings multiple to estimated 2016 earnings per ADR share of $12.49 and discounting the terminal value back to June 2013 at a cost of capital of 11%. Although NVO's forward PE, P/B and Price to Tangible Book ratios are higher than the average pharmaceutical firm, we believe it is justified due to its superior franchise and focus on diabetes-treatment products and biopharmaceuticals. Also we believe that the multiple used is justified considering that the firm has grown faster than its industry and because it is growing faster than expected in local reported currency and on a constant currency neutral basis.
We believe that the company will continue to grow its businesses, particularly its diabetes care segment. We see continued increasing sales of modern insulin analogues in absolute revenue and as well as the percentage of insulin products sold. We're also pleased with the rapid growth of Victoza, which was introduced in 2009 and should hit DKK 12.5 Billion (~US$2.2B) in sales in 2013, after reaching DKK 9.5B (~US$1.67B) in 2012 and DKK 6B (~US$1.05B) in 2011.
RECENT PERIOD RESULTS
The company enjoyed solid performance during Q1 2013, year over year sales increased by 14% in local currency terms (13% in Danish Kroner). Key sales drivers were Victoza (which reached DKK 2.7 Billion (~$US 470M) in Q1 2013 and its modern insulin analogues. The company enjoyed positive operating leverage during the quarter as R&D, COGS and selling, general and administrative expenses increased at a slower rate than revenues and this helped give a positive boost to operating income and margins. NVO's operating income increased by 18% year over year and its operating margin increased by 180bp. NVO's EPS per ADR share increased by 32% due to the aforementioned 18% operating income growth as well a 3% reduction in outstanding shares and a positive DKK 535M (~UD$94M) swing in its financial income/expenses. We also took note of the strong cash flow generated, as Free Cash Flow to Equity holders was nearly DKK 6.2 Billion (~US$1.08B) for the quarter which enabled NVO to buy back DKK 2.9 Billion (~$US507M) in stock in the quarter. With the exception of Europe (3%) and Japan/Korea (-4%), Novo enjoyed strong sales growth in local currencies through its regions, North America (24% Growth, which accounted for 68% of the company's growth), International (17% Growth, 19% of company's growth) and China (16% Growth, 10% of Company's Growth).
KEYS TO INVESTMENT THESIS
We like that Issued Debt only accounts for less than 1% of assets. The company has been able to finance its operations with stockholders' equity and working capital, rather than taking on higher financial risk with debt leverage, which many of its peers have done. We also have noted its DKK 12 Billion (~US$2.1B) of cash, marketable securities and other financial assets represents 2.4% of market capitalization and can be used to help maintain and expand dividend and share repurchases.
The firm has been able to maintain or grow its dividend every year since 1997, while many of its larger competitors were forced to cut or freeze dividends.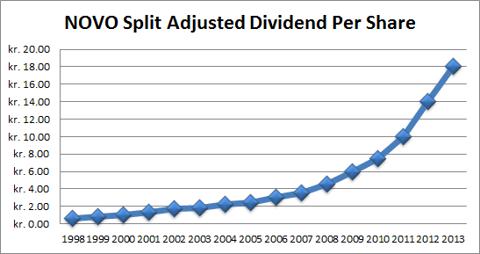 Source: Novo Nordisk's Investor Relations Dividend History Page
We are encouraged by growth in its newest product Victoza. Victoza was introduced in 2009 and already generated over DKK 8.3B (~US$1.45B) in two-year revenue for 2010-2011. We then have increased our estimates for Victoza's 2012 annual revenue twice last year. We originally expected it to generate DKK 8B (~US$1.4B) in FY 2012 revenue back in June and we increased our estimates to DKK 8.5B in August (~US$1.48B) and DKK 9.5B (~US$1.67B) in November. Victoza was shown to be superior to Bydureon (even though Bydureon had the backing of Alkermes, Lilly and Amylin) in Phase III trials and at a trial sponsored by Amylin. Victoza was introduced in China on October, 10th 2011 in the disposable pen application to enable titration at 0.6 mg, 1.2 mg or 1.8 mg.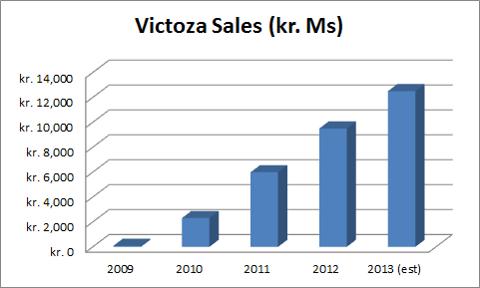 Source: Novo Nordisk Q3 2012 Earnings Presentation and Saibus Research estimates
Novo's modern insulin analogues are seeing growth. 2013 YTD Sales Novo's three insulin analogues products (NovoMix, NovoRapid and Levemir) saw 14-19% revenue growth in local currencies, 12-17% growth in Danish Kroner terms and reached DKK 9B billion (~US$1.58B) in YTD 2013.
Novo have a commanding market share where it operates. NVO has between a 41-60% share of the total insulin market in the markets it operates in and a 38-64% share of the modern insulin analogues market in the markets served. Novo's overall share of the global insulin market in January 2013 was 49%, which was down from 50% in the prior year. Novo's share of the global modern insulin analogues market in January 2013 was 46%, which was unchanged from the prior year.
Novo have a strong culture of ethics: NVO includes social non-financial supplementary information in its annual report. Novo has increased the annual number of healthcare professionals trained or educated in diabetes from 380,000 in 2008 to 1,274,000 in 2012. Novo is able to achieve its high profit margins and sell insulin to 75% to of LDCs according to the differential pricing policy. On a scale of 1-5, the employee engagement was a 4.3 for the fourth straight year. Novo was able to also reduce its environmental footprint through reduced energy and water consumption, CO2 emissions, wastewater and chemical oxygen demand.
We are optimistic with its product pipeline. Novo is the only company with two new generation insulins (Degludec and DegludecPlus) submitted for approval in the US and Europe. Degludec was approved in Japan, Denmark and the UK under the brand name Tresiba. Novo's GLP-1 portfolio offers opportunity to expand broader into type 2 diabetes. Victoza (liraglutide) offers opportunity to establish presence within obesity and it has an expanding late-stage pipeline within Haemophilia.
We are pleased that Amylin and Lilly are discontinuing its joint venture. Amylin agreed to pay Eli Lilly $250M for the rights to continue developing the diabetes drug exenatade and $1.2B in revenue sharing on sales. The partnership fell apart in May after Amylin sued Lilly for serving as Boehringer Ingelheim's marketing partner and court documents revealed that Lilly was not expecting much from Bydureon, another drug that AMLN and LLY developed together with Alkermes. Although Amylin is a part of Bristol-Myers Squibb (NYSE:BMY), we don't expect it to seriously threaten Victoza's leadership due to Victoza's commanding market presence and Novo Nordisk's exclusive focus on diabetes. Victoza generated DKK 2.7B (~$US 470M) in revenues in Q1 2013 versus $US 52M for Bydureon.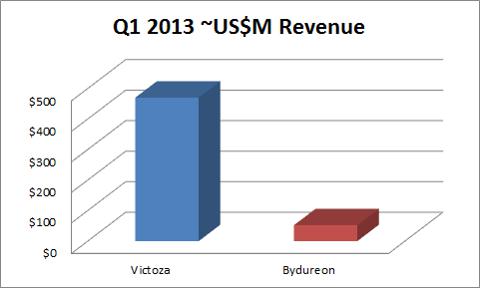 Source: Novo Nordisk Q3 2012 Earnings Presentation and Saibus Research estimates
RISKS TO ACHIEVING FAIR VALUE TARGET PRICE
Failure of investment community to recognize NVO's competitive advantages, resulting in a stagnant or declining price/earnings ratio.
Increased regulatory controls over the business that end up increasing costs of operations and or reducing revenue (profit margins) per unit sales. National Socialized Healthcare reforms have negatively impacted sales growth by 2.5%
Failure to develop and commercialize new products, increased turnover of key staff, competition from biosimilars, production quality risks (potential product recalls, regulatory action taken against the firm and shortages of key product inputs) and competitive legal risks stemming from potential intellectual property infringement or if firms try to pirate Novo's products.
Bristol-Myers Squibb acquired Amylin and could succeed where ALMN failed
Currency fluctuations may result in a gain or drag upon conversion to Danish Kroner. We also note that 45% of Novo's revenue comes from North America, which will mitigate the negative impact of a stronger dollar versus the Kroner.
The EuroZone debt crisis providing headwinds to growth, particularly in heavily indebted markets like Greece, Portugal, Spain, Ireland and Italy.
DIABETES-CARE and PHARMACEUTICAL INDUSTRY OUTLOOK
Novo Nordisk faces competition from branded and generic drug makers. Generic competition for human insulin, which is one of the easiest large-molecule drugs to manufacture and competition from new diabetes treatments such as a longer-acting version of Byetta, could limit the commercial success of Novo's product line.
The pharmaceutical industry also has been facing the risk that widespread health-care reform will force mandatory and immediate price cuts on its products, hurting margins. Also, over the 2011-14 period(s), blockbuster drugs such as Lipitor, Plavix and Zyprexa will lose patent protection in the US. Longer-term, we feel that the industry's fundamentals are favorable, due to the aging of western societies and remains one of the wide-margin, widest moat industries, due to the specialized nature of the goods provided and by the barriers to entry.
Overall, we feel the industry is fairly valued, however we would use declines in the market to add to positions in high quality firms like Novo Nordisk and gains in the market to sell weaker firms. We are especially pleased that Novo only has three direct competitors (Lilly, Sanofi, and Amylin) in this segment and only Amylin is as focused on diabetes treatment as Novo, as well as the fact that Amylin dissolved its partnership with Lilly and was recently acquired by Bristol Myers-Squibb.
Valuation Analysis 6/10/2013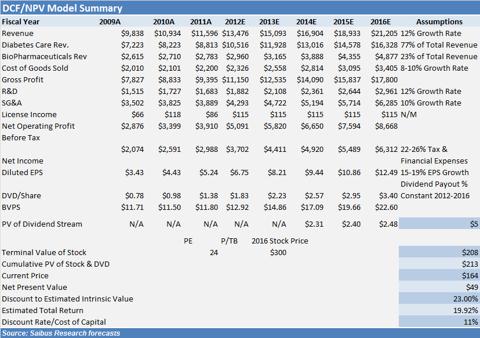 Disclosure: I am long NVO. I wrote this article myself, and it expresses my own opinions. I am not receiving compensation for it (other than from Seeking Alpha). I have no business relationship with any company whose stock is mentioned in this article.
Additional disclosure: This article was written by an analyst at Saibus Research. Saibus Research has not received compensation directly or indirectly for expressing the recommendation in this article. We have no business relationship with any company whose stock is mentioned in this article. Under no circumstances must this report be considered an offer to buy, sell, subscribe for or trade securities or other instruments.