By Jeff Pietsch
Better than expected earnings and improving economic reports catapulted all of the major indices higher, leaving the NASDAQ100 (QQQQ) and S&P500 (NYSEARCA:SPY) up a whopping +7.0% and +7.6%, respectively. Higher still were the leading Material (NYSEARCA:XLB) and Financial (NYSEARCA:XLF) sectors, each up over +9%. Meanwhile, the prior safe trade Utility (NYSEARCA:XLU) and Healthcare (NYSEARCA:XLV) sectors lagged by half. In fact, the only real loser was the bond complex, with Twenty-Year Treasuries (NYSEARCA:TLT) down -5.2% for the week.
(Click Image to Enlarge/ Glossary)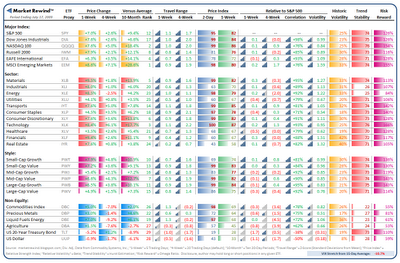 Speaking of which, with longer dated treasuries yielding 30-40 basis points more than last week, the often mean-reverting VIX (if not more so), it wouldn't be surprising to see a short-term pullback ahead.
Week Thirty of 2009 features a lighter economic calendar, but the earnings floodgates open wider still, as follows:
The Relative Strength Index charts have little meaning this week due to Thursday's corrupt closing ticks. I have therefore instead posted an update to the "Most Analogous Historical Epochs Projection" series. I find the results interesting since the 25-week look-back period contains the entirety of the steepest portions of both the plunge and recovery.
Note that all five analogous projections suggest at least a mild retracement next week followed by a summer trading range bound by SPX 880 and 1,010. Well, it's good eye candy at the very least -- have a terrific weekend!
Click to enlarge: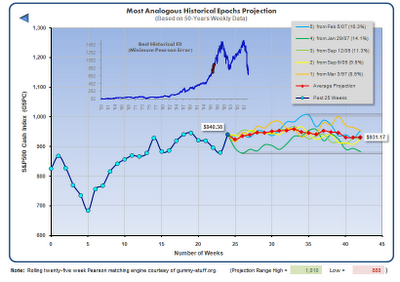 Never Investment Advice