(Contributor's note: This article covers a micro-cap stock, which sometimes moves without rhyme or reason and carries significantly more risk than large-cap stocks. Please be aware of the risks associated with these stocks. Don't be a fool, stay in school.)
Celsion (NASDAQ:CLSN) is new, revamped, and looking strong so far after its Phase III earnings crash earlier in the year. Naturally, that's going to spawn new arguments from bears, shorts, and anyone else betting against the company.
Celsion was slammed after-hours Tuesday and is poised to open even lower today on news of... something that happened in January 2013? Aside from an article popping up about the Phase III results, which were already disclosed and what brought the stock from $8 to $1 in early 2013, there's been no new Celsion news - just shorts delivering old bad news. The last few months have been great for Celsion, a case I've made in several articles.
Misleading statements from short sellers can sometimes drive the price of a stock downward with no reason - which is something I believe Celsion is susceptible to - so I wanted to write about it.
"We simply try to be fearful when others are greedy and greedy when others are fearful."

-Warren Buffett
I've been covering Celsion since the beginning of January 2013, when it was anticipating its Phase III results for ThermoDox with RFA (radio frequency ablation). ThermoDox is a unique liposomal delivery method of getting doxorubicin to the site of cancer tumors being treated. Preliminary trials looked great and the idea behind ThermoDox was one that made sense: delivering a concentration of an often-used cancer drug to the site of the tumor by its liposomal transport system, and using heat to activate it en masse.
Here's six of the newest, biggest bearish sentiments that you're probably hearing - debunked and destroyed.
Myth #1 : "Celsion Didn't Attend ASCO"
The bearish argument here was that Celsion did not attend the recent ASCO conference, as was suggested by a contributor recently. The same contributor, in his/her own comments then not only discloses that he/she knew the whole time that the company was in fact at ASCO, but that it didn't matter because the company did not present and had a small table with folding chairs in the corner where no one was paying attention to them.
With over 30,000 attendees, the ASCO Annual Meeting is one of the largest educational and scientific events in the oncology community. The five-day event provides a venue for physicians and scientists to present research results to a global audience of oncology professionals. Clinical trial results and updates presented at ASCO's Annual Meeting represent the extent of progress made each year in the fight against cancer.
Adam Feuerstein, writer for The Street, was eager to chime in on a certain article's comments section as well. He said, "I was at ASCO. CLSN's "booth" consisted of a table and a couple of folding chairs stuck in the corner of the exhibition hall. Sad."
(click to enlarge - oh, hi, Celsion at booth 10133!)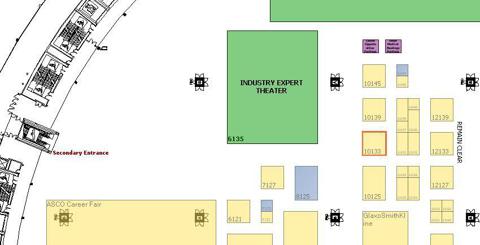 Reality: Sorry to disappoint the bears, but the reality of the situation is that Celsion had a 20x20 booth, just like many other attendees - sitting 3 booths away from GlaxoSmithKline (NYSE:GSK). Anyone who took five minutes to check ASCO's site or attend the conference knows this.
It's also worth noting that it was directly after ASCO that Celsion's stock jumped about 50%. Who says the conference didn't have an impact?
Myth #2 : "There Was Nothing Compelling from the Phase III Results"
We all know what happened the morning of the Phase III results being released. Shareholders were dumbfounded, the staff sounded dumbfounded - it apparently just didn't work, and no one knew why. Back then, you could have said that there was nothing compelling from the results, and it would have made sense.
Reality: Except, that's not exactly true - at all. The company seemed to think that there was some very substantial results from the HEAT data, according to its post-hoc analysis (or as the bears call it, "extreme data mining").
Earlier this year, the company reported that it had found success with certain subgroups of ThermoDox when RFA had been applied for certain amounts of time. The company has since stuck with its sentiments that ThermoDox is showing some hope. The company has disclosed that it intends to fly through animal testing this summer and be ready to meet with the FDA in late-summer/early-fall to try and get ThermoDox back on track for a retrial.
On April 23rd of this year, Celsion reported that after a thorough review of its HEAT study, there was clear evidence that ThermoDox showed a "marked improvement" (company's words, not mine) when RFA is optimized. CEO Michael Tardugno commented:
Michael Tardugno, Celsion's Chief Executive Officer, added, "Based on the strength of these findings, the Company will request a meeting with regulatory authorities for guidance on moving forward with our HCC development program. We plan to disclose the details of the HEAT Study data at upcoming medical meetings and in a peer-reviewed publication. We will provide updates on these activities when appropriate."
So, not only do we see that the statement of "nothing compelling" is false, we're forgetting that the ThermoDox results are already priced into the stock.
In other words, all this bearish argument does is rehash a past negative that has already taken its toll on the stock. Smart money is buying the stock being sold by the people who fail to see that this news (while possibly not even being accurate) has already done its damage to the stock and was priced in when the stock ran to over $2 recently.
In myth world, we can talk about the Phase III failure over and over again, even though it occurred 6 months ago. In reality, we're dealing with the post-Phase III Celsion, not the end of 2012 Celsion.
Myth #3 : "It's a Risky Road Ahead With Cash/The Company is Going to Perform a Reverse Split"
Bears are arguing that going forward, Celsion doesn't have a lot of time to get its act together before it needs another capital raise. Bears are arguing that it's an expensive and risky road ahead that Celsion is not ready for.
Reality: Is it really? According to its last 10-Q, minus cash burn of about 1mm/month, plus its latest financing, Celsion has over $50 million in cash and investments now, which at its current cash burn is enough to sustain operations into 2015. The company has all the time in the world to continue to work with ThermoDox, and readjust its corporate strategy going forward.
Celsion, as we know it, is not going anywhere.
Furthermore, the reverse split thing is boilerplate stuff that tons and tons of companies "ask permission" for but never do. It's there in the case that the company can't find future financing, and is a risk that almost all companies in their microcap stage face.
Bringing it up now, when Celsion has substantial funding, is moot.
Myth #4 : "Acquisitions Would Be a Negative"
The bearish argument here is that acquiring a company or technology going forward either isn't going to happen, or is going to be a negative for the company.
Reality: This is hilarious. Celsion has recently disclosed on its Q1 conference call that the company has about 10 companies that it is looking at for potential acquisitions. Here's what I've said previously on this:
As Celsion has been stating and as I've been reporting, the company is almost certainly going to be making some acquisitions as part of its "post-HEAT study corporate strategy". Jeff Church said in Celsion's previous conference call that the company had about ten potential candidates for M&A at the time. I pointed this out in a previous article:
Celsion also noted on its conference call that it had significantly cut costs and was working with Cantor Fitzgerald on potential mergers and acquisitions; a step that the company said could bring profitability and give it another leg (aside from ThermoDox) to stand on.
So, the non-fact that Celsion's not looking at any companies to acquire is just wrong. Also, the fiction that Celsion doesn't have the money to do it is also wrong. Between stock and cash, Celsion has plenty of resources to make a purchase, should it choose to go down that road.
The company has an outstanding share count of about 60 million, hardly a company that's close to going to the pennies. Celsion could double its share count again and not be at risk of "company ending" dilution. If Celsion had to double its share count to 120 million, and found success that drove it to a $1 billion market cap, it'd be trading just under $10.
And a new spin -- let's look at two possible scenarios:
The company acquires a profitable company, Celsion immediately becomes profitable and substantially more valuable.

The company acquires another company with drugs in a pipeline. Celsion immediately becomes worth more based simply on the speculation of new drugs in the pipeline.
Myth #5: "Financing Was Done at 11% Discount to Market and We Don't Know By Whom"
I don't know how or why this sentiment started making its rounds, but all we have to do is take a peek into Celsion's SEC filings (which anybody, anywhere can do, anytime) to get the full scoop on this crazy myth.
Reality: Celsion's PR's and filings hand us two major myth destroyers here.
A. The financing was absolutely not done at a discount, and was done with no warrants - showing that Celsion clearly had the leverage here. Folks, all you have to do is read the press release, not the bearish argument posted on blogs.
Let's look at Celsion's first line of its financing press release:
Celsion Corporation (NASDAQ:) (the "Company") today announced that it has received commitments from institutional investors to purchase an aggregate of approximately $9.83 million of the Company's common stock in an at-the-market registered direct offering led by a dedicated health care fund.

The Company entered into definitive purchase agreements with these investors pursuant to which the Company agreed to sell an aggregate of 6,264,492 shares of its common stock at a per share price of $1.57. The shares were priced at-the-market with no discount to the previous day's closing bid price. In addition, there were no warrants issued as part of this financing transaction. The closing of the offering is expected to take place on or about June 4, 2013, subject to the satisfaction of customary closing conditions.
B. We know EXACTLY who bought the shares. From Celsion's 8-K:
IN WITNESS WHEREOF, the undersigned have caused this Securities Purchase Agreement to be duly executed by their respective authorized signatories as of the date first indicated above.

Name of Purchaser: Sabby Healthcare Volatility Master Fund, Ltd.

Signature of Authorized Signatory of Purchaser : /s/ Robert Grundstein

Name of Authorized Signatory: Robert Grundstein

Title of Authorized Signatory: COO of Purchaser's Investment Manager

Email Address of Authorized Signatory: rgrundstein@sabbycapital.com

Facsimile Number of Authorized Signatory: (201) 661-8654

Address for Notice to Purchaser:

c/o Sabby Management, LLC

10 Mountainview Road, Suite 205

Upper Saddle River, NJ 07458

Address for Delivery of Securities to Purchaser (if not same as address for notice):

Subscription Amount: $7,065,000.00

Shares: 4,500,000
So again, we have a bearish argument that is disingenuous at best, but completely made up at worst. It is up to investors to do their due diligence, look at filings and stay on top of the facts.
6. "Doctors" and "Key Opinion Leaders" Told Someone in Secret that ThermoDox was a "Total Failure"
I get to speak with Celsion executives once in a while. I have a clear, cogent understanding of the corporate strategy of the company and know basically everything there is to know (public information only). I can say I speak to these people and feel confident that they feel confident about the future of the company. When they speak to me and speak on conference calls, they sound calm and assuring. Celsion's market strategy and the way that its executives have handled disclosure and bringing items to market has been nothing short of extremely professional. I know the team's background, I've seen many of the executives' resumes, and at the end of the day - I trust them.
I trust getting my information from the Company's disclosures, SEC filings, and Celsion's website. Not from someone, who heard from a nameless someone, that something may or may not be true. You want to trade based on the facts? Stick with the company's disclosures - Celsion's public - it has to disclose everything.
In science, you have to have evidence to back up your claims. The bearish argument of "I heard from someone" has no basis of proof - whereas the information that I use to support my bullish case can be backed up by filings and disclosures. Anyone can just make stuff up on the internet and present it as fact.
Conclusion
I am vigorously reiterating my bullish sentiment on Celsion and continuing to contest that this company could be worth $4 a share in the not-too-distant future. I'll be using any and all pullbacks on bearish myths to purchase more and add to my position. To Celsion longs, I wish you all the best of luck.
Disclosure: I am long CLSN. I wrote this article myself, and it expresses my own opinions. I am not receiving compensation for it (other than from Seeking Alpha). I have no business relationship with any company whose stock is mentioned in this article.