By Carla Fried
Intel (NASDAQ:INTC) has spent the past three years aggressively handing out consolation prizes to shareholders, rather than strong business performance. After missing the boat on the shift to mobile computing, Intel focused on delivering strong dividend growth and share repurchases (to help keep earnings from looking ugly) while it scrambled to get with the mobile revolution.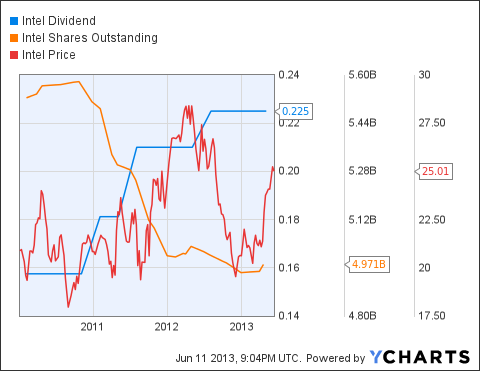 INTC Dividend data by YCharts
It's faint praise when the only investment case you'd hear the past few years was that Intel "paid you to wait" while it played catch up. Sure, the dividend yield has been more than a percentage point ahead of the 10-year Treasury for a few years. And yes, all that share repurchasing boosted the stock's net payout yield above 10% as the stock price languished.
But patience only goes so far. And it looks like the wait may be over.
Intel is getting its new on, a little financial research shows. At its mid-May shareholder meeting, Brian Krzanich, a veteran of the firm's vaunted manufacturing division, took over as the new CEO. Wasting no time to declare he's firmly focused on mobile, Krzanich quickly established a new mobile devices division and bought a GPS chip making business from ST-Ericsson that focuses on mobile applications.
More substantively, it seems that Intel's 75% increase in research and development over the past three years -- it topped more than $10 billion for the trailing 12 months -- is ready to pay off in the fast-growing mobile chip market where ARM Holdings (NASDAQ:ARMH) has to date eaten Intel's lunch. Samsung announced that its iPad competitor, the Galaxy 3 tablet, will run on Intel's upgraded Atom chip. That coincided with the announcement that Intel's new Bay Trail-T chip, with more graphics oomph and an all-day battery for tablets, would be ready for the 2013 holiday season. And its new Merrifield chips, promising more performance and less battery drain for smartphones, would be ready in the first quarter of 2014.
Suddenly, Intel went from a favorite stock whenever "value trap" was mentioned, to getting upgraded to outperform on June 3, by FBR analyst Christopher Rolland. It's also looking at another nice tailwind as the market is ever so gingerly shifting from defensive stocks to cyclicals, as economic news -- at least here in the U.S. -- keeps getting marginally better. That just might be the kick in the pants companies need to spend some cash on cap ex tech upgrades.
Add it all up and now you get a 3.6% yield from a stock on the move. Since Krzanich took over in mid May, Intel stock is up 2.8% while the S&P 500 is down 3.5%. In fact, Intel has been rebounding since the beginning of the year, more than doubling the gain for the $11 billion Technology Select SPDR (NYSEARCA:XLK).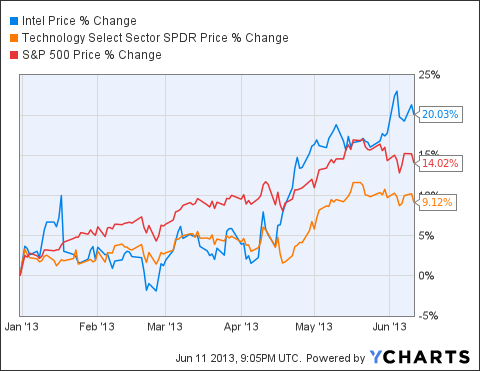 INTC data by YCharts
Interestingly, just as Intel began to roll out news of improved mobile chips, shares of ARM Holdings hit the wall, falling 18% since mid May. To be clear, that could well be a pause that refreshes, after a torrid run - ARM Holdings is still up more than 80% over the past year. But the emergence of Intel as a bona fide competitor, as the Samsung deal signifies, surely puts some heat on ARM. As does the fact that ARM's near-50 forward PE ratio is more than 3x the valuation of Intel.
Last year the Intel division that includes the mobile chip market had net revenue of $4.3 billion and an operating loss of $1.37 billion, while the old-world PC division generated $32.3 billion in revenue and $13 billion in operating income. Clearly, while the expectation now is that Intel is at least in the game when it comes to mobile chips, it is still a tiny part of the business.
What's often overlooked is that Intel already has one next-generation growth division: its Data Center Group that supplies the processors needed for servers to run on the cloud. That division produced $5.1 billion in operating income last year on net revenue of $10.7 billion. It delivered one-third of Intel's overall net operating income while accounting for just 20% of the company's revenue. First-quarter revenue for the Data Center Group rose 7.5%. For the full year, Intel's CFO says the company expects the division to have double-digit revenue growth.
With its outsize reliance on the sluggish PC market, it's not as if Intel will ever be mistaken for a growth company. But nor is it a DOA value trap. Two pretty smart value managers -- hedge fund chief Michael Price and Oakmark Select's Bill Nygren -- have about 5% of their funds' invested in Intel, and both were still adding to their stakes in the first quarter of this year. And hey, there is that 3.6% dividend yield from a stock with a PE ratio 25% lower than the market average.
Disclosure: I have no positions in any stocks mentioned, and no plans to initiate any positions within the next 72 hours. I wrote this article myself, and it expresses my own opinions. I am not receiving compensation for it. I have no business relationship with any company whose stock is mentioned in this article.