Market Recap/Outlook:
The market continues to be quite volatile, with that continuing Tuesday. Things started out very weak for the market, bounced all the way back to green, before falling strongly again in the afternoon. The cause was a combination of renewed fears that Fed tapering would occur, which was signaled by yields in bonds rising in the early trading day. Additionally, Japan remained steady on their current policy. After recent bond spikes in Japan and equity markets falling, there was some hope that the BOJ would increase easing. The country, though, held steady. That move sparked fears that the days of easing are not ahead of us, causing bonds to spike all over the world. Moving forward, this volatility should not be fleeting. The market will continue to deal with the inevitable closing of QE. Wednesday, the market does not get a ton of new domestic data. Crude inventories release as well as Treasury Budget, but neither is big news. The most important things to watch are Great Britain's employment data, Euro-Zone Industrial Production, and Japan's BOJ June economic report. While easing has been a question mark for Japan, the country's economy is doing quite well. That report may provide some relief for Asian markets.
The Dow Jones (NYSEARCA:DIA) decreased 116 points while the S&P 500 (NYSEARCA:SPY) decreased seventeen points.
Stocks To Trade:
Today, we are looking at positions in Lululemon (NASDAQ:LULU), GameStop (NYSE:GME), and Chevron (NYSE:CVX).
Lululemon got whacked Tuesday. What happened to LULU is what happens to growth stocks when fear sets in, but with this pullback, the real question investors and traders should be asking - is this the time to buy? The company had three major developments occur in a 24-hour period - earnings, departure of CEO, and delisting from Toronto Stock Exchange. Two were positive and one was not good. First, let's take a look at their earnings.
The company reported earnings at 0.32 with revenue at $346M. Revenue was up 21% year/year while earnings remained flat. The company saw a 7% rise in same-store sales, while direct-to-consumer revenue rose 40%. Direct-to-consumer revenue is mostly made up of Internet sales for LULU, and it is good to see the company having success there. The company now has over 15% of revenue made up on online sales. Yet, with such strong growth, why were earnings flat? Two reasons - the recall of luon products and the rise in SG&A by over 24%. The latter is actually a bigger concern. While the company's recall did hurt the brand, LULU adopted a great strategy. They brought in professors to help fix the problem and really did well to manage the crisis. The latter is more concerning. Anytime we see SG&A rising at a faster rate than revenue, we look at management as a concern. The company saw a rise in SG&A from higher expenses at stores to higher volumes as well as new store openings. The mismanagement, though, of SG&A rising faster than revenue is a management concern.
All in all, though, it was a fairly successful quarter for the company. Revenue beat expectations of about $341M, and the company is continuing to grow. The question, though, out of earnings is can the company continue to see further growth from here. The company upped its revenue and earnings guidance for the year as it continues to grow, but where can LULU turn for growth outside of the USA and Canada. As of right now, the yoga pants fad has not really branched out of the USA. It has some success in New Zealand and Australia, but the question of where to go from here is a big question mark. Enter CEO Christine Day's departure.
Along with earnings, CEO of LULU announced she would step down after five years, which is odd to us. The timing seems somewhat appropriate. Her term was a success. In the past five years, LULU has grown revenue 400% and built up a strong business in the States and in Canada. The next CEO will likely be taking on a task of expanding internationally. If we look at Day's experience, though, she has a lot of experience internationally. She was the lead at Starbucks (NASDAQ:SBUX) and Select Comfort (NASDAQ:SCSS) for Asia. She came to LULU with an international expertise, and as LULU will need to turn to international markets for growth, she seems to fit the bill. At the same time, a fresh face for a new 5-10 year plan also makes sense to us. We believe, though, the key to the next CEO is someone that has experience in Europe, South America, or Asia with growing a business in those places because that is what LULU needs. The hit that shares took based on this announcement is overdone.
So, if the hit was due to recall - it was a one-time hit. Not a reason for a big correction. If the hit was due to CEO concerns - it's still a question mark, so also not a reason for a 15% correction. Yet, growth stocks drop when concerns hit. That's what today was. Going into the day, the company's PE was north of 44, and its future PE over 30. After today's drop, PE is down at 36 and future PE is down to around 26. These valuations are much more reasonable. We look for growth stocks to maintain around 20-25 future PE to be enticing to us. Growth is not a terrible concern right now as it remains strong, but the company would go far to repair confidence by hiring an international growth CEO as well as laying out what they anticipate doing internationally.
Finally, LULU stopped its TSX listing. The company saves around $100K per year by doing so, and its listing was more iconic than useful. For LULU, the move also signals the fresh change for the company to move into a new period. That new period, though, has questions and thus today's correction. For now, we believe that the moves generally are the best to maintain long-term growth, but jumping into shares right away is probably not best. We would like to buy if the stock can correct down to $65 as that would be where future PE is at 25.
We'll check back in as more develops around these question marks.
Position: Long, LULU
Entry: Under $65
Exit: $70, $80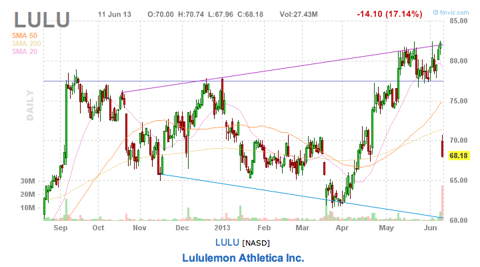 For a great while, The Oxen Group has loved the GameStop business. While we understood the risks of a declining video game business, we believed that most investors do not understand the intricate role GME plays in the gaming world. For enthusiasts, GME stores are their havens, and the company has done a great job developing a digital business that can allow them to offset some of the downside of physical discs being less popular. In our latest article on GME back in 2011, we believed that GME had about 50% upside from around $22. We have hit those targets, and the question is can the stock continue to grow from here.
The next twelve months look exciting for GME with the release of the Microsoft (NASDAQ:MSFT) Xbox and Sony (NYSE:SNE) PlayStation 4 as well as continued development of its digital offerings along with growth of its used phone and game business. The release of Xbox One and PlayStation 4 at the same time is going to make for a lot of strong growth for GME. The company can use the cyclical strength of these two releases to propel some major earnings and revenue growth. Right now, the stock is trading with a future PE at 9.5, so there is tons of value and upside still left in shares. How much earnings and revenue can these two releases provide?
The last release of Xbox 360 came in late 2005, PlayStation 3 in late 2006, and Microsoft Wii in late 2006. GME made around $1.6B in 2005. In 2006, as new games, systems, and hardware were taking off, GME made around $3B. In 2007, the company made $5.3B. The company saw its own business being defined by the heyday of gaming. Both new systems are expected to release later this year, and we believe it will spark a very similar explosion of interest for GME. Gaming has definitely changed since 2005 - 2006 with the explosion of tablets and smartphones, but these two systems do provide a lot of upside. And it is not like GME is heavily overpriced or has many expectations. Analysts only expect a 6% jump in revenue year/year. We believe these estimates are much too low, and we further believe that the company has a lot of upside as well in digital downloads.
In the company's latest earnings, the old core of games and hardware sales was down. One item, though, was looking good for GME. The company announced a 47% increase in digital sales. The company is able to offer exclusive features to console and PC games through their digital marketplace as well as downloadable games. That growth along with the company's used gaming idea moving to tablets and phones is helping GME continue to have success during a soft spot in the gaming world. The company has allowed users to turn in old phones and tablets to upgrade to new ones or get some cash for a new game. Further, the company saw only a 3%+ drop in software sales despite the market seeing a 14% drop, showing that GME remains a haven for true gamers.
Overall, we believe that the next round of growth is just around the corner for GME. The company has a lot of potential moving into a fun time for gaming, and with digital downloads, tablet/PCs, continued success of used games, and the refocus of new systems being released, GME's future looks quite bright. Shares are cheap with a 0.5 price/sales and sub-10 future PE. We like going long here.
Position: GME, Long
Entry: Now
Target: $40, $45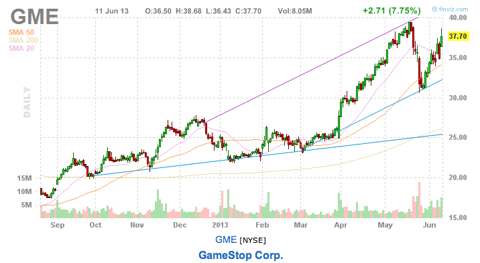 Finally, we continue to believe near-term downside is going to occur in Chevron. In the last couple weeks, we have posted two notices warning about CVX. First off, we commented that we believe that CVX's near-term upside is limited in our extensive research article, saying the stock is only a buy on a 15% pullback. We followed that article up with another commenting on rising costs of doing business. Today, CVX CEO John Watson continued the theme we mentioned. Our main concern with CVX and many of the major integrated oil/gas companies is that they have cost concerns moving forward. For example, CVX has seen about 8% growth in operating income in the last five years. In that same time, they have seen nearly 60% growth in capital expenditures. Today, comments from CEO John Watson continued our thoughts about this growing trend:
Oil and gas producers must deal with the "legitimate concerns" that hydraulic fracturing is unsafe by adopting tougher self-imposed standards, Chevron Chief Executive Officer John Watson said in Washington.

BP Plc's 2010 oil spill at its deepwater well in the Gulf of Mexico -- the worst in U.S. waters -- fueled public skepticism of the industry, Watson said. Fracking, a drilling technique that has increased production by extracting oil and gas trapped in shale rock, has drawn oil and gas companies to rural communities that aren't familiar with the development.

Recent developments add to public awareness of the risks of drilling, and the industry needs to do a better job in resolving the concerns, Watson said at a Center for Strategic and International Studies event in Washington.

"Public expectations are very high, and there's no reason they shouldn't be high," Watson said. "There are some risks out there. Some risks are overstated. But we have to engage them either way."
The comments from Watson, while they do bring some skepticism of risks, they also suggest that more safety needs to be developed. Fracking has caught some flack for its risks, and while the risk are probably overstated, companies need to do more to continue to provide safe practices. The fact of the matter is that natural gas and oil sands are harder to get to, and the company has to do a lot of work to get it out of the ground. If the industry has to do even more, it means higher costs, lower margins, and lower bottom lines. That's the theme we continue to see with these companies. They have to do a lot of work to get the same product, and as they continue to get at that product, they will have to do more and more work.
Right now, we believe that CVX has too many near-term question marks to want to get involved. Their Australian basin for natural gas is one of the most difficult geological attempts at getting at natural gas yet, and the company continues to dig deeper and deeper to get oil. The lack of renewability of natural gas and oil, coupled with increasing demand is putting these companies on a course that we believe is tough. Costs will rise at the pump and in the home as costs rise for the companies, but at what point does mining the product and the costs involved hurt consumers too greatly that they do not want it.
It is a big question for these companies, and one that is not being asked enough. For now, we believe it's best to hold shares if you are in it and avoid it if you are not.
Position: CVX, Hold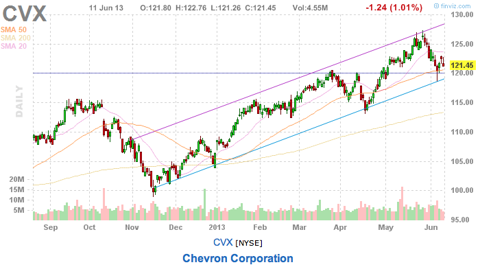 Charts courtesy of finviz.com.
Disclosure: I have no positions in any stocks mentioned, and no plans to initiate any positions within the next 72 hours.
Business relationship disclosure: The Oxen Group is a team of analysts. This article was written by David Ristau, one of our writers. We did not receive compensation for this article (other than from Seeking Alpha), and we have no business relationship with any company whose stock is mentioned in this article