The 13 closed end fund (CEF) types on average were up 3.1% for the week ending 7/17/09. The S&P 500, as measured by the SPDR S&P 500 ETF (NYSEARCA:SPY), registered a surge of 7.0%.
On an aggregate, unweighted basis, the weekly price increase for 640 CEFs was 2.8%. The weighted 51 CEFs comprising the Claymore CEF Index registered an advance of 6.2% for the week. The 640 CEFs' aggregate, unweighted current distribution yield is 8.2% and is trading at a 5.7% discount. (Click here for YTD CEF Performance.)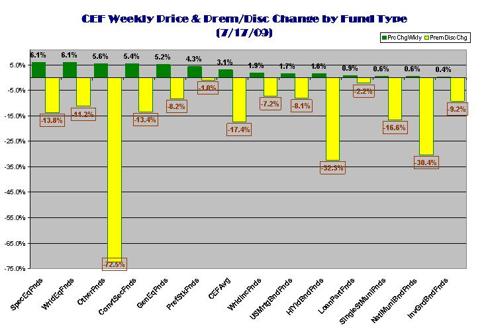 The Eqcome CEF Fear Index subsided with the unweighted average price rising greater than NAV (2.8% versus 1.6%, respectively). This is consistent with the CBOE Volatility Index (VIX) which registered a drop of 16.1%. The decline in the VIX was accompanied by a 7.0% increase in the S&P 500. (The VIX has a tendency to fall when the market rises, and vice versa.)
CEF Weekly Fund Type Performance: With equities surging for the week, equity-oriented fund types advanced while fixed income lagged. It was a mirror image of the previous week's performance. Driving the "SpecEqFnds" was the proposed merger of several of the Cohen & Steer's CEFs. RLF, RWF and RPF would merge into RQI. The three CEFs to be merged into RQI advanced on average 15.9% last week.
All fund types experienced a decrease in their discount from the previous week indicating share prices advancing greater than NAVs. Of particular note was the "OtherFnds" significant drop in its discount. "OtherFnds" has the lowest average discount among the 13 fund types. A nominal change in its discount can magnify the percentage change. Additionally, of the 43 CEFs that comprise this fund type, over 50% are characterized as "option arbitrage". This sector may be influenced by option expirations and its impact on NAV accounting.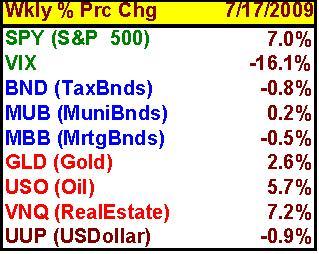 Weekly Comparisons: For sake of weekly comparison, the equity markets broke its 4 week losing streak with its largest weekly advance since the March bottom. The VIX or the "fear gauge" slumped in response. The equity markets continue to face a headwind with regards to the summer doldrums, mixed economic news, an incomplete earnings outlook and an administration that wants to spend its way to fiscal hell. (Click here for next week's economic calendar.)
The debt segment (blue) of the ETF market posted mixed result with a slightly negative bias as investors' swapped debt for equity. Vanguard Total Bond (NYSEARCA:BND), iShares Muni fund (NYSEARCA:MUB) and iShares mortgage backed securities fund (NYSEARCA:MBB) registered mixed: -0.8%, 0.2% and -0.5%, respectively. Their CEF counterparts all experienced moderate price increases.
The commodity segment (red) of the market tracked the equity markets upwards. The US dollar (NYSEARCA:USD) traded inversely with the S&P 500 for the week. Commercial real estate, as measured by Vanguard Real Estate Investment Trust ETF (NYSEARCA:VNQ), posted a surprisingly strong performance (+7.2%) given the harshness of the commentary coming from banks regarding the continued deterioration of the commercial real estate markets. Regional banks reporting next week may intensify the issue as they have a disproportionately large portfolio of commercial real estate. (Click here for detail chart of YTD ETF fund type performance.)
CEF High & Low: For the sake of data points, Templeton Russia and East European Fund Inc. (NYSE:TRF) advanced 23.7% for the week. This perceived commodity play, has alternately appeared on both my high and low weekly. It trades like a leveraged ETF with its beta of 2X. Its cousin, the CEF Central Europe & Russia Fund Inc. (NYSE:CEE), also with a beta of 2X, was up half that amount: 11.3%.
One of the worse performers of the week was one of the best last week: BlackRock New Jersey Investment Quality Municipal Trust (NYSEMKT:RNJ). RNJ was off 6.1% the week ending the 17th versus up 10.5% the previous week. Adjusting for its distribution of $.061 per share on Monday, it was off 5.7%.
CEF Insider Trading: There has been a significant pick up in insider buying of MBIA/Capital/Claymore Man Duration Investment Grade Muni Fund (NYSE:MZF) in July. Insiders' picked up $1,292,211 in share value so far this month. Approximately 70% of those shares were picked up by Benchmark Plus Management, LLC. MZF has continued to deny Western Investment LLC, its largest shareholder, request for its shareholders list. Western intent is to select two nominees to MZF's board.
Insiders continue to acquire shares of Boulder Growth & Income Fund (NYSE:BIF). During the month of July, insiders purchased another 68,000 shares valued at $307,016. This brings its ownership stake to 5.17 million shares; over 20% of the outstanding shares.
CEF Focus for the Week: As noted above, MBIA/Capital/Claymore Man Duration Investment Grade Muni Fund (MZF) would be of further interest due to its combination of relatively favorable comparisons and the intrigue surrounding a potential change in management as a catalyst for a higher valuation.
Currently, MZF yields 6.5% with a tax equivalent yield of 9.1%; it trades at a 10.7% discount. The comparable yield for its peer group, "NatlMuniBndFnds", is 6.75%; on average it trades at a 2.4% discount. Approximately 80% of MZF's portfolio is investment grade. MZF does have high ARPS leverage and its largest holdings is in the Peoples Republic of California. These situations have a long fuse; so, it's only for the patient—but, you're being paid to wait.
Disclosures: Long SPY, GLD and BIF