The share price of Philip Morris International (NYSE:PM) has recently declined by about 6% from its 52-week high achieved in April. In my view, the recent pullback has created a compelling entry point for long-term investors based on the following reasons:
1. PM shares are attractively priced now relative to their comps. According to the table shown below, the company's consensus revenue, EBITDA, and EPS estimates are considerably better than the comps averages. The firm's margin and capital return performance is also generally above par. Although PM carries an above-average debt load, the company is able to maintain a healthy interest coverage ratio due to the solid profitability. Its free cash flow is only slightly below par. However, both PM's current and quick ratios are below averages.

Click to enlarge
PM's forward P/E multiple is 8% above the group average. However, after accounting for the 5-year EPS growth potential, the stock's 5-year PEG is 22% lower. Given PM's strong growth potential and above-average profitability, the stock's current valuations appear to be compelling on a relative basis (see chart above).
2. Over the past 12 months, the P/E multiple gap between PM and S&P 500 Index has compressed from 25% to just 5% (see chart below).

Click to enlarge
In my view, the slight market premium presents a great buying opportunity provided that 1) the market premium averaged at about 16% in the past 12 months; 2) PM's consensus long-term earnings growth estimate at 11% is notably above the average estimate of 8.2% for the S&P 500 Index; 3) PM's free cash flow margin and ROIC are substantially above the market averages; and 4) the stock's 3.7% dividend yield is also considerably above the average market yield of 2.1%.
3. Although PM's dividend yield is now near its 5-year low (see chart below), it remains above the yield of US 30-Year Treasury Bond, and thus should continue to attract interest from income investors as well as provide a solid downside cushion.

Click to enlarge
In addition, the investment's margin of safety is also strengthened by the dividend growth prospect. Since 2008, PM has been raising the dividend every year with at least a 7% growth rate (see chart below). Given PM's healthy free cash flow margin and the fact that the firm's earnings payout ratio is currently lower than its major peers' (see chart below), it is fair to expect the current pace of the dividend growth to be sustainable at least in the near term.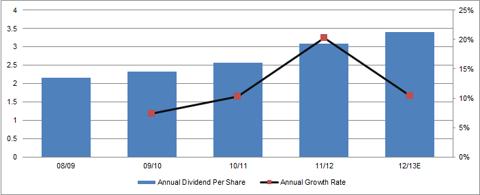 Click to enlarge

As such, supposing the annualized dividend per share would be raised by 8% from the current level of $3.40 to $3.67, and assuming a dividend yield range from 3.5% to 4.5% (hard to reach given the current low-interest environment), this conservative scenario would yield a target price range from $81.56 to $104.86, or a favorable return band from -10.6% to 14.9% even before considering any dividend income throughout the holding period.
4. Although PM's share performance continues to be impacted by some headwinds (e.g. regulation, taxation, and litigation), its growth prospects remain promising. In a Morgan Stanley research note dated June 3, David Adelman mentioned some positive market dynamics in Asia, which would likely strengthen PM's market position (sourced from Thomson One, Equity Research):
At PM's investor field trip in Asia, regional president Matteo Pellegrini emphasized: (1) Continued regional economic outperformance, increased consumer purchasing power and a growing middle class; (2) The resulting uptrading opportunity, as 6% premium industry volume CAGR since 2008 has contributed to PM's 540 bps of segment share growth (behind the continued growth of Marlboro); (3) Manageable excise tax dynamics, with specific taxes accounting for ~92% of the total regional tax incidence; (4) A generally stable to growing underlying unit volume base; and (5) Potential "white space" opportunities in Vietnam, India, Bangladesh and longer-term, China.
Bottom line, in the light of PM's sound fundamentals and healthy growth prospects, investors should be buying the shares in the current pullback.
All charts are created by the author and all financial data used in the article and the charts is sourced from S&P Capital IQ unless otherwise specified.
Disclosure: I am long PM. I wrote this article myself, and it expresses my own opinions. I am not receiving compensation for it (other than from Seeking Alpha). I have no business relationship with any company whose stock is mentioned in this article.