Not enough reason to turn bearish pre-market, but I just don't get that bullish vibe from the overnight moves vs. the news flow I'm seeing which, frankly, sucks. Most of that sucking can be easily summed up in this one chart that shows the US Macro Surprise Index ( a compilation of upside or downside data points vs. expectations) is back to January lows as we head into earnings and the 10-year yield is spiking higher, but the S&P is just obliviously marching on near its highs.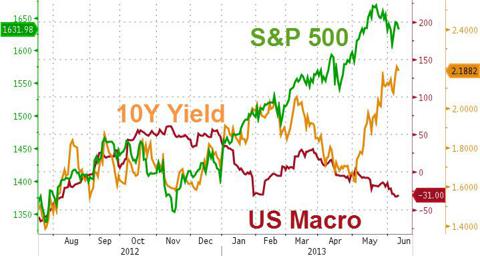 Something's gotta give so either we start getting a bunch of upside economic surprises (and earnings reports for Q2 are just starting to come in) or maybe, just maybe, the S&P is still due for a bit of a correction to 1,575 (5%) or maybe even 1,500 (10%) while we wait for the fundamental data to catch up to market expectations (if indeed that's even possible).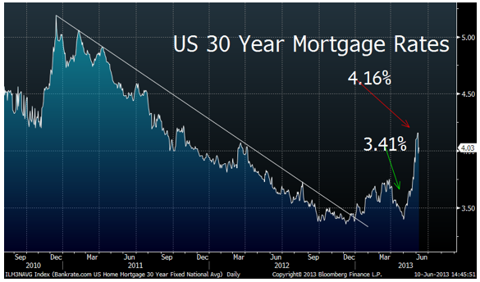 You can see that massive 10-year move since mid April is being mirrored on the 30-Year Mortgage Rates that have jumped 22% to 4.16% in less than a month. Fortunately, we already have our "5 Inflation Fighters Set to Fly" which I just so happened to post on April 20th, right at the beginning of that wave.
We get our PPI data tomorrow at 8:30 and next Tuesday is CPI along with Housing Starts and Building Permits, but Wednesday we get the MBA Mortgage Index at 7 a.m. as of June 15th and it's not likely to be pretty with that relentless rise in rates.
Also on Wednesday next week we have another FOMC Rate decision, the day before we see Existing Home Sales, the Philly Fed and Leading Economic Indicators - all the macros we need to confirm or deny the trend in the above chart. So lots of excitement ahead and, as with the BOJ and the ECB and the BOE - all of whom failed to deliver MORE FREE MONEY last week - hope springs eternal that Bernanke will shower the people he loves with love (or money) to show them the way that he feels about the economy.
Same watch levels as yesterday - same skepticism as yesterday but a fine opportunity to short oil today at 10:30 if the net inventory report shows a build of 2M barrels or more - stay tuned for the fun.
Disclosure: I am short DIA, IWM, SPY, TSLA, SODA, USO. I wrote this article myself, and it expresses my own opinions. I am not receiving compensation for it. I have no business relationship with any company whose stock is mentioned in this article.
Additional disclosure: Positions as indicated but subject to change (fairly bearish mix of long and short positions - see previous posts for other trade ideas). Positions mentioned here have been previously discussed at philstockworld.com - a Membership site teaching winning stock, options & futures trading, portfolio management skills and income-producing strategies to investors like you.