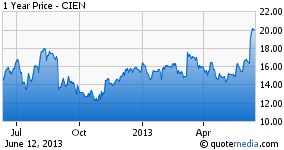 After Cisco (NASDAQ:CSCO) CEO John Chambers hinted at an acceleration in enterprise spending, network specialist Ciena (NASDAQ:CIEN) reported much stronger than anticipated second quarter results Thursday. Revenue jumped 6% year-over-year to $508 million, smashing consensus expectations. Non-GAAP operating profit was halved to $0.02 per share, but that was better than the expected loss. On a GAAP basis, the firm still lost $0.27 per share. Cash flow for the year isn't great as the company greatly expanded its accounts receivable, but we figure this will even out as the year progresses.
What drove growth during the quarter? We've identified a few factors. Capital investment from the American wireless carriers is returning, even if the large carriers like Verizon (NYSE:VZ), AT&T (NYSE:T), Sprint (NYSE:S), and T-Mobile (NASDAQ:TMUS) would rather not spend the money. Though the carriers are enjoying the higher ARPU contracts given to smartphones users, these users are using data heavily, forcing the networks to upgrade their equipment. Packet Networking revenue increased 91% year-over-year to $57 million, and Converged Packet Optical (responsible for service delivery speed/automation) sales advanced 10% year-over-year.
Non-U.S. customer sales were also strong, accounting for 43% of revenue during the second quarter of 2013 compared to 42% during the first quarter of 2013. These figures imply a 14% quarter-over-quarter growth rate in international revenue, supporting the underlying strength of global telecom spending.
Gross margins weren't great for the quarter, falling 210 basis points sequentially, but they were up 290 basis points year-over-year. We assume some of the decline was due to the large shift in product mix (packet networking accounted for 11% of sales in the second quarter versus 5% in first quarter). The company remains unprofitable on a GAAP basis due to its generous equity compensation.
Looking ahead, the firm forecasts revenue of $515 million to $545 million for its fiscal third quarter, above consensus estimates. Non-GAAP gross margins are expected to be in the low 40s percent range, and non-GAAP operating expenses are forecast to be around $190 million during the period. Such an improved outlook echoes the positive sentiment expressed by Juniper (NYSE:JNPR) CEO Kevin Johnson who mentioned that he is seeing an acceleration in router spending. We think this is a positive read for other competitors, including Finisar (NASDAQ:FNSR), Alcatel-Lucent (ALU), and JDS Uniphase (JDSU).
Valuentum's Take
We think an increase in capital investment from the wireless providers will help lift the fortunes of the networking equipment providers. However, increased capital spending is a bit bearish for the telecom industry, and it could constrain free cash flow growth for the cohort. We currently have no exposure to either industry in our actively-managed portfolios, as we're comfortable with our portfolio weighting in the technology sector. Cisco remains our favorite fundamental idea in the space, but its shares have already converged nicely to our fair value range in recent months.
Disclosure: I have no positions in any stocks mentioned, and no plans to initiate any positions within the next 72 hours. I wrote this article myself, and it expresses my own opinions. I am not receiving compensation for it (other than from Seeking Alpha). I have no business relationship with any company whose stock is mentioned in this article.