AdDuplex released its monthly figures for Windows Phone (NASDAQ:MSFT) on Tuesday. The company attempts to measure a number of metrics regarding Windows Phone ecosystem by tracking the application usage on these phones. By looking at this data, we can track the market share statistics of a variety of Windows Phones. This month, compared to the last month's report, there were some interesting changes.
First, worldwide market shares of a variety of Windows Phone devices. Nokia's (NYSE:NOK) Lumia 920 continues to be the market leader with a market share of 12.0%, although it is down from last month's market share figure of 13.1%. Nokia Lumia 710 claims a market share of 11.6%, down from 12.1% last month. Nokia Lumia 800 is the third phone, with a market share of 10.6%, which is also down from 11.2%. While some Nokia phones lost market share in the month, others were able to gain market share. For example, one of the company's newer phones, Nokia Lumia 520, was able to almost double its market share from 4.4% to 8.4% within a month.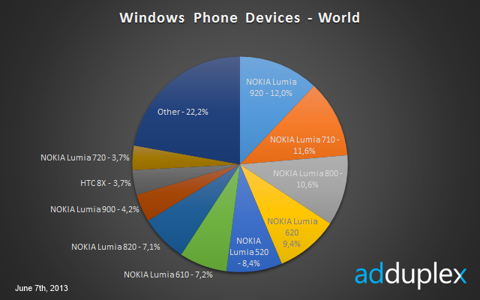 When we look at the market share data by manufacturers, Nokia continues to dominate the list. Since last month, Nokia's market share jumped from 80.2% to 83.3%. Many people thought that Nokia's market share peaked at 80% in the last few months, but the company continues to grow its market share within the operating system. One reason for this might be the fact that Nokia continues to release phones whereas other Windows Phone manufacturers haven't launched a new Windows Phone device in a while. I can even see HTC and Samsung stopping building Windows Phone devices within a few years, leaving Nokia alone in the ecosystem. Notice that HTC's market share fell from 13% to 10% in the last month whereas Samsung's market share fell from 4.5% to 4.3%. In addition, LG's market share fell from 0.9% to 0.7%.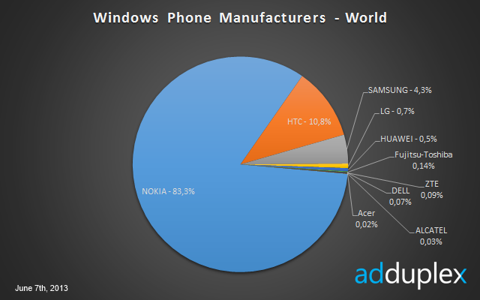 When we ignore the previous versions of Windows Phone and only focus on Windows Phone 8, Nokia's leadership becomes even stronger. The company sold 84% of all Windows Phone 8 devices so far across the world. This is up from 79.8% in May. HTC's share of Windows Phone 8 was down from 18% to 13% since last month, whereas Samsung's share increased from 1.6% to 2.0%. Huawei's market share was also up, as it jumped from 0.6% to 1.0%.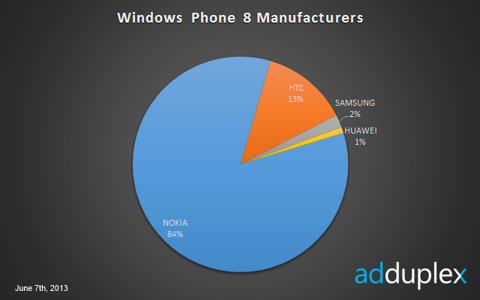 This was the first month that Windows Phone 8's market share passed that of Windows Phone 7. As of right now, Windows Phone 8 claims 53% of Windows Phone market share whereas the number was as low as 49% last month. By next month, the number should pass 60%. Interestingly enough, when we look at the US alone, we see that Windows Phone 8's market share within the ecosystem is as high as 70%.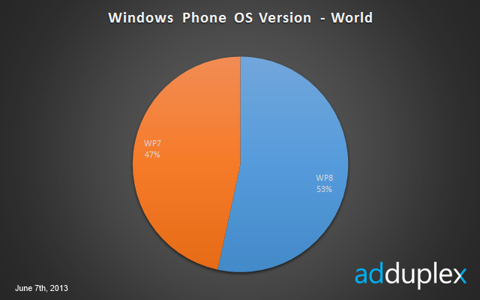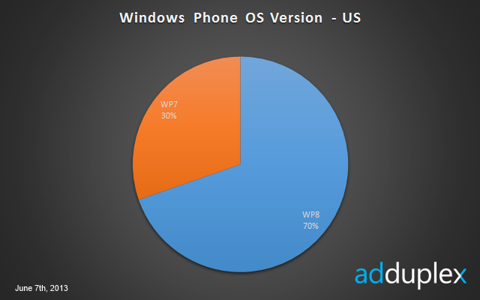 In US, Nokia claims 77% of the market share in Windows Phone ecosystem, followed by HTC who claims 21% of the market share who is followed by Samsung and Huawei, each claiming 1% market share. For Nokia, this is a significant improvement over the last month, when it claimed 65% of the market share in the U.S. and HTC's market share was 26%. Nokia continues to steal market share from HTC as HTC is mostly focused on Android (NASDAQ:GOOG) right now.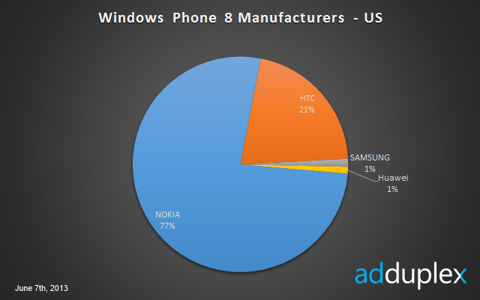 Another interesting number came from the carriers' side. This is the first month ever that Verizon (NYSE:VZ) was able to pass AT&T (NYSE:T) in Windows Phone's market share. As of right now, Verizon's market share in Windows Phone is 43% (up from 33% last month) followed by AT&T's 39% (down from 42%). T-Mobile's market share was down from 20% to 14%, which makes me think that Lumia 521 [the phone that reportedly sold out in Wal-Mart (NYSE:WMT)] isn't selling so well. Again, Verizon's Lumia 822 must be selling really well. In fact, the phone has a market share of 21.3% in the U.S, which confirms this thesis. Lumia 928, the flagship phone for Verizon, claimed a market share of 2.1% in the U.S. Keep in mind that the phone was released barely a month ago.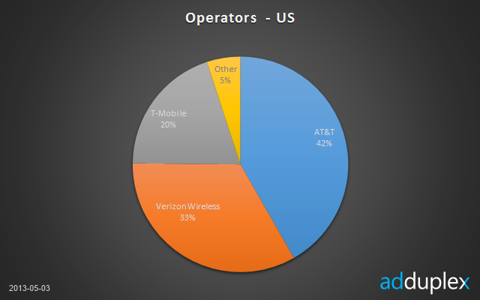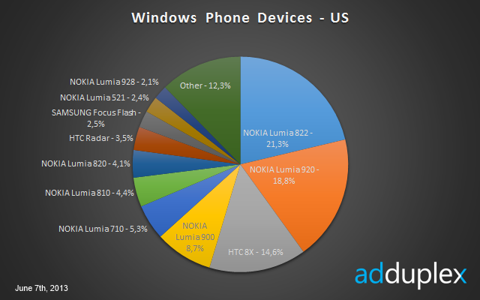 In France, Lumia 520, which hit the markets a couple months ago, already claims a market share of 15.2% which is impressive. In the country, HTC's 8S is the market leader, which put France in a very unique position. France is the only developed country where the top selling Windows Phone is not a Nokia, and if Lumia 520 continues its trend, this may be come to a change.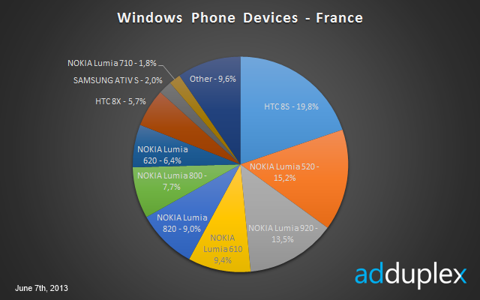 India is another country where Nokia's low end phones are making a big impact. Lumia 520 already reached a market share of 20.8% in the country.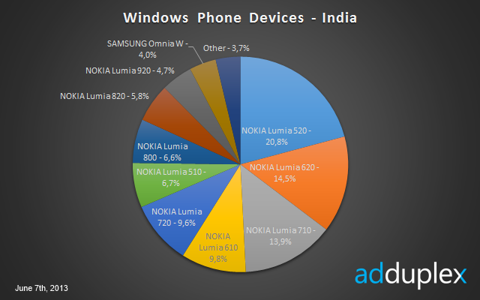 In China where Lumia 920 is subsidized by China Mobile, the phone seems to claim a market share of 23.3% which is up from 16% last month. This data might be misleading though. It is possible that Chinese owners of Lumia 920 are more likely to utilize applications than Chinese owners of cheaper Windows Phone devices.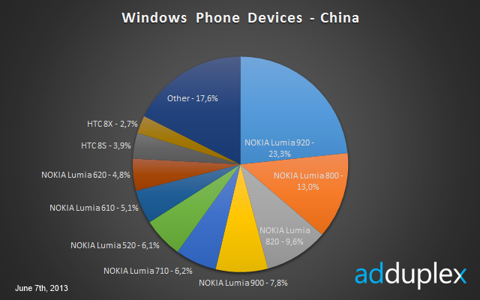 Next month, it will be interesting to see how the newer phones like Lumia 521, Lumia 928 and Lumia 925 are performing across the world. At this point, Windows Phone is the only operating system that is expected to grow in double-digit rates for the next few years. When we look at Android and iOS (NASDAQ:AAPL), we see them reaching near saturation, as they both enjoy great market shares. When we look at BlackBerry (NASDAQ:BBRY), we see a lot of uncertainty, but Windows Phone seems like it is growing its tiny share at a slow but steady rate.
Disclosure: I am long MSFT, NOK, AAPL, BBRY. I wrote this article myself, and it expresses my own opinions. I am not receiving compensation for it (other than from Seeking Alpha). I have no business relationship with any company whose stock is mentioned in this article.