One of the most important rules in investing is that you must have an objective. For some it is dividend growth, others capital appreciation. Some investors simply need a stable income as they are well into their retirement. The following is a SWOT analysis of Altria Group (NYSE:MO). Specifically, we will analyze the safety of Altria's dividend growth for the present, and for the future.
SWOT stands for Strengths, Weaknesses, Opportunities, and Threats. Strengths and weaknesses pertain to the internal fundamentals of Altria itself, while opportunities and threats pertain to external factors and how they could affect Altria group.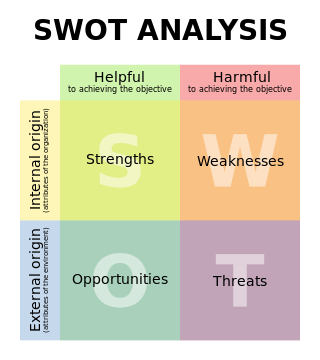 Source: Wikimedia
Altria produces, markets and sells tobacco products, smokeless tobacco, and wine. They are most known for their cigarette brand Marlboro. Altria also holds a 28.7 percent stake in SABMiller. The chart below illustrates just how dominate relative to the market Altria has been over the years.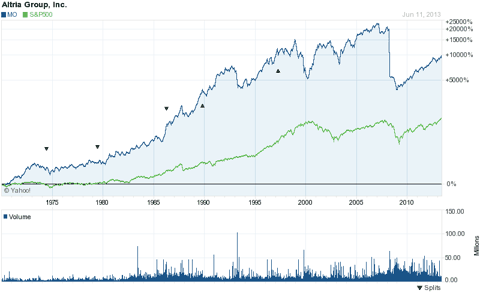 Click to enlarge
(Click to enlarge)
Source: Yahoo Finance
Strengths:
Altria has a reputation as an income investor's staple. They have increased their dividend every year for the last 44 years. Their 10 year dividend growth rate is 11.4 percent, which is about 3x the historical average rate of inflation in the U.S. Investors in Altria have seen their buying power and wealth increase nicely over time with the size of Altria's dividend increases.
Altria is also buying back stock to help increase their earnings per share. They have spent 3.6 billion dollars repurchasing stock over the last 4 1/2 years, and are authorized for another 300 million dollars to be executed by the end of 2013. Altria has combined these efforts with a plan to cut costs. This plan was enacted late in 2011, by the end of this year Altria will realize 400 million dollars in annual cost cuts. These efforts have contributed to a diluted earnings per share growth of:
* 10.2% from Q1 2012 to Q1 2013.
* 7.9% CAGR over the last 5 years.
The formal goal of Altria management is to keep the dividend growth in line with their earnings per share growth. This can give you some insight as to what to expect as far as dividend growth in the immediate future.
Weaknesses:
Altria does face some headwinds in their mission of dividend growth. Altria's dividend payments account for 77 percent of their free cash flow per share, and 81% of their earnings per share. Altria has been able to use cost cutting measures to help increase operating margins, but there is reason to at least question the long term sustainability of this trend.
Altria is currently trading at the high end of their historical range at 16-17x earnings. The share buyback program is harmed by this as Altria is not able to take full advantage of the program by buying shares at a good valuation. This can actually damage the shareholder returns intended by the buyback program.
Opportunities:
There are a couple external factors at work that could prove to boost Altria's ability to grow its return to shareholders in the future. Altria is growing its market share in all three business segments: (sourced from Altria's 2013 annual shareholder's report)
*2011 - 2012 retail share of 42% to 42.6% in Marlboro Brand
*2011 - 2012 retail share of 29.5% to 30% in Black & Mild's Brand
*2011 - 2012 retail share of 49% to 50.6% in smokeless products
While these numbers are not eye popping, they are managing to improve upon an already remarkable market presence among a lot of competition such as Lorillard (NYSE:LO), and Reynolds American (NYSE:RAI).
Altria is getting ready to join the growing electronic cigarette market. This could potentially help offset the decline Altria is facing in cigarette sale volume. Only time will tell at this point whether the venture will be a success.
While a bit early and highly speculative, any national legalization for marijuana down the road, could prove an immense catalyst for the industry. Given Altria's place as the U.S. cigarette market leader, Altria could potentially face a serious tailwind from such a move by the United States govt. I will not go into any more depth about it as this time, as I wish not to speculate.
Threats:
Altria has delivered outstanding returns for decades. A dominant player in a lucrative industry faces threat only from govt. legislation, and macro-economic trends and shifts in how smoking is accepted/perceived by society.
The progression of anti-smoking regulations by the govt. has proceeded slowly but surely over time:
* Smoking bans started in bars, and have progressed to sporting venues, university campuses, and most "public places".
* Taxes are raised on cigarettes often and aggressively.
* Legislation is proposed including law proposals aimed at the appearance of the cigarette pack, and where in a store it can be displayed.
Lastly, smoking in general has been declining in the United States: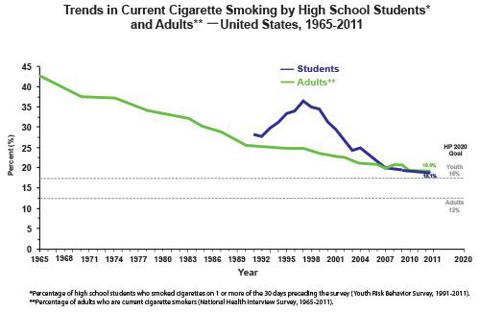 Click to enlarge
(Click to enlarge)
(Source: American Healthcare Reform)
This trend shows no signs of reversing, Altria has been able to offset this decline in volume with pricing and cost cutting. Even given the inelasticity of tobacco, one has to wonder if a consumer will reach a breaking point with how much cigarettes cost.
Conclusion:
This article was intended to give an investor an unbiased view of the dividend growth sustainability of Altria. Given the fundamental strengths and weaknesses of the company - and the opportunities and threats to their business model, they will be able to continue providing reliable dividend growth in the short to medium term. The long term threats to Altria, combined with the uncertainty of their opportunities with e-cigs and legalized marijuana make me cautious about investing past 5 years into the future.
Disclosure: I have no positions in any stocks mentioned, and no plans to initiate any positions within the next 72 hours. I wrote this article myself, and it expresses my own opinions. I am not receiving compensation for it (other than from Seeking Alpha). I have no business relationship with any company whose stock is mentioned in this article.