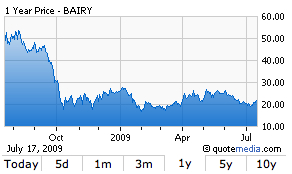 Regularly reviewed in this column, British Airways (OTC:BAIRY) continues to offer a steady stream of ammunition for both writers and readers interested in the global economy and the airline industry in particular. Re-capping previous articles, BA is under tremendous pressure to cut costs, strengthen the balance sheet and restructure the business to better meet the needs of recession hit consumers.

In the pursuit of those aims BA management can tick a key box with news it is to raise £300 million via convertible bond, offering investors a tidy coupon of 5.50%-6.25%. The cash injection will be accompanied by a further £300mn bank facility. The senior unsecured bonds will mature in 2014 and could, if converted, represent between 15-20% of BA's ordinary share issuance. The facility adds a degree of comfort to the balance sheet which held approximately £1.25bn as at the end of June 2009.

British Airways' chief executive Willie Walsh commented:
Following discussions with institutional investors, we are taking action to improve our liquidity and strengthen our position within the industry. This goes hand-in-hand with our cost reduction and efficiency initiatives which are designed to create the right conditions for our sustainable, long term profitability. It also supports our continued investment programme to maintain our position as a leading global premium airline.
The bond is likely to be fully subscribed and provides a good coupon with upside potential in the event British Airways' fortunes improve. There is, of course, a chance BA's suffering will persist, endangering the return of principal, but considering the growing probability of a global economic recovery in 2010, the convertible offers good risk-adjusted return potential and if I was an important enough shareholder to receive a call, I would take up my fair share of the debt issue.