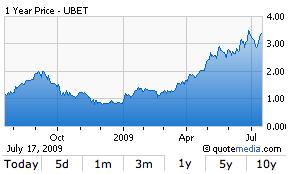 We've received questions on Youbet.com (UBET, $3.37) and whether we're now sellers after the big run from the bottom over the past six months, aided by the recent addition to the Russell 2000 index.

Answer: not yet, although we may begin to reduce our exposure if the free cash flow yield continues to compress toward 5%. The 2008 equity free cash flow yield is now 9.5%, just below our normal buy threshold of 10%. On a forward basis, the estimated 2009 FCF yield is 10.0% assuming $14 million of owner free cash flow.

As noted in a prior blog post, shares of small-cap Youbet.com have recovered from fire sale valuations of 2008 (20-30% free cash flow yields) created by company- and industry-specific issues that left the stock for dead. The stock is now back to life as institutional investors understand that overhangs are removed and that Youbet is a viable, well-positioned, cash generating business.

Moreover, while Equibase data shows 2009 industry wagering through June down 10.5%, we expect Youbet.com to grow top- and bottom-line this year. The growth is a result of renewed content relationships and increased wagering per customer, as well as the secular shift toward online betting from offline. Although Youbet's net income won't increase lockstep with revenue because of lower contribution margins from new content, growth in the current environment puts Youbet.com in a small group of companies growing through the recession.

We believe solid fundamentals and the company's difficult to replicate online wagering franchise – brand, customers, platform, marketing partners, and track relationships – can justify higher valuation multiples. If the company traded at 20 times 2009E free cash flow (5% yield), the implied price per share would be approximately $7.00 including year-end estimated net cash of $15 million. At 7%, the implied share price would be $5.00. Even if multiples do not expand further -- not a sure thing at present -- earnings and cash flow growth can drive a higher share price over time.
For a relative valuation comparison to select gaming and niche franchise Internet companies, please see our blog for an updated comp sheet. We also include brief commentary regarding management's investor presentation last week.

Disclosure: Long UBET