The Philippines has been getting into the news more for positive rather than the usual negative reasons, meaning some investors might want to consider investing in the iShares MSCI Philippines Investable Market Index Fund (NYSEARCA:EPHE) and the Philippine Long Distance Telephone Company (NYSE:PHI), otherwise known as PLDT. However, I must admit that it is hard for anyone who has ever lived or worked in the Philippines for a considerable period of time to not be a little cynical about the country as it's usually two steps forward and almost always one step back (and sometimes one step forward and two steps back). But consider the following signs of progress:
Election violence has been on the decline (statistically speaking).
Some high level corruption has or is being tackled.
Some Filipino professionals are returning home as the local economy posts solid growth (6% to 8%) versus the rest of the world.
I should also mention my last article about the Philippines (A 'Damaged Culture' No More? An Investing-In-The-Philippines Reality Check) where I suggested investors should read a controversial essay ("A Damaged Culture: A New Philippines?") written by James Fallows for the Atlantic Monthly just after Marcos was booted out of power. I had also outlined how (for better or for worse) the Philippine economy is a stool propping up oligarchs.
With that said, has the Philippines really made any steps forward to make investing there worth it or is the country back to its old two steps forward and one or more steps back routine?
Is Election Violence in the Philippines Declining?
On May 13, the 2013 midterm elections were held to elect or reelect 12 senators, 229 members of the House of Representatives, 80 provincial governors and a large number of local officials or legislators.
As a midterm election halfway through President Benigno Aquino III's six year term in office, the 2013 Philippine elections were hardly among the more exciting emerging market elections for investors this year (see my last article about the Malaysia ETF and the May 5, elections here) as the real question was not so much as to who would win; but rather how much violence would accompany them, how much international coverage (as in bad publicity) the country would endure from any such violence and what the amount of violence might tell you about how much progress the country has made to move beyond violent elections.
Why are elections in the Philippines often violent affairs? The simple explanation would be that elections in the Philippines are a literal blood sport between rival candidates or members of political dynasties because of how much money a politician needs to spend (as in how many votes need to be bought) in order to get elected and how much money a politician (along with his or her family and friends) can earn once elected.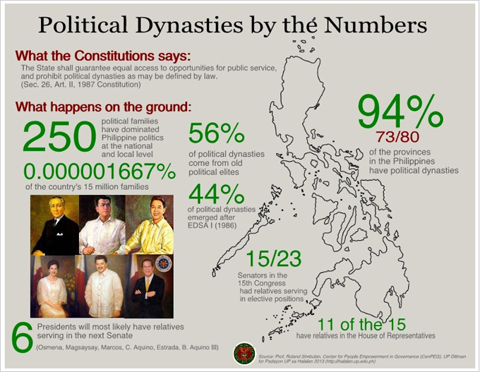 Source: Political Dynasties by the Numbers
The good news for Filipinos and investors alike is that political violence appears to be declining in the Philippines (but such statistics tend to get lost in sensational headlines). Consider the following tables sourced from the Philippine National Police [PNP], which appeared in a blog entry on the website of the Philippine Center for Investigative Journalism (PCIJ):
| | 2007 | 2004 | 2001 | 1998 | 1995 |
| --- | --- | --- | --- | --- | --- |
| No. of Cases | 229 | 249 | 269 | 267 | 121 |
| Killed | 121 | 148 | 111 | 67 | 79 |
| Wounded | 176 | 261 | 293 | 162 | 111 |
| | 2007 | 2004 | 2001 | 1998 | 1995 |
| --- | --- | --- | --- | --- | --- |
| Killed | 26 | 40 | 21 | 14 | 9 |
| Wounded | 17 | 18 | 9 | 13 | 1 |
| | 2007 | 2004 | 2001 | 1998 | 1995 |
| --- | --- | --- | --- | --- | --- |
| Shooting | 105 | 111 | 70 | 59 | 26 |
| Explosion | 16 | 28 | 30 | 15 | 20 |
| Communist/Terrorist Atrocity | 12 | 22 | 34 | 5 | 7 |
| Others (ambush, harassment, burning/arson, ballot snatching, encroachment, etc.) | 86 | 88 | 135 | 188 | 68 |
For American investors who are accustomed to nothing more than annoying phone calls and non-stop political commercials every two to four years, an election where 26 candidates or politicians are killed and where there are 105 shootings, 16 explosions, 11 ambushes, 50 cases of harassment, 5 burning/arson incidents, 7 ballot-snatching incidents and 3 communist/terrorist-perpetrated "atrocities" might seem shocking. However and in the Philippines, this is actually a step forward when you consider the statistics from previous elections (and don't forget about "elections" or the lack of them during the Marcos kleptocracy).
The 2010 elections were more of an anomaly as they were relatively free of violence (I don't see any good statistics about them) for a good reason: The country was in shock over the November 23, 2009 Maguindanao Massacre (also known as the Ampatuan massacre) where 58 people, including at least 34 journalists, were adducted and brutally executed in a restive Muslim region of Mindanao (where much of the country's political violence or violence in general is concentrated). In that incident, the victims were on their way to file a certificate of candidacy for Esmael Mangudadatu who intended to challenge a member of the Ampatuan clan - a family who were key allies of then President Gloria Macapagal-Arroyo (and whose patriarch came into prominence under President Corazon Aquino, the mother of the current President).
At least 198 suspects, including several members of the Ampatuan clan, were charged with murder. Nevertheless, there has been little progress on bringing anyone to justice. In fact and in the 2013 elections, the Ampatuans even fielded a total of 80 candidates carrying the clan name as their surnames or middle names. Meanwhile, Esmael Mangudadat, who lost his wife and sisters in the massacre (but who then became the governor of Maguindanao), saw his wealth increase 79% (more than P173 million or $4.2 million) to P390.6 million ($9.5 million) in 2011, from his declared wealth in 2010 when he was first elected to the post and despite the fact that Maguindanao is one of the poorest provinces in the country.
This time around, the 2013 Philippine elections were generally "peaceful" as the numbers I see being reported by the media range from only 45 to more than 60 people being killed depending upon who is doing the counting and from what date the counting starts. The most high profile incident involved at least 13 people being killed when a gunman opened fire on a truck carrying a mayor and his supporters in another restive area of Mindanao. So again and for the Philippines, the 2013 midterm elections may be interpreted as a sign of progress and a step forward.
Is Corruption in the Philippines Really Being Tackled?
No one can talk about the Philippines without mentioning corruption. However, I once attended an American Chamber of Commerce function in the Philippines where a foreign businessman commented he does business all over Asia and then he made the observation that there is "no more corruption in the Philippines than in the rest of Asia as there are just different shades or styles of corruption wherever you go."
I don't recall what type of business he had, but he made a very good point, which should be remembered when you read (the sometimes ridiculous) attempts to rank corruption (like the Corruption Perceptions Index 2012 where the Philippines was ranked 105th while the USA was ranked 19th out of 174 countries).
With that in mind, consider the following signs of progress with regards to tackling high level corruption in the Philippines:
Former President Gloria Macapagal-Arroyo or simply "GMA", who Benigno Aquino III succeeded as President, was arrested in late 2011 following the filing of criminal charges against her for electoral fraud.
Renato C. Corona, the Chief Justice of the Supreme Court of the Philippines, was impeached in December 2011 in the House of Representatives and in May of last year, he was found guilty by the Senate of violating disclosure rules for his statement of assets, liabilities and net worth (OTCPK:SALN) to the public. This marked the first time a high-level Philippine official was impeached and convicted. Corona had been appointed by GMA a month before her term expired, which some constitutional scholars claimed violated the constitution as technically a President cannot make appointments two months before the presidential election up to the end of her term while GMA allies argued this rule did not cover the judiciary. Corona was also accused of "partiality and subservience in cases involving the Arroyo administration" as he voted in favor of the former president in more than 80% of the cases filed against her in court. It also did not help that it was proven he failed to disclose his four dollar accounts with almost $2.4 million in deposits and may or may not own numerous properties both in the Philippines and the United States that were also not disclosed.
However and before you break out the San Miguel Lite to celebrate the end of corruption in the Philippines, consider the fact that former President Joseph "Erap" Ejercito Estrada, who was booted out of office before GMA in street protests over alleged corruption (he is ranked No.10 while Ferdinand Marcos is ranked No. 2 on a list of the world's 10 most corrupt leaders), was just elected mayor of Manila while Imelda Marcos won reelection to represent Ilocos Norte in Congress and GMA won a second term as congresswoman for Pampanga's second legislative district.
Are or Will Filipino Professionals Working Overseas Return Home?
Finally, there has been a steady stream of upbeat articles in the media about the Philippine economy (because there aren't many places in the world with 6% to 8% economic growth rates right now) while I recently saw a Reuters article entitled: As Philippines booms, overseas workers eye return home. I am not so sure if the first half of the title is accurate to describe the Philippine economy for most Filipinos (see The Grim Reality Behind the Philippines' Economic Growth) while even the article itself conceded the professional returnees are just a trickle compared with those still leaving or trying to leave the country.
A few years ago, I remember people commenting about how even senior managers/executives or members of the upper classes were leaving, albeit the increasing lack of jobs or job mobility in the West was convincing some professionals to return home and not necessarily by choice. Of the people I knew from the upper professional classes who were immigrating, the reasons often cited included getting their children a better education, moving some place where there was more "stability" (e.g. no smugglers undercutting their business, no kidnappings etc.) or they just had a better opportunity abroad.
Consider the following: I once had a conversation with a local Chinese friend who told me she was applying to a whole list of elite schools in the States. I asked her if she would then come back to the Philippines and she said no way. I then commented, "But you are rich!" Her reply was to the effect that sure, she and her family are rich right now. However, there was no guarantee her children or grandchildren will be rich in the future. Remember, Marcos had gone after the oligarchs and anyone he did not like or who opposed him.
I then pointed out that she would not have a maid (pretty much standard for any middle class Filipino family) in the States and she would have to do the dishes and the laundry herself. Her reply was: "I will get a dish washer and a washing machine!" Maybe she did not realize she would still have to load and unload the dish washer or washing machine along with how much work there is to raise a family in the West without the help of maids or nannies. Needless to say, she was not convinced her future was in the Philippines.
Investing in the MSCI Philippines Investable Market Index Fund
With the above in mind, let's take a closer look at the iShares MSCI Philippines Investable Market Index Fund - an ETF with a September 28, 2010 inception date that tracks the performance of the MSCI Philippines Investable Market Index. As of the end of the first week of June, the iShares MSCI Philippines Investable Market Index Fund had a market cap of around $416.5 million and was up 10.3% since the start of the year, up 37.5% over the past year and up 50% since October 2010 according to Google Finance.
A quick comparison of the iShares MSCI Philippines Investable Market Index Fund's performance against the performance of the iShares MSCI Emerging Markets Index ETF (NYSEARCA:EEM), a global emerging market ETF, shows an impressive performance for the former over the later: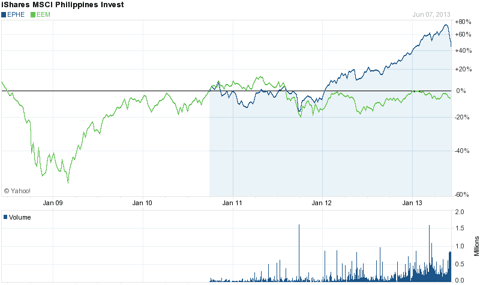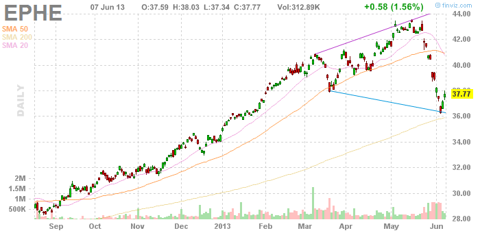 As of June 6th, the ETF had 43 holdings which consisted of a who's who of major Philippine corporate names. However, a sector breakdown reveals a heavy concentration in financial stocks:
| | % of Fund |
| --- | --- |
| Financials | 42.4% |
| Industrials | 24.85% |
| Utilities | 9.66% |
| Telecommunications | 9.37% |
| Consumer Staples | 8.81% |
| Consumer Durables | 4.30% |
| Materials | 2.07% |
| Energy | 0.22% |
As I noted in some detail in my last article about the Philippines, an investment in a Philippine stock (many are actually conglomerates or parts of conglomerates) or the Philippines in general is also (for better or for worst) an investment in the Zóbel de Ayala, Aboitiz, Cojuangco, Sy, Gokongwei, Tan, Razon and other families as they would call all the shots in their respective corporate empires.
Investing in the Philippine Long Distance Telephone Company
As the only Philippine ADR listed on a major foreign exchange (the NYSE), the Philippine Long Distance Telephone Company (which is usually referred to as PLDT in the Philippines) is definitely one of the more interesting emerging market telcos out there. PLDT is the Philippines' largest telecommunications company and it operates with three main business groups:
Fixed line
Wireless
Information and communication technology (Including investments in IT and business solution providers, e-commerce, media/content, gaming, call centers and business process outsourcing operations)
SPi Global, a major outsourcing provider with 18,000 employees around the world, was a wholly owned subsidiary until earlier this year when PLDT announced it would sell the holding company to Asia Outsourcing Gamma Limited, a company controlled by CVC Capital Partners (a global private equity firm) for $300 million. PLDT then acquired a 19.7% stake in Asia Outsourcing Gamma.
I should point out that PLDT dates back to the American commonwealth period and it came under the control of Ramon Cojuangco, a cousin of Cory Aquino, in the late 1960s before being seized by Marcos during the martial law period. Ramon Cojuangco's son, Marcos Antonio "Tonyboy" Cojuangco, then got it back after Cory came to power.
Today, PLDT is controlled by its chairman and major investor, Manuel V. Pangilinan, through his Hong Kong listed First Pacific Co Ltd (OTCPK:FPAFY) which also controls:
The Philex Mining Corporation (OTC:PXMFF)
PT Indofood Sukses Makmur Tbk (OTCPK:INDFY) in Indonesia which is also one of the world's largest instant noodle makers.
The Metro Pacific Investment Corporation (MPIC) which in turn controls or has major stakes in Meralco (one of Manila's main electric utilities), Maynilad (one of Manila's major water companies), various tollways and several hospitals.
In other words, Mr. Pangilinan has his plate full, but that has not stopped him from wanting more.
Late last year, Mr. Pangilinan was forced to give up a decade-long quest to acquire the GMA Network Inc., the Philippines' second-largest broadcast network, as talks collapsed over regulatory "risk-sharing" issues (as in the price and the down payment amid some uncertainty over whether the deal would clear regulatory hurdles). In a press release after the talks collapsed, Mr. Pangilinan stated:
The termination of the GMA acquisition initiative is not expected to adversely impact the PLDT Group's strategy of evolving from a traditional telecommunications company into a multimedia service company. The PLDT Group continues to believe that owning, producing and providing content across multiple platforms is an important component of its blueprint for growth and as such, intends to pursue its media strategy by building on Mediaquest's current investments in TV 5, the country's third largest free-to-air television network by audience share, and Cignal TV, the leading provider of direct-to-home satellite television services.
However, TV5 (which is owned and operated by the Associated Broadcasting Company, which in turn is owned by MediaQuest Holdings and which in turn is a wholly-owned subsidiary of the Beneficial Trust Fund - the PLDT retirement fund) keeps hemorrhaging money; but measures are being implemented to try and turn things around while Mr. Pangilinan has said things will be "better" this year (its now the Philippines' third largest media group).
It should also be mentioned that Mr. Pangilinan has another headache at PLDT as the P70 billion (around $170 million) deal to acquire Digital Telecommunications Philippines Inc., the country's second-largest fixed-line and the third-largest mobile telecommunications provider (the Sun Cellular brand), from the Gokongwei family, did not work out so well. Regulators had forced it to give up an important 3G frequency at the behest of Ayala Corp-controlled Globe Telecom Inc., which claimed PLDT would have a virtual monopoly over consumers after the merger.
As for stock performance, PLDT is up 4.94% since the start of the year and up 49.7% over the past year. However, the stock is still down 13.4% over the past five years because it sank from the $41 level in September 2008 to the $13 level during the financial crisis.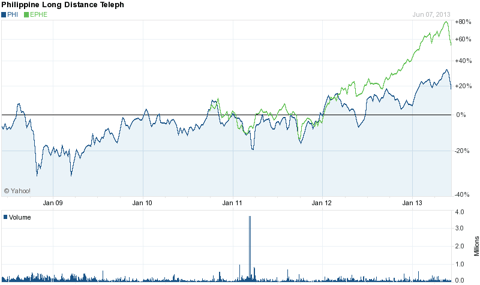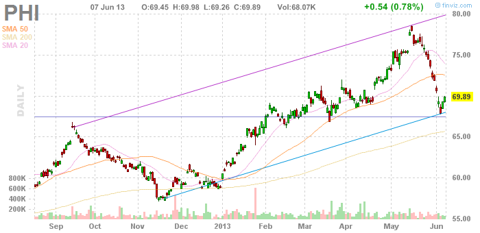 Yahoo! Finance also indicates PLDT has a forward dividend of $2.07 for a 2.90% dividend yield. However, investors should be aware that the dividend consists of an ordinary dividend along with a special dividend (click here to see the dividend payment history from PLDT's investor relations page). These dividends are not paid on a quarterly basis (as emerging market stocks often have difficulty paying a quarterly dividend given their unstable cash flows), are paid in pesos (which must be converted into dollars) and are paid at the discretion of management (or rather Mr. Pangilinan's discretion). In other words, you can't depend upon PLDT providing a certain or steady source of income.
With that said, investors might want to consider PLDT only after comparing it along side other emerging market telco stocks like PT Telekomunikasi Indonesia (NYSE:TLK) in Indonesia and Tata Communications Limited (NYSE:TCL) in India. The latter might be a better comparison as its part of the huge family-controlled Tata conglomerate which is also into outsourcing.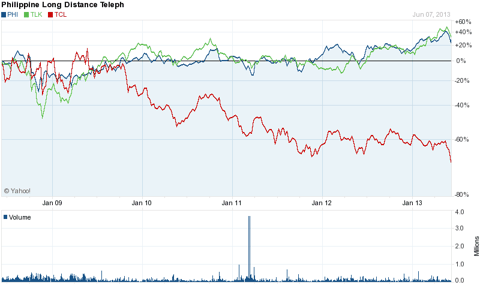 The Philippines: Some Final Thoughts
So is the Philippines really making steps forward without the usual steps back?
Consider this: A few years ago on a visit to the Banaue Rice Terraces north of Manila, the local tour I was on spent a night in a town which seemed to be a bit more prosperous than other towns in the region as the homes and their corrugated iron roofs looked newer plus there was a school there founded by Belgian clergy back in the 1930s. I thought perhaps the town was prosperous because of the school or townsfolk overseas sending back remittances. However, the tour guides explained that at election time, the local people were more careful about selling their votes to the highest bidder and instead elected better leaders - which was why they were better off than the other people in the region.
The townspeople there understood the problem and the solution and so did my guides; but do the political and economic oligarchies along with the Philippine "masa" really understand what needs to be done to keep the Philippines moving forward? After all and in the last election, the so-called "masa" elected ERAP as the Mayor of Manila (granted, he apparently had been an excellent mayor of San Juan before his corruption mired presidency) because he championed them (even though he seemed to champion himself while as President and in Congress) and reelected both GMA and Imelda Marcos to Congress.
So if you are an investor who is willing to accept the two steps forward and one step or more back nature that is the Philippines, the iShares MSCI Philippines Investable Market Index Fund and/or the Philippine Long Distance Telephone (PLDT) might just be worth taking a closer look at or even investing in.
Disclosure: I have no positions in any stocks mentioned, and no plans to initiate any positions within the next 72 hours. I wrote this article myself, and it expresses my own opinions. I am not receiving compensation for it (other than from Seeking Alpha). I have no business relationship with any company whose stock is mentioned in this article.