Since the high made 4/11, the Australian dollar has been the currency down under getting clipped for 11%, dragging prices yesterday to their lowest trade since October 2011. Looking at the highs made in July 2011 and the lows established in the summer of 2010, futures this week completed a 61.8% Fibonacci retracement (weekly chart). Prior to this week, we've traded lower the last five weeks, but my opinion is this week we could close in the green. As of this post, we are trading higher by one cent on the week and nearly two cents off yesterday's lows.
I think the slowdown in China has contributed to the decline in the aussie, but really a couple percentage point decline in GDP, a manufacturing slowdown and a fledgling real estate market it is way too premature in my eyes to call China a bubble -- even a 5-6% GDP -- I think most nations would be happy to accept that rate of growth? The fact that the USD has appreciated 6.25% prior to the retracement we've seen in the last three weeks also played a contributing factor.
So the trade…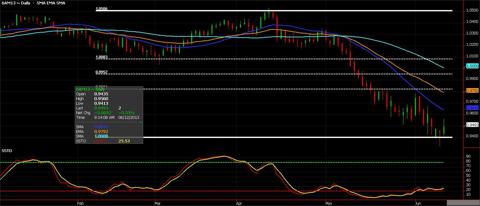 Click to enlarge
I'm assuming we've put in an interim low this week and we get a rebound in the coming weeks. I've advised clients to gain bullish exposure long futures and use options as protection. You could either buy puts or sell calls against your futures positions 1:1, depending on your risk tolerance. My suggestion is trade September contracts as it may take several weeks to play out. The first hurdle that needs to be overcome is the 20 day MA (dark blue line) and then fresh entries' first objective should be the 34 EMA (orange line) followed by the 50 day MA (light blue line), lifting the aussie back over parity.
I wrote a piece a few weeks ago and pointed out that every time in the last three years the Australian dollar traded under parity, within four weeks it has regained that pivot point. Well folks, this is week five and we are currently a nickel under that pivot point. Is this time different? While past performance is not indicative of future results, I do think bullish exposure in the Australian dollar is merited at current levels.
With rates in Australia at 2.75% -- well above any other major -- I think to some extent we still have a carry trade opportunity, so do not take that lightly. While recent long entries may have been premature, I do think the worst is behind us and we can see trade back above parity, which represents a 5.5% appreciation in the coming weeks.
Risk Disclaimer: The opinions contained herein are for general information only and not tailored to any specific investor's needs or investment goals. Any opinions expressed in this article are as of the date indicated. Trading futures, options, and Forex involves substantial risk of loss and is not suitable for all investors. Past performance is not necessarily indicative of future results.
Disclosure: I have no positions in any stocks mentioned, and no plans to initiate any positions within the next 72 hours. I wrote this article myself, and it expresses my own opinions. I am not receiving compensation for it. I have no business relationship with any company whose stock is mentioned in this article.